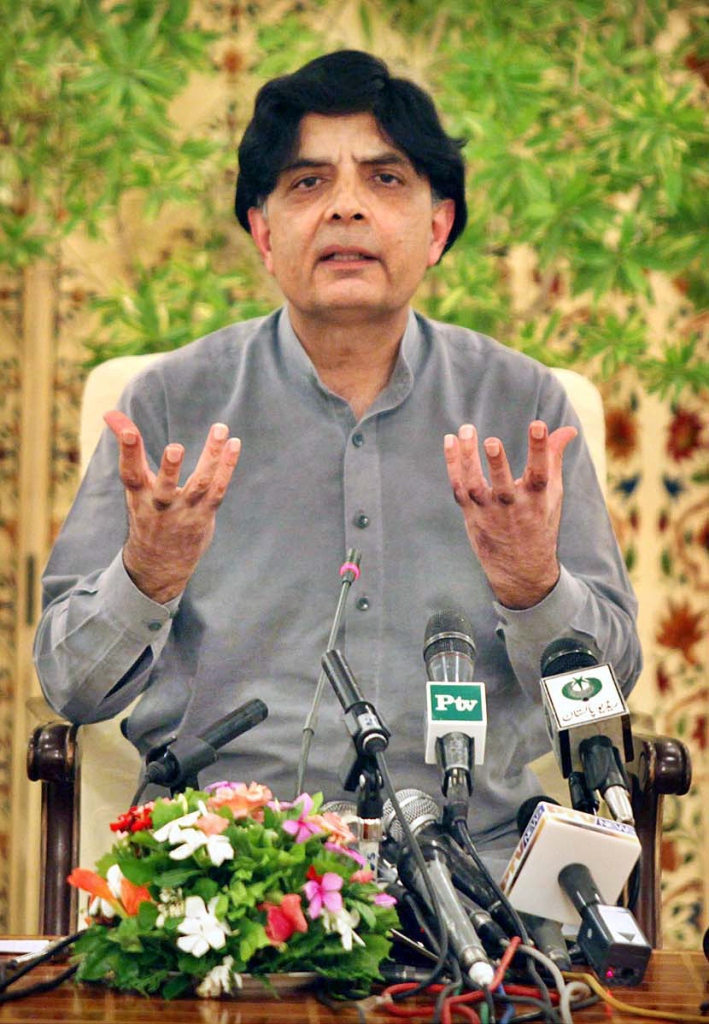 ---
Unless you've been living under a rock for the past week, you probably don't need to be told what has transpired over the last week.

However, let's try to scavenge the information for the really meaningful material – because there has certainly been a lot of white noise over the last few days.

Let's start on August 12, the day Prime Minister Nawaz Sharif addressed the nation. The premier's speech was a masterstroke in its mixing of strength, flexibility and apparent earnestness, and the smoking gun line was an announcement that the allegations of electoral rigging would be put before a Supreme Court-created commission – a major concession that showed the government's willingness to explore Imran's complaints.

That is really where the government began to get it right after weeks of fumbling. In the days that would follow, the government's position, precarious as it was at that point, began to improve – a result that was a mix of some positive steps by the government and missteps by the Pakistan Tehreek-e-Insaf (PTI) and its chief Imran Khan.

The first PTI misstep came minutes after the prime minister's speech, when Imran Khan gave a press conference in response, shooting down the offer put forward by the government.

Why was it a misstep? Three reasons:

One, the reply was instant, showing there was little or no consultation among PTI's brass (a point that was probably later highlighted by senior leader Javed Hashmi's abandoning of PTI's long march and storming off to his hometown).

Two, the manner in which the offer was dismissed was emphatic. It meant that Imran left himself no options. And options are critical in politics. It was an opportunity to take a step back from demands that were untenable, in a manner that would have made him look like the stronger party. After all, a judicial commission was an idea that he himself had floated earlier.

Three, the government could turn to other quarters (the khakis and the other political forces) and say 'we tried' – making them look good given that they were offering concessions.

If Imran didn't want to accept the commission, he could have still left the door open – said something like, "I'm glad to hear that our pressure has worked and the government has bowed to our demands. But we will make this decision in Islamabad." But he didn't. In fact, his party also didn't show up to a key committee meeting on electoral reforms (which was again basically formed on his demand).

At that point, the PTI was rampant. But momentum is a cruel mistress, as they say; she can turn on the smallest misstep. And that is what happened.

A long march was always going to be difficult. Long marches – that too ones that are meant to turn into a long sit-in – are not like political rallies, which the PTI has admittedly mastered. They are much tougher. Just ask the Lawyers' Movement march, which, by the time it got to Islamabad, was only a handful of people. Nawaz's long march could have met a similar fate, but the negotiation was always taking place in the background, and in the end the march famously never had to get to Islamabad.

A contingency should always have been in place. But there was none.

By the time PTI's long march got to Islamabad, its strength was much less than they expected, and also lesser than PTI's previous grand rallies (which were indeed grand by all standards). And then Imran kept upping his implausible demands; continued to stress them more emphatically. Now, he has painted himself into a corner, and has isolated himself from all political forces.

But let us not take away credit from the government.

Till a few days ago, the situation had remained tenuous for a month or two – a period that coincided with a very important in-house problem for the ruling Pakistan Muslim League-Nawaz (PML-N) – the absence of Interior Minister Chaudhry Nisar, who had become inactive due to his differences with the party top brass. His absence was clearly sorely missed by the government, which really didn't know how to deal with the situation.

Nisar recently patched up with the PML-N, and since then, has worked his magic that made him such a key figure in the ruling party.

As Lahore was bubbling ominously with Dr Tahirul Qadri's calls, Nisar flew in to the city to take the reins from an embattled Shahbaz Sharif – which saw him become the de facto chief minister for a few days from August 8 onwards. In fact, Nisar was so busy he was unable to make a key National Security Conference meeting in Islamabad.

But it worked. He dealt with a tenuous situation brilliantly. He used coercion but no force. Sitting in the control room, he ensured that June's Model Town incident wasn't repeated, but managed to break PAT's momentum. And then he advised.

He flexed his diplomacy muscle, taking Shahbaz to a key meeting with Chief of Army Staff Gen Raheel Sharif – a meeting after which the ruling party came out noticeably more relaxed.  Then, when all were expecting a showdown between security forces and the PTI and PAT rallies, he ordered all the barriers to be removed in Lahore (admittedly, the court decision contributed to this, but the government could have easily delayed and challenged the decision).

The rallies were then also allowed to enter Islamabad without hindrance and were given their choice of venue, all while his "red-lines" were not only communicated, they were non-negotiable. He lectured the protestors, but showed leniency. He played hardball, but threw in plenty of curveballs (something that was noticeable in the prime minister's speech too – and not incidentally). He waxed lyrical about his ties with Imran, but stressed his commitment to his party.

It was genius.

And now, with the PAT and PTI rallies/sit-ins running out of options (and steam), Nisar is spearheading the effort to negotiate – with two separate multi-party committees being formed to talk to the protestors.

The government will surely have been shaken in these past few days – and some concessions to non-democratic forces would have almost certainly been made, as I mentioned last week.

It's not over yet, certainly. There could be more drama. And the government must still play this smartly. Desperation can be dangerous. But if all goes to plan, the government is set to win its bitterest test yet.

And it has Nisar to thank for it.

Published in The Express Tribune, August 18th,2014.