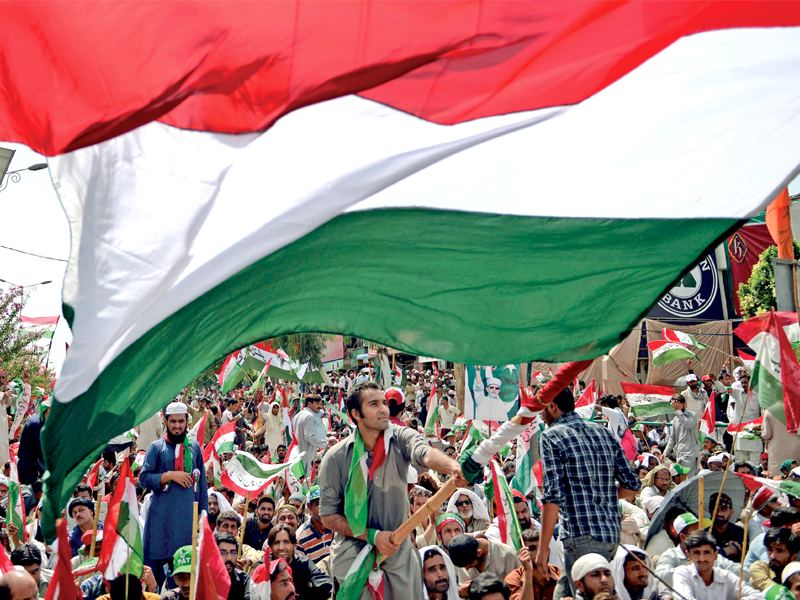 ---
ISLAMABAD:



Pakistan Awami Tehreek (PAT) chief Dr Tahirul Qadri on Saturday gave the government a 48-hour deadline to accept his 15-point charter of demands for Inqilab (revolution) that, among other things, called for Prime Minister Nawaz Sharif and Punjab Chief Minister Shahbaz Sharif to step down, dissolve federal and provincial legislatures and pave the way for a national government.




"The revolution cannot come through parliament, because the whole election process is invalid and unconstitutional," Qadri told tens of thousands of his followers and supporters at Khayban-e-Soharwardy in the Aabpara Chowk neighbourhood.

Qadri's speech came hours after a Lahore court ordered registration of an FIR against 21 people, including the prime minister and Punjab's chief minister, in a case involving the killing of 14 PAT workers in a police crackdown at the PAT Secretariat in Lahore's Model Town on June 17.

"Nawaz has no right to stay in power after the Lahore sessions courts' order to register a case against him and 18 of his government officials in the Model Town tragedy," the fiery cleric said. "I give the Sharif brothers 48 hours, which means two days, to step down, court arrest and dissolve the assemblies," he said.  He also called upon the Federal Investigation Agency (FIA) to place the names of the Sharif brothers and their colleagues on the Exit Control List (ECL).

"We have reports that former Punjab law minister Rana Sanaullah, who is the main culprit in the Model Town massacre, has booked a seat on an [outbound] flight for tomorrow," Qadri said. At the same time, he warned that if the rulers managed to flee the country the FIA and immigration authorities would be held responsible.

"The 14 innocent people killed in Model Town on June 17 are asking me if I and millions of participants of the Inqilab march will betray their blood," the populist cleric said as he flashed a poster showing blood-stained bodies of two women, Shazia and Tanzila, who were among the victims of the Model Town tragedy.

"The martyrs ask: will their murder be forgotten; will their killers be roaming scot-free? Will they be arrested? Will our families get justice?" The massive crowd shouted 'yes' or 'no' to each question their leader posed in a speech full of emotional undertones. "We will not leave until the prime minister and the chief minister step down," Qadri said. The crowd agreed, breaking into chants of "Go, Nawaz, go".

Reading from his charters of demands, the PAT chief said the national and provincial assemblies should immediately be dissolved. The assemblies comprise the lawmakers 60-70 per cent of whom are corrupt and known defaulters and tax evaders, which is against Article 62 and 63 of the Constitution. The problems of 200 million people cannot be solved by recounting polls in a couple of constituencies, he said, referring to the earlier demands of PTI chief Imran Khan.

After the assemblies are dissolved, a national government for democratic reform should be formed, he added. The national government will take steps to ensure a transparent and stringent accountability of corrupt people. "I am a staunch believer in democracy – a democracy that eradicates all kinds of corruption," Qadri said and questioned, "If this [PML-N government] is a democracy where people are homeless and are unable to educate their children."

"The poor of this country, who have been deprived of their rights for the last 65 years, will be taken care of under a 10-point revolutionary social agenda," Qadri said. Every homeless family will be given a house and the middle class will be provided interest-free loans, to be returned in 25 years. Moreover, every person will be given food and clothing.

He also demanded a health plan, where the poor and low-income classes are given healthcare and free treatment through a national health insurance policy. "Provision of free, compulsory education and adult literacy will also be responsibility of the national government so that ignorance, social unrest and poverty can be alleviated," he said.

Basic food goods and other necessary items should be provided at half the price, he stressed. Similarly, electricity, gas and water tariffs should also be slashed by half from the first month of the national government in power, Qadri demanded.

The latter half of his charter touched on integral issues of discrimination against women, sectarian violence, terrorism, minorities, and devolution of administrative and political power.

"Women need to be given respectable employment so that they could be given socio-economic security, stability and equality and oppressive, discriminatory laws against women need to be done away with," he said. Similarly, the income structure needs to be revised so that the gap between the rich and the poor can be bridged.

He emphasised the need for the eradication of sectarianism and terrorism. "Terrorism should neither be imported nor exported. The Constitution should be amended in a way so that no section of society can declare anyone a kaafir (non-believer)," he added.

The PAT chief also demanded the establishment of peace-training schools, which he explained would play an integral role in reducing extremism in society and make Pakistan "a peaceful, enlightened and democratic country."

Qadri demanded the de-politicisation of state institutions. He added that he would not allow dichotomy of law for the poor and the rich. "The national government will not allow any corrupt person to be a public officer," he added.

Qadri's charter also envisages devolution of power to the grassroots level to ensure speedy solution of problems. "We want a system of devolution in which the issues of the poor are settled by their union councils," he added. "The government has not conducted local bodies' elections."

Similarly, as part of devolution the PAT chief called for at least 23 provinces to improve administration. "Separate provinces should be formed for Gilgit-Baltistan, south Punjab and Hazara."

Qadri said the rights of minorities would be protected. "No one will be allowed to raise a hand on any minority, and if they do, their hands will be chopped off," he said.

While the PAT chief was delivering his speech, the party's volunteers caught hold of an armed man, suspecting he had bad intentions. However, Qadri asked the crowd not to hurt the man and bring him on the stage. When the gun-wielding man was brought to the stage, Qadri showed his weapon to the media before hugging him. "I forgive the Gullu Butt of Islamabad," he said, referring to the infamous vandal who had smashed windows and windscreens of vehicles during the Model Town tragedy.

Qadri also requested shopkeepers in the area to open their shops and sell edibles to participants of the Inqilab march. "They are your brothers and sisters. I guarantee you that no supporter will damage your businesses," he said. "There is no terrorist, thug or criminal in the Inqilab march."


Published in The Express Tribune, August 17th, 2014.
COMMENTS
Comments are moderated and generally will be posted if they are on-topic and not abusive.
For more information, please see our Comments FAQ