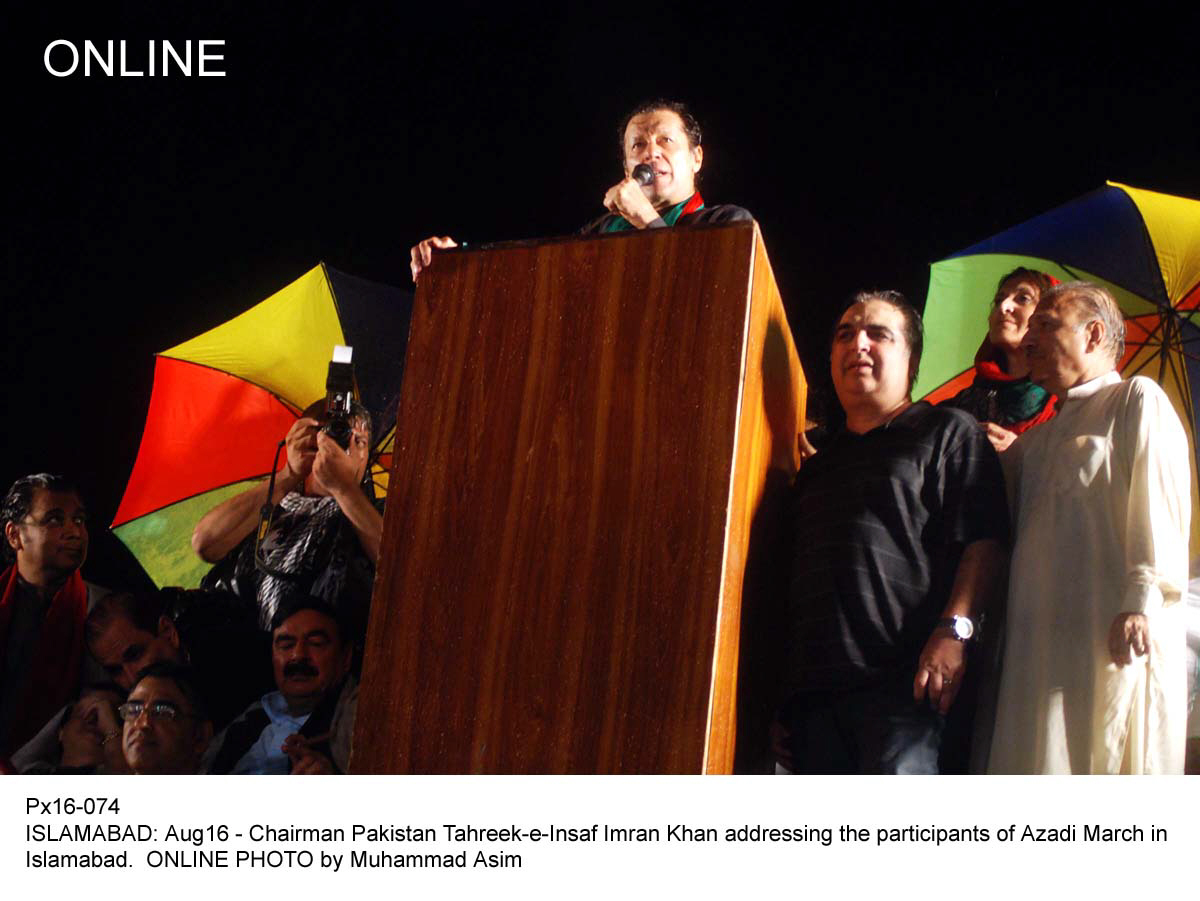 ---
ISLAMABAD:



Pakistan Tehreek-e-Insaf (PTI) chief Imran Khan on Saturday warned that his party would make the government forget the  Tahrir Square uprising — which toppled Egypt's former strongman Hosni Mubarak in 2011 — if his party's demands were unmet.




Talking to Express News late Saturday night, Imran Khan predicted that "something is going to happen in Islamabad today (Sunday) as people cannot be stopped."

He also said he was not opposed to negotiations. "However, we will not accept anything short of Prime Minister Nawaz Sharif's resignation," he added.

Imran demanded formation of a neutral caretaker government under the Supreme Court. "The situation emerged due to a rigged election. Now a [fair] election is needed," he said. Imran also said he was not afraid of any suicide attack. "The Holy Quran says we all have to die. So why not die for the freedom of the country?" he asked.

Earlier, addressing marchers at the Kashmir Chowk on the second day of his protest, Imran said it was high time for the government to accept his demands and resign or otherwise the 'tsunami of the Azadi march could march towards Parliament House via the Red Zone.

"This tsunami can march towards parliament and prime minister house. I cannot guarantee I will be able to control 'the Junoon' of the workers from tomorrow and the government has to decide soon," he said.

The PTI chief promised to remain with his party workers and supporters at the sit-in venue till the Azadi march reaches its logical end.

"Now I will stay with you and I will spend my days and nights here till the fulfillment of our demands," he said. "Tonight, we will celebrate Independence Day," he added.

"Nawaz Sharif, we will not go till your resignation. You have rigged the elections through your personal empire as you used to do in cricket matches in Lahore Gymkhana years back," he said. Imran Khan called upon Interior Minister Chaudhry Nisar Ali Khan to listen to his conscience regarding the PTI march and invited him to join it for democracy's sake.

"The Azadi march has taken its first wicket as the Lahore High Court has recommended registration of FIRs against Prime Minister Nawaz Sharif and Punjab Chief Minister Shahbaz Sharif in connection with Model Town incident," he said.

"It seems that the little Sharif will have to face FIRs and will ultimately be behind bars while the older Sharif will have the same fate after the investigation of election rigging," he said, adding that it was the time for the Sharif brothers to go.

He called PM Nawaz Sharif a 'seller of consciences'. "You cannot buy me, because you cannot offer my price," he said.

Sharing his vision for a 'Naya Pakistan', he said now the people would neither be slaves nor would they beg for money from others. "I promise I will neither let you down nor leave you alone." Imran also paid tribute to his supporters, who, he said, were there in spite of rain and a gruelling 40-hour journey,

"Why does a nation so resilient have to beg for aid? Why does it have to go around the globe seeking loans? The nation is brave and hardy but the rulers are corrupt. And the time has come to get rid of these rulers," he said.

He lashed out at the PML-N government for using Punjab police for political purposes, claiming that the police of Khyber Pakhtunkwa (K-P), worked neutrally and professionally without any political interference. "Under the protection of Punjab police, another brother of Gullu Butt, Pumi Butt pelted the PTI convoy with stones and fired at workers in Gujranwala," he said.

The PTI chief said the PML-N leaders spend national resources on their publicity –which has eroded public trust. "If the people of this country can donate Rs350 crore to Shaukat Khanum Hospital, think how much they would pay in taxes if the trust deficit could be overcome. Let me tell you… PM Imran would never lie to you. I will promise only what is possible and deliver it," he said.


Published in The Express Tribune, August 17th, 2014.
COMMENTS (1)
Comments are moderated and generally will be posted if they are on-topic and not abusive.
For more information, please see our Comments FAQ