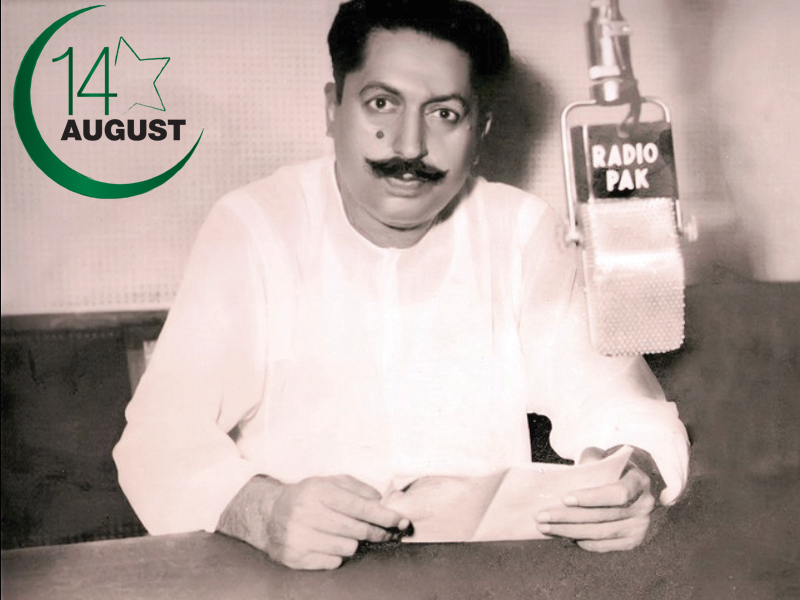 ---
This photograph features my grandfather, Jamote Syed Muhammad Ali Shah, speaking on Radio Pakistan about hunting and wildlife conservation. He served as the Chief Game Warden of Sindh from 1959-1960. He was very fond of hunting, including boar hunting with spears, and often hunted with Pir Pagaro VII.

The two were very close because of my grandfather's assistance during the persecution of the Hur Jamaat by the British administration at the time. He hosted and hunted with visitors to Pakistan such as King Hussein of Jordan and his home in Hyderabad, 17 Civil Lines, was a hub of political activity. A self-educated man, my grandfather taught himself to speak English and how to dress in the British fashion. He also served as an honorary lieutenant colonel in the Pakistan National Guard from 1947-1949.

This August, The Express Tribune will feature photographs from contributions to an open call for images from the struggle for independence and Pakistan's formative years.

PHOTO: REZA ALI SHAH

CONCEPT: SANAM MAHER

DESIGN: SAMRA AMIR

Published in The Express Tribune, August 17th, 2014.
COMMENTS
Comments are moderated and generally will be posted if they are on-topic and not abusive.
For more information, please see our Comments FAQ