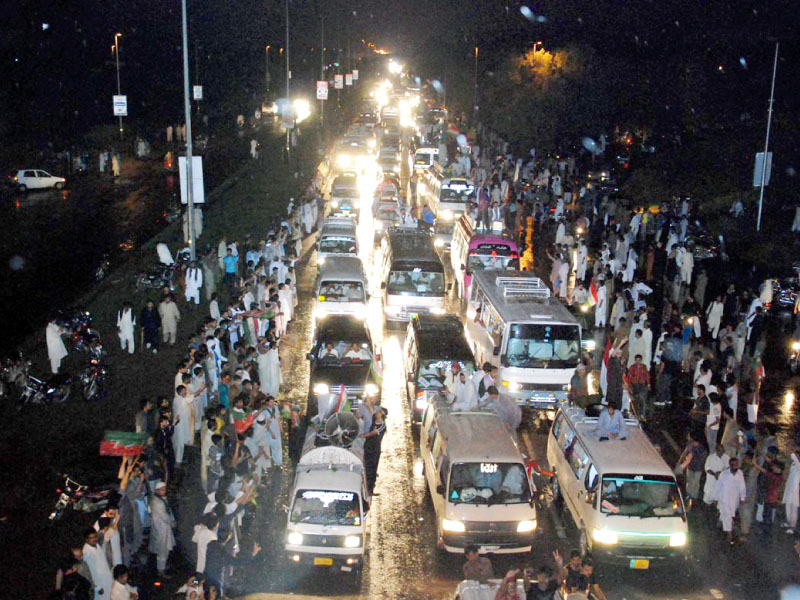 ---
ISLAMABAD/ JHELUM:



More than 38 hours after their leaders and supporters departed from Lahore, the motorised cavalcades of Pakistan Tehreek-e-Insaf (PTI) and Pakistan Awami Tehreek banded separately in the Azadi and Inqilab marches reached their destination — the federal capital Islamabad.




Once his motorcade pulled in, Imran Khan announced on the micro-blogging website Twitter that PTI leaders, workers and participants would stage a sit-in at the Kashmir Highway, Serena Chowk, which was initially chosen as the venue. He also said that he planned to stay overnight at the same site.

Crowds at Kashmir Highway broke into dance as soon as they found out that the Azadi march rally had entered the capital amid heavy rainfall. Workers rushed to prepare for the speeches, the sit-in and the throngs of people, despite puddles of water and mud.

Imran Khan's motorcade closely followed Tahirul Qadri's rally, which had a smoother journey than PTI. Earlier, addressing the media in Jhelum, Dr Qadri claimed that over 600,000 supporters were participating in his march. Meanwhile, a few hundred more activists joined the PAT rally from Jhelum and Dina. A PAT caravan from the Azad Jammu and Kashmir (AJK) also joined in. A two-kilometre line of vehicles welcomed and joined PAT rally at Gujjar Khan at about 7:30 pm.

Both parties met with throngs of flag-waving, cheering supporters as they entered the capital separately. Senior leaders of the party, led by Khyber-Pakhtunkhwa Chief Minister Pervez Khattak, Secretary General Jahangir Tareen, senior leaders Saifullah Niazi, Azam Swati, provincial ministers, MPAs and MNAs are in Aabpara Chowk, where the main stage was set up.

However, there was a short-lived confusion about the sit-in venues for both the rallies. PAT spokesperson Sheikh Zahid Fayaz announced on social media that the rally will be held on Khayaban-e-Suhrawardy, parallel to the PTI rally on the Kashmir Highway. Officially, the Islamabad Capital Territory (ICT) administration designated Faisal Avenue as the site of the PAT rally.

In the end, it was decided that both the PTI Azadi march and PAT Inqilab march convoys will converge at Aabpara Chowk.

Earlier, Interior Minister Chaudhry Nisar said PTI leader Saifullah Niazi has assured him in writing that their workers will not cross the Red Zone in Islamabad, Express News reported. He added that 3,000 FC personnel from Khyber-Pakhtunkhwa had been deployed in Islamabad along with 30,000 police personnel.

At the beginning of Day 2 of Azadi march, the main rally convoys first inched towards the capital but then later sped ahead after violence erupted between PTI activists and Pakistan Muslim League-Nawaz workers at Gujranwala.

Following the attack on their convoy in Gujranwala earlier, Imran Khan sent a message to all his workers: "Wherever you are, head to Islamabad as soon as you can. Today is the day for Naya Pakistan."

Meanwhile, talking to reporters upon reaching Jhelum, PAT chief Dr Tahirul Qadri 'congratulated' the nation, saying, "The time to change the country's fate has arrived." He condemned the attack on the PTI convoy, terming it as an act of cowardice.

The PTI rally scurried northwest towards Islamabad, crossing many districts within a few of hours. According to PTI's official Twitter account, while the head of the rally was at Gujjar Khan, the tail was at Dina, district Jhelum, which makes the Azadi march rally 44 kilometres long.

Talking to Express News exclusively late Friday night, Imran Khan said he would follow his supporters to Aabpara and spend the night there. "In the morning, we will bring a revolution in the country and we won't leave until we secure our freedom," he added.

Published in The Express Tribune, August 16th, 2014.
COMMENTS
Comments are moderated and generally will be posted if they are on-topic and not abusive.
For more information, please see our Comments FAQ