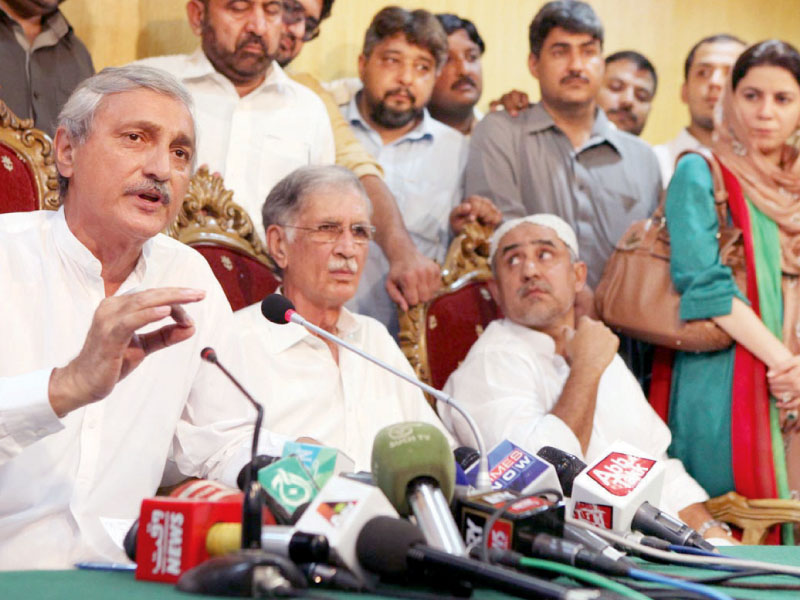 ---
ISLAMABAD:



Leaders of Pakistan Tehreek-e-Insaf (PTI) warned on Friday that their supporters will not leave the capital until the government calls for fresh elections and announces a caretaker government.




Speaking soon after members of his party were pelted with stones in Gujranwala during the party convoy's slow movement to Islamabad from Lahore, PTI secretary general Jehangir Tareen said the PTI would remain in Islamabad until the election commission is dissolved.

"We will not compromise or strike a deal as far as our principled stance is concerned," Tareen said. "Soon the Nawaz monarchy will come to an end." When asked how long the party intends to continue the Azadi march, he replied, "This depends on the Sharif brothers and how soon they tender their resignations."

Flanked by Khyber-Pakhtunkhwa Chief Minister Pervaiz Khattak, additional secretary general Saifullah Niazi and local party leaders, Tareen claimed PML-N workers attacked the PTI convoy at three points but the police did not stop them. "We warned the PML-N not to play with fire or it will engulf your government," he added.

The attack on the Azadi march in Gujranwala took place on the directives of Prime Minister Nawaz Sharif and Punjab Chief Minister Shahbaz Sharif, the PTI leaders alleged, demanding that the government provide foolproof security to party chairman Imran Khan.

The PTI leaders called for the immediate registration of an FIR against PML-N MPA Pomi Butt, who reportedly led the attack on the marchers, which left several PTI supporters injured. "The Sharif brothers wanted to disrupt the Azadi march and provoke our workers, but such an act will be problematic for the government once party workers are triggered," Tareen said.

The party leader said the Sharif brothers would be held responsible for any harm caused to the party leadership or workers during the march. Media reports showed PML-N supporters throwing stones at the PTI convoy while standing atop a police vehicle in Gujranwala. "The PML-N supporters attacked the Azadi march under police protection, which is just another example of the Gullu Butt regime of the PML-N," Tareen said. He warned, "It will be disastrous if PTI workers are provoked."

PTI additional secretary general Saifullah Niazi said the leadership was under 'immense pressure' from the Insaf Student Federation and Youth Wing to respond to the clashes in Gujranwala. "PTI youth will create havoc If Imran Khan is harmed," he said.

Tareen said that even though the party had been given the go-ahead to hold the march in Islamabad, entry points to the city have been blockaded. "We demand the immediate removal of these barricades so marchers can enter the city," he said.

K-P Chief Minister Pervaiz Khattak claimed the government tried to provoke PTI's K-P workers on Thursday. He refuted claims that any 'terrorists' from K-P were part of the party's convoy of an estimated 7,000 vehicles.

Published in The Express Tribune, August 16th, 2014.