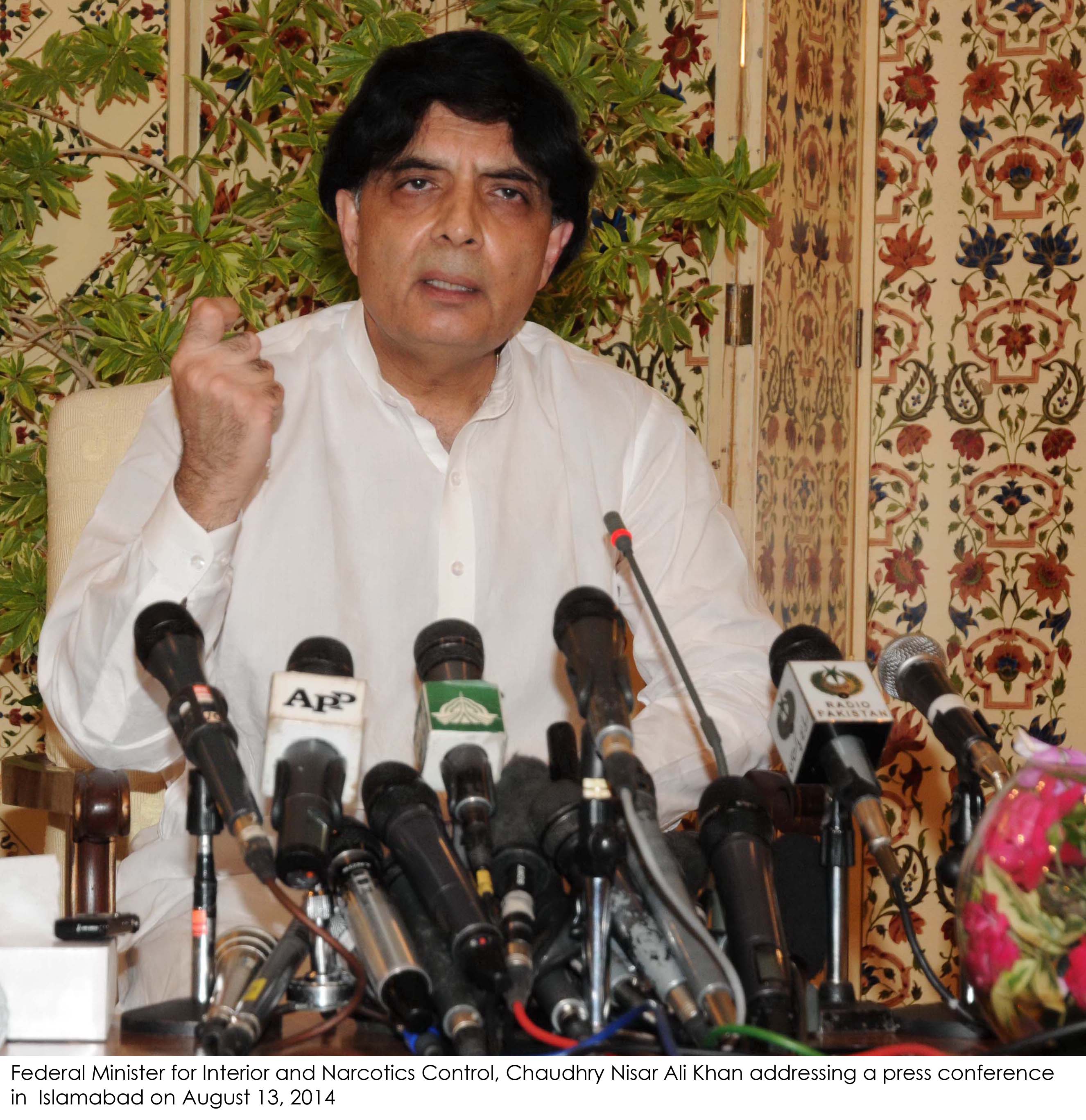 ---
ISLAMABAD:



As the Pakistan Tehreek-e-Insaf (PTI) and Pakistan Awami Tehreek (PAT) marched towards the capital, the government on Thursday drew a 'red line' for the protesters, warning that no one must enter the Red Zone where foreign embassies and key government installations are located.




"I want to say it loud and clear that the red line should not be crossed," Interior Minister Chaudhry Nisar Ali Khan told a news conference in Islamabad. "We have allowed both parties to hold their processions with certain conditions. No one will be allowed to breach the security of the Red Zone. If anyone tries to do that, the law will come into action."

Nisar said the Lahore High Court has already ascribed limits for both the government and the protesting parties. The government is fully obeying the court's orders, he said, and it is hoped that the protesters will also follow the rules.

The PTI has consistently called for the prime minister's resignation, and the interior minister hinted that the PML-N government might be willing to concede to some demands of the protesters, with this one exception. "I think the government will have to take many steps now for transparency and strengthening the system," Nisar said. "This is already being considered."

Nisar repeatedly denied any involvement of the military in the current situation, saying the institution should not be dragged into political affairs.

The government has 'tripled' the Red Zone's security, the minister claimed, saying it is a matter of the country's prestige and international obligations to ensure that the Diplomatic Enclave is protected at all costs. Foreign missions are closely watching the situation in the capital and are concerned about their security here, Nisar said.

Asked how long the protesters would remain in the capital, the interior minister was cagey.

However, he assured residents of the twin cities that the government will strive to minimise inconveniences to them.

Once the protesters settle at a certain venue, the government will open all major roads, barring a few.

Published in The Express Tribune, August 15th, 2014.