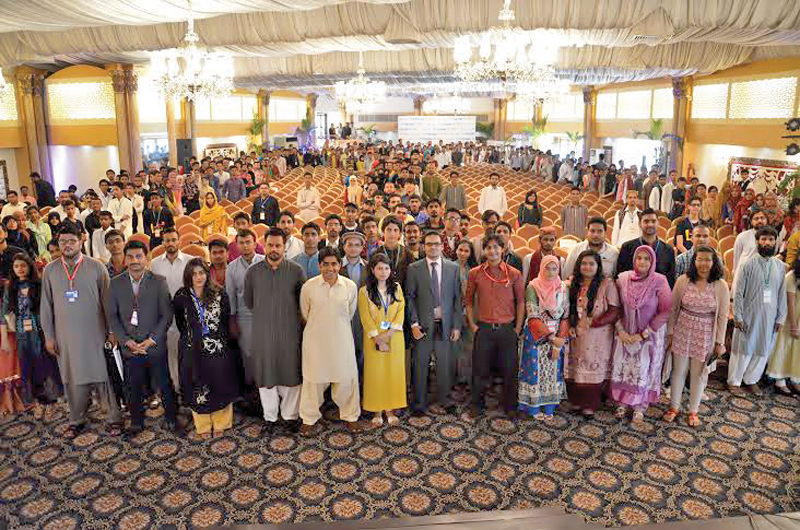 ---
KARACHI: The responsibility of making Karachi a peaceful place is on the media's shoulders, the speakers concluded on the last day of the Youth Peace Summit on Thursday.

The three-day summit was being held at the Pearl Continental hotel with an aim to reclaim Karachi and take ownership to make it into a peaceful city it once was. Thursday's session started with the national anthem and a flag hoisting ceremony with more than 600 participants. This was followed by a theatre performance by Interactive Resource Centre (IRC), titled 'Riyasat [the state]', which presented the 67 years of Pakistan's independence and sacrifices made by the people in this time.

The speakers discussed the role of media in the peace-building process in Karachi. "We, as individuals, are independent and we can say anything we want to," said Muhammad Shahzad, a television anchor. "But, as a media person, it is our responsibility to care about the sentiments of the people."

Shahzad pointed out that the local media is working without any policy or vision. "It has been around 15 years that the media was privatised but still we are immature," he claimed, in reply to a question on whether or not Pakistani media is a watchdog or a policy maker.

Shahzad admitted that over-emphasis on a story yields nothing except create chaos among people. "What happened is not a question," he said. "Why it happened is something that people are more interested to know now."




Shahzad said the youngsters can stop the wrong things taking place in the media by complaining about what they don't like. "Whenever people have complained, PEMRA has taken action," he said.

Former diplomat Zafar Hilaly urged the young men and women to be pro-active. "The media has a private agenda," he said. "Don't be a goat on their farm, create your own farm."

The speakers also encouraged the young participants to stand up for their rights. "This country will never prosper until our youngsters stand up against what is incorrect," said Hilaly, while talking to The Express Tribune. "If you [youth] think something is wrong, then express it. Don't support it by keeping quiet."

Hilaly regretted that Pakistan is not even standing still but is moving back in terms of development. "People should understand why we have so much frustration and anger. Our youngsters are jobless because very few students are able to reach universities."

He supported proper legislation to keep the media in check. "There should be a boundary for the media," he suggested. Concluding his speech, Hilaly asked everyone to raise their voice for peace in Karachi. "We write in newspapers so we should play a role and raise our voices for peace-building in Karachi," he added.

Published in The Express Tribune, August 15th,2014.

 
COMMENTS
Comments are moderated and generally will be posted if they are on-topic and not abusive.
For more information, please see our Comments FAQ