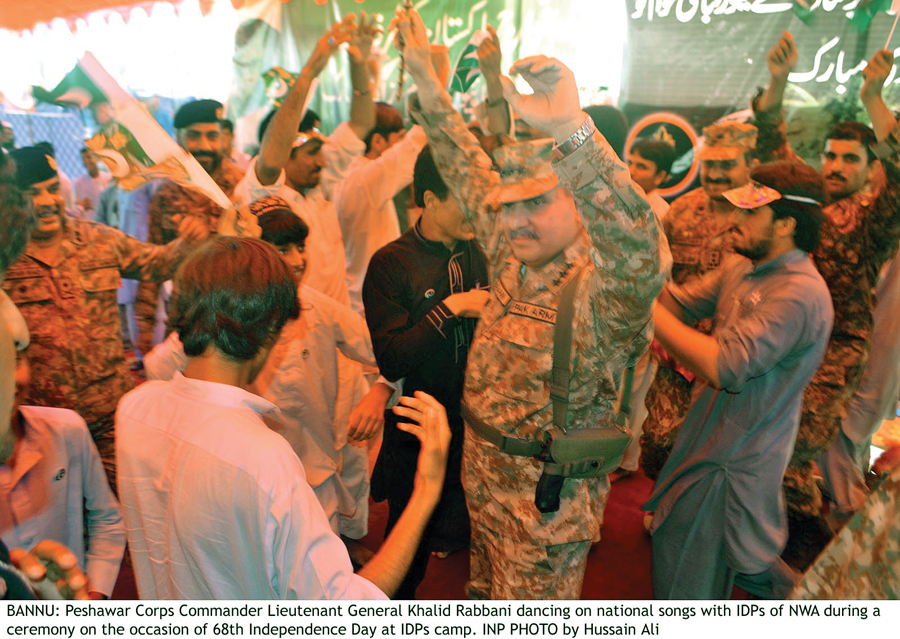 ---
BANNU:



Peshawar Corps Commander Lt General Khalid Rabbani on Thursday expressed his satisfaction over Operation Zarb-e-Azb in North Waziristan, saying most of the area had been cleared of militants. He said final efforts were under way to establish peace and the writ of the state along the tribal belt.




"Internally displaced people can return home once peace and the law of the land prevail all over North Waziristan," he said while talking to the media at the Baran IDP Camp in Bakakhel, on the outskirts of Bannu.




Lt Gen Rabbani attended a simple yet impressive ceremony to celebrate Independence Day with displaced people at the camp. It was also attended by Field Commander Maj General Akhtar Jamil Rao, Bannu Division Commissioner Syed Mohsin Shah and other senior civil and military officials.

Answering a question, the corps commander dispelled the notion that it had been smooth sailing for the troops. "There is resistance. We have lost the precious lives of 31 jawans and officers apart from the 117 personnel that were injured," he said. "You cannot imagine the framework set up by these militants to retain their presence and influence along this part of the tribal belt. Most of the infrastructure and bunkers established by militants have been dismantled by troops."

Rabbani said the area from the Khajuri check post, an entry point to North Waziristan near Bannu, till Datakhel has been cleared. "The action is satisfactory, but it will take time to complete." The corps commander was unable to give an exact timeframe, but said the army was doing its best to start the repatriation of displaced people as soon as possible.




He assured that tribesmen stranded in the Razmak region of North Waziristan were being provided with daily necessities, adding that 40 trucks loaded with items reached that part of the agency from DI Khan.

Addressing guests at the ceremony earlier, Rabbani appreciated the tribesmen and women who left their homes, saying their sacrifices would pave the way for a better future in the country. He said these patriots gave armed forces the opportunity to clear the area of militants.

The corps commander reminded the audience that Operation Rah-e-Rast was successful because the people of Swat cooperated with the armed forces.

He asked the displaced people to remain patient till the agency is cleared of militants, saying the government was well aware of their troubles and was determined to rehabilitate them.

Some students made speeches on the occasion, while others performed tableaus and national songs with great enthusiasm and patriotism. Guests also joined in the fun when some of the youngsters performed the traditional Attan dance.

Published in The Express Tribune, August 15th,2014.
COMMENTS (1)
Comments are moderated and generally will be posted if they are on-topic and not abusive.
For more information, please see our Comments FAQ