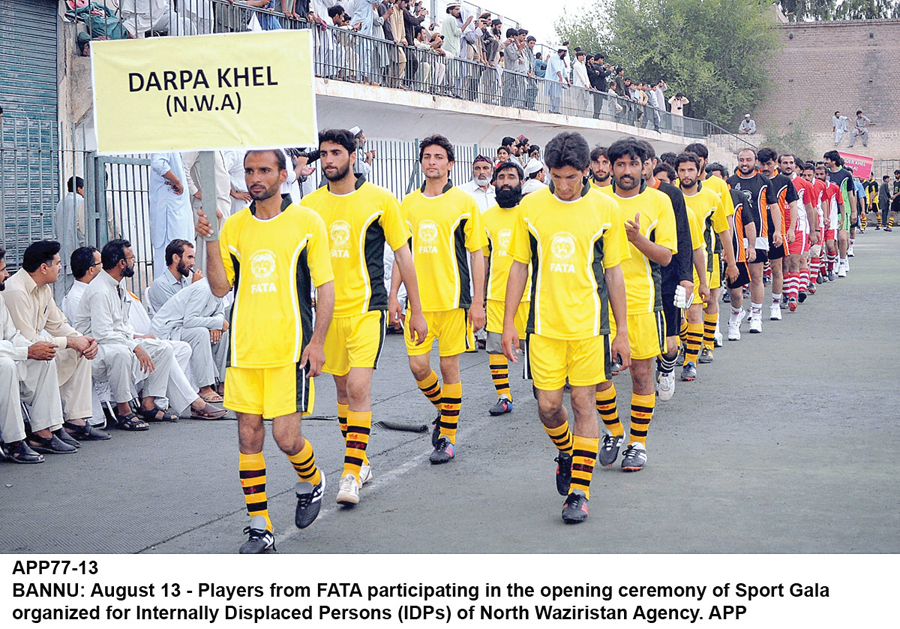 ---
PESHAWAR: Sports enthusiasts converged at sports complexes in Peshawar and Bannu to display their skills and celebrate Independence Day on Thursday.

The Khyber-Pakhtunkhwa (K-P) and FATA Olympic associations organised different events for tennis, table tennis, martial arts, archery and badminton.

The Peshawar Sports Complex was decorated with flags and banners to mark the occasion.

The Directorate of Women's Sports held table tennis and badminton tournaments, while the FATA Boys Scouts staged various performances related to Independence Day.

In the badminton final, Kayinat beat Iqra with 9-11, 11-6, 11-6, while in the table tennis doubles category, the duo of Urooj and Iqra beat Beena and Noreen 21-19, 21-18.

Children also had a chance to join in the fun and Shehzad of Mohmand Agency took first prize for his stage performance, while Imran of Khyber Agency came second and Ikramullah from Kohat secured third place.

Meanwhile, the FATA Directorate of Sports in Bannu also organised an event at the Qazi Mohib Sports Complex for people displaced by the military operation in North Waziristan. The theme of the event was to 'Smile through sports'.

FATA Director Sports Faisal Jamil Shah inaugurated the 16-day event at which 3,000 players from 22 tribes of the agency would take part in different games. Assistant Political Agent Bannu Javedullah Masood, Agency Sports Manager Noorullah Wazir and District Sports Officer Bannu Anwer Rashid were present on the occasion.

The event kicked off in colourful fashion with an attan dance. Soon after the opening ceremony, tug of war, cricket, volleyball, hockey and football matches were played.

"The aim is to organise sporting activities for the displaced people of North Waziristan and provide them an opportunity to spend some time in a healthy environment. This will allow them to hone their skills," said Shah.

He added that the top players would be selected at the end of the event and subsequently trained to represent FATA at the national level.

Published in The Express Tribune, August 15th,2014.