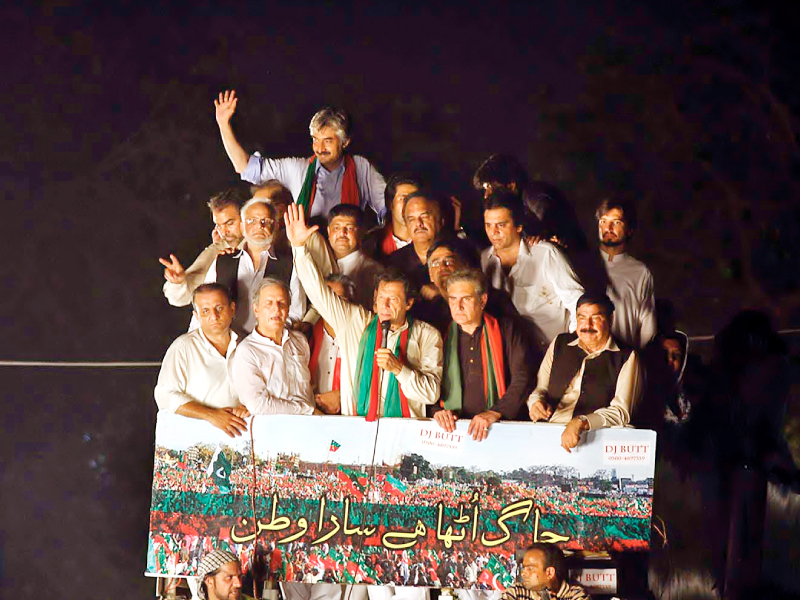 ---
PESHAWAR:



The month of August has been all about routes, roads and blockades. The logistics of Pakistan Tehreek-e-Insaf (PTI) combined with a road game of protest, arrest and release played by the Punjab police and Pakistan Awami Tehreek (PAT) have forced traders to sit back and count their losses.




Route problems came to a head close to August 9, a day before PAT's Yaum-e-Shuhada which caused Punjab police to barricade parts of main arteries which lead through to other provinces. Then there were protests near or on GT Road.

All this has forced transporters and traders to re-evaluate the movement of their produce and vehicles as both businesses will be hit harder if the trucks get caught up in violence. As a result, staples like fresh produce, flour, sugar, ghee and oil are running short in the city.

"The supply of vegetables, fruits and other commodities from other parts of the country will remain suspended till August 15," All Pakistan Produce Federation President Malik Sohni tells The Express Tribune. It has been three to four days since these products reached the city, he says.

A fresh foul

The two fresh produce mandis on Ring Road have suffered losses in the millions, says Sohni, as the markets decided to remain shut since they had nothing "fresh" to sell. Fruit grown in the province is also unable to reach markets because of road blockades. Cold storage fruit is available but can't beat the cost or the flavour of fruit and vegetables straight from the fields.

Not ones to sit idle, hoarders have stepped in to fill their coffers as they withhold commodities. Sohni fears that rates of many goods will now increase and cause consumers more grief.

Flour power

Food Grain Dealers Association President Haji Rambel tells The Express Tribune that only two days' worth of flour remains in the city's markets.

"Peshawar's flour dealers depend on Punjab for flour. If the protests extend, a severe shortage will be created," says Rambel. At least a hundred flour trucks enter Peshawar daily from where the flour is sent onwards to other markets in K-P, he says.

All Pakistan Goods Transport Truck Owners Association's provincial president Khwaja Muhammad says truck owners have also suffered losses in the preceding week; some to the tune of Rs50,000.

Muhammad confirms that loaded trucks wait for further instructions in Gujranwala, Multan and Lahore. "Trucks come from Karachi to bring daily commodities to Rawalpindi, Islamabad and further north but they have come to a standstill in fear."

On the flipside, hundreds of trucks have been pulled back and stand in Peshawar at different terminals. "These are loaded with commodities like perishables, edibles and construction materials."

Goods transporters are not the only ones making a loss or the only ones peeved at politicians and their shenanigans.

Kohat Terminal president Mujahid Khan tells The Express Tribune PTI lawmakers came to book vehicles for the Azadi March but transporters turned them down. The PTI workers had offered to double the money but transporters refused over PTI's failure to alleviate the problems faced by vehicle owners in the province.

"Why would we let our vehicles participate in this march, then?" remarked Khan.

Published in The Express Tribune, August 15th, 2014.


COMMENTS (1)
Comments are moderated and generally will be posted if they are on-topic and not abusive.
For more information, please see our Comments FAQ