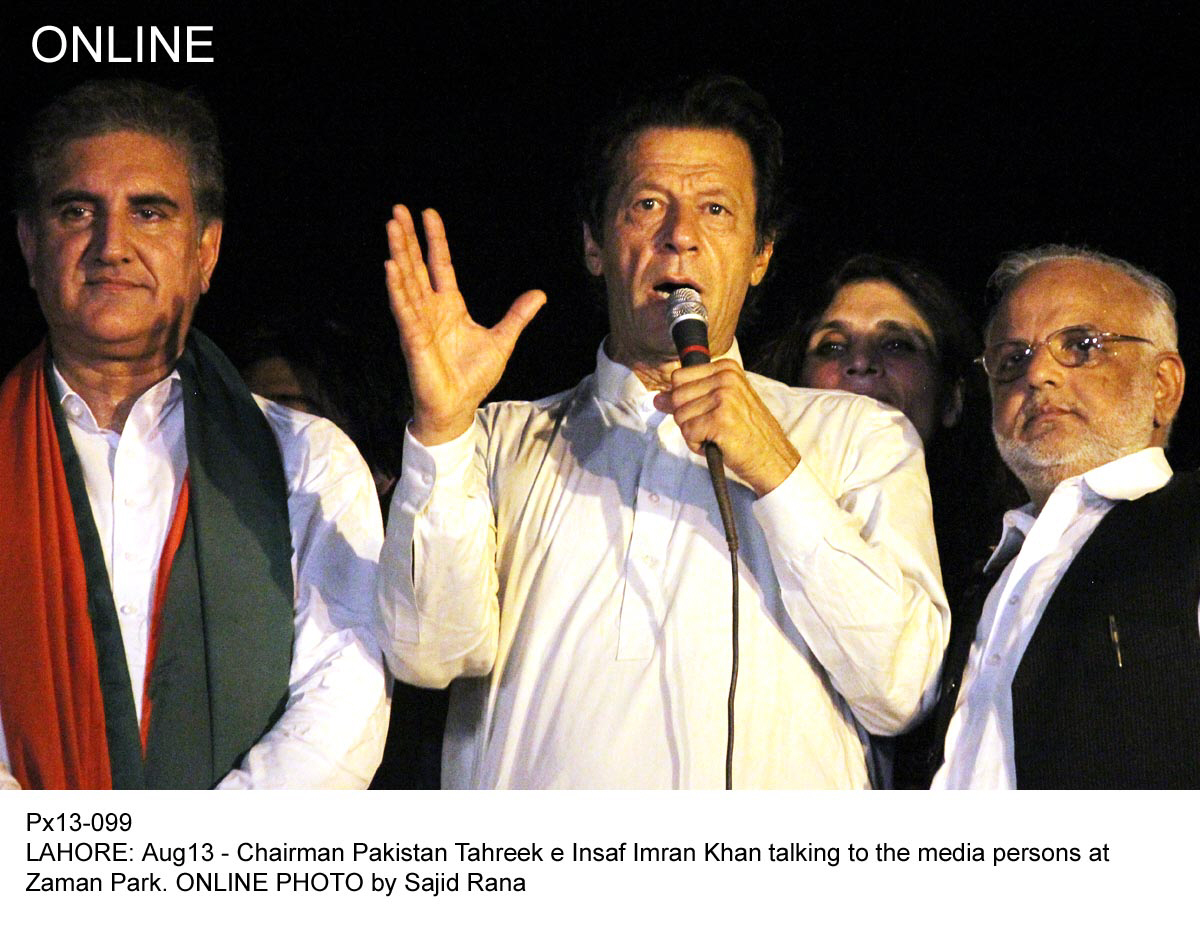 ---
LAHORE:



Pakistan Tehreek-e-Insaf (PTI) chairman Imran Khan said on Wednesday that his party's Azadi march will put an end to 'monarchy' and establish 'real democracy' in the country, laying the foundation of 'Naya Pakistan'.




"We are going to establish a system of justice, merit and rule of law in Naya Pakistan," he said at a news conference held at his residence to welcome new entrants into the party, including MNA Jamshed Dasti.

Imran reiterated that the Azadi march would be peaceful and in accordance with the directions of the Lahore High Court (LHC). "I have already assured all quarters that the march will be peaceful and non-violent," he added. The PTI chief thanked the LHC for directing the Punjab government and police to remove all shipping containers placed on the roads and to refrain from arresting PTI workers.

Imran warned the government against taking any extra-constitutional measures saying, "We will topple the government if it goes against the Constitution." He also warned the Punjab police chief against taking any 'vindictive' action against PTI workers.

The PTI earlier sent a letter to the IGP Punjab, requesting him for foolproof security for Azadi march participants, according to party MPA Aslam Iqbal. He said the IGP has directed a senior police officer to liaise with the party for security arrangements.

Imran once again called on Prime Minister Nawaz Sharif to resign, saying that the premier was 'part and parcel' of the rigging in the 2013 elections. He said once Nawaz left the office, a non-political and impartial caretaker government would be set up to conduct 'ruthless accountability' and hold free and fair elections.

The PTI chief also vowed that if voted to power, he would bring back a whopping $200 billion stashed by Pakistani rulers in banks abroad.

Imran also called on PM Nawaz to allow both his party and PAT to stage their respective marches, and urged him to avoid using 'Hosni Mubarak-like' tactics against political opponents.

Published in The Express Tribune, August 14th, 2014.
COMMENTS (2)
Comments are moderated and generally will be posted if they are on-topic and not abusive.
For more information, please see our Comments FAQ