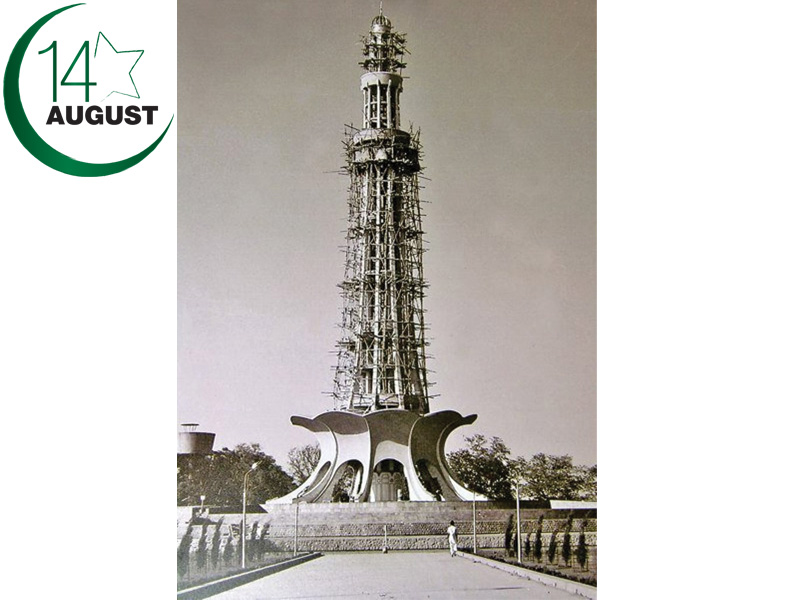 ---
Minar-e-Pakistan's foundation stone was laid on 23 March, 1960, by Governor of West Pakistan Akhtar Hussain in Minto Park (now Iqbal Park). The structure was designed by Naseer ud Din Mira'at Khan, originally from Dagestan, USSR (now Russia). It is said that in 1963, Khan was summoned to President Ayub Khan's office. The president took out a fountain pen from his pocket and stood it upright on his desk. Build me a monument like this, the president instructed. The towering Minar was completed on 31 October 1968 at an estimated cost of Rs7.5 million. The money was collected by imposing additional tax on cinema and horse racing tickets. Naseer ud Din Mira'at Khan's name does not appear at the site of the monument.

PHOTO:  NADEEM OMAR TARAR

CONCEPT: SANAM MAHER

DESIGN: SAMRA AMIR

This August, The Express Tribune will feature photographs from contributions to an open call for images from the struggle for independence and Pakistan's formative years.

Published in The Express Tribune, August 14th,2014.