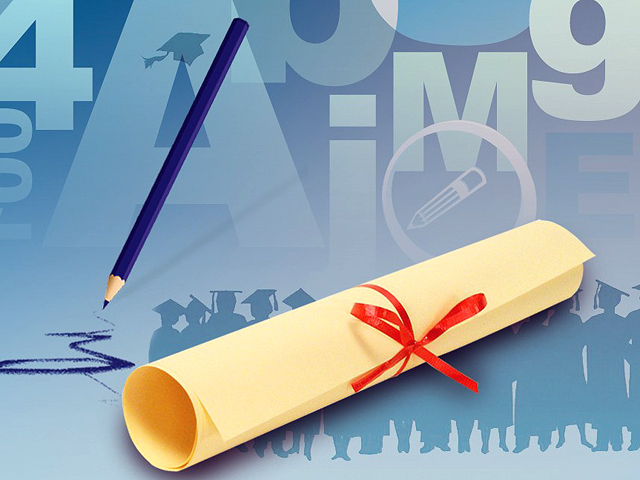 ---
ISLAMABAD:



With talk of political rallies and Independence Day celebrations doing the rounds, students of the capital spent the day discussing how they fared following the announcement of Cambridge International Examinations (CIE) results on Tuesday.




CIE reports Physics, Chemistry and Mathematics as the most popular subjects among its courses in Pakistan and reported a seven per cent increase in entries for these subjects in 2014.

Twitter and Facebook were the main forum of discussions for young students where they exchanged their views on grades and shared doodles and pictures congratulating each other.




Several school systems took out full page supplements in local editions of newspapers congratulating students with their pictures and results.

Hashim Ikram of Lahore Grammar School (LGS) Islamabad got three As in Math, Chemistry and Physics. "I was expecting the same result because this is what I had in mind after the examinations," he commented.

Ikram said overall this year, the result was average and not as students of LGS were expecting.

With CIE reporting a global growth of 14 per cent for all of its qualifications this year, it reported an overall rise in seven per cent with entries increasing from 204,000 in June 2013 to 218,000 in June 2014.

CIE Country Director Uzma Yousuf Zaka said this part of the year focuses on results.




According to CIE, the most popular A-Level subjects are Mathematics, Physics, Chemistry, Economics and Business Studies. It received more than 71,000 entries for the 2014 June series --- the number was 69,432 last year.

Roots School System's Sector I-9 student, Osama Nadeem, achieved five As in Math, Chemistry, Physics, Economics and Accounting. Nadeem said the result reflected his level of preparation and hard work.

Roots CEO Faisal Mushtaq was also exhilarated about the results. "I am still on campus and was just looking and smiling at the extra ordinary result this year," he said, adding that "we have worked hard and it was expected with the new approach of CIE and the school's internal teaching facility and teaching learning division, among other intense examination criteria."

He remarked that 1,050 students appeared from Roots Schools System and over 700 students achieved minimum three As and above. He said their students have already applied at local and foreign universities while this year, 13 of their students have been admitted at the Lahore University of Management Sciences.

Syed Zainul Abideen Gillani from Bahria College Islamabad also got three As and one A* but stated that he was not expecting an A* in Urdu as it was his weak subject.

Published in The Express Tribune, August 14th, 2014. 
COMMENTS (4)
Comments are moderated and generally will be posted if they are on-topic and not abusive.
For more information, please see our Comments FAQ