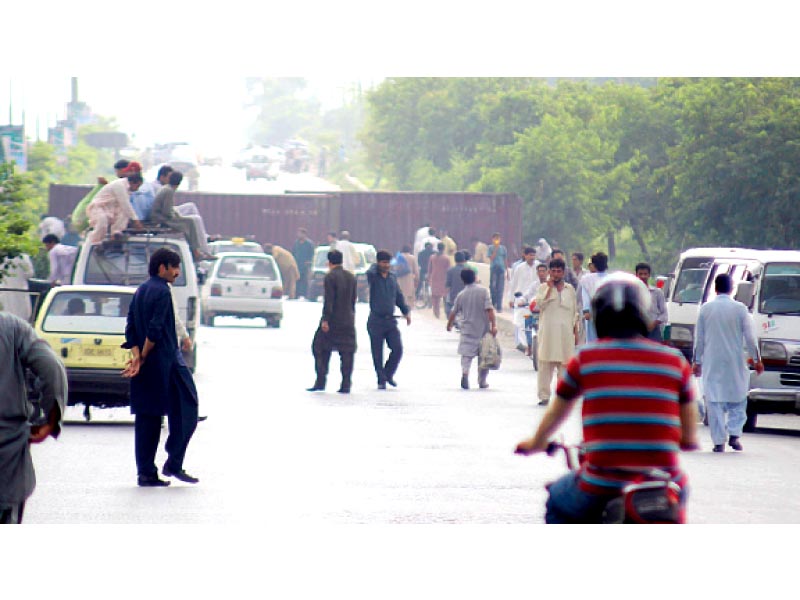 ---
ISLAMABAD:



On the eve of Independence Day, life was crippled in the twin cities by government efforts to stop Tehreek-i-Insaf (PTI) and Pakistan Awami Tehreek (PAT) marchers from entering the capital.




Commuters suffered due to the unavailability of public transport, with operators choosing to stay off the obstacle courses that were once called roads. Women, children and senior citizens were among the worst hit.

Bibi Jan, who is in her sixties, sells second-hand clothes near Islamabad's Sabzi Mandi. She explained how she was the only breadwinner for her family because her husband and two sons were killed during Afghan war. She said she lives in Bhara kahu and commutes to Sabzi Mandi every morning and only returns home after sunset. She said that on she had to wait at a bus stop for three hours before a van for Bhara Kahu made a stop there.

Toyota Hiace vans are the mains sources of transportation for majority of daily commuters between twins cities were also remained off from the roads, whereas intercity transport was also came to halt.  A small number of wagons were seen on roads, most of which seemed to have doubled their fares, whereas a very thin number of private vehicles including motorbikes were also seen on major roads.  Arguments between passengers and transporters were also seen, mostly caused by the inflated rates and shortened routes.

Muhammad Nadeem who works at a local factory in Islamabad Industrial area told that he paid Rs50 from Mandi More to Abpara Market instead to Rs25 governments' regular fixed fare.  Khalid Hussian a middle aged man told this scribe that transporters were fleecing people by short routing as major entry points were blocked by law enforcement agencies and passengers were gotten off by transporters not far from where there were picked up  and they were refusing to payback there money which were charged in excess.  Azra Khatoon whose mother was admitted in hospital told that she traveled by foot from Abpara Market to Complex Hospital because she did not find any transport to reach there.

Most shopping centers in Raja Bazaar, where many Rawalpindi wholesalers are based, were open, but the number of shoppers had thinned due to the lack of public transport to get there.  Mohammad Owais Khan, who runs a hosiery wholesale store in Mughal Saraay Market, was sitting leisurely at his shop. His business depends on high customer volume, but the transport issues meant he only had two customersd all day.

Farhad Khan, who runs a cosmetics and perfume wholesale store in Bara Market, Rawalpindi, said he regularly entertains shoppers from as far as AJK, Murree, Taxila and Gujjar Khan, but on Wednesday, the few customers he had were all local, as the out-of-towners did not want to risk coming to the city.

Published in The Express Tribune, August 14th, 2014.