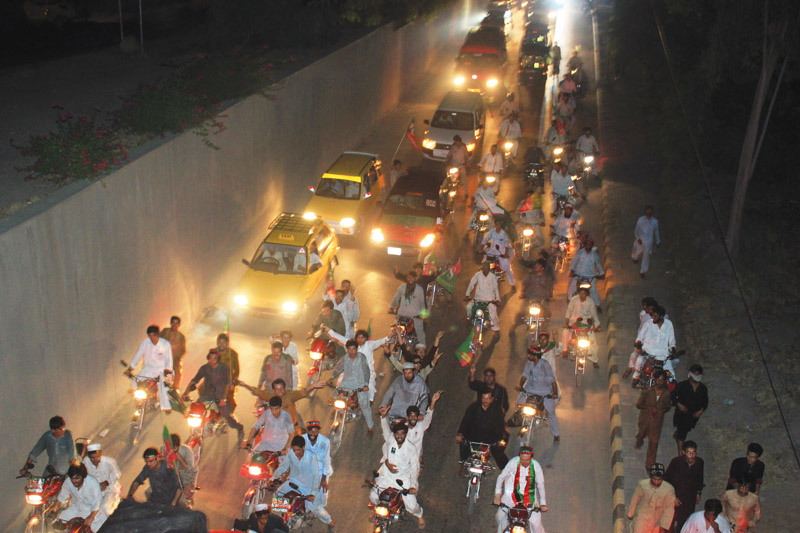 ---
LAKKI MARWAT/ UPPER DIR/ CHARSADDA/ PESHAWAR/SHABQADAR: Preparations for Pakistan Tehreek-e-Insaf's (PTI) Azadi March were in full swing in the provincial capital on Wednesday when the arrival of the party's central leadership spurred things further.

PTI Central Additional General Secretary Saifullah Niazi, the chief organiser of the march, reached Peshawar and announced he would be leading the rally to Islamabad. PTI's central leader Imran Ismail also reached the party's provincial secretariat on Wednesday and will also be accompanying Niazi.




"Final preparations for the march are being made," Niazi told The Express Tribune. "I will lead our party workers from Peshawar to the federal capital, and the provincial leadership of PTI will also accompany me."

Niazi also led a rally from Hashtnagri to Hayatabad on Wednesday, where hundreds of motorcyclists joined him. Speaking to the media on the occasion, he squashed reports that he was in K-P to avoid house arrest.

PTI Women's Wing Peshawar President Rabia Basri also made assurances of being prepared for the Azadi March. "Over 10 coaches have been rented to take women, who will join the main caravan at Attock," said Basri. "You will find our women workers standing side by side with our male workers."

As part of the march, a PTI rally of hundreds, led by MNA Sajid Nawaz, left the provincial capital on foot for Islamabad on Wednesday.




"We have taken all necessary equipment with us and will stay in Islamabad until our demands are accepted," Nawaz was quoted in a press statement issued by the PTI K-P media cell.

Map in hand

Three major routes are going to be used by PTI workers to reach the federal capital. Protesters from the southern districts of K-P will enter Punjab from Mianwali and make their way up to Islamabad. Residents of the central districts of Peshawar, Nowshera, Mardan, Charsadda and Swabi will utilise GT Road and the motorway. Party workers coming from the Hazara region will use the Jari Kass route and travel south through Haripur.

Charsadda

PTI Regional General Secretary Fazal Muhammad Khan claimed a caravan comprising 2,500 vehicles left for Islamabad from Sheikhabad, Charsadda around 3pm on Wednesday. Speaking to the media, he said all arrangements have been made for the entourage. Fazal added vehicles had been handed to the union councils and the rally had left from his residence.

Upper Dir




PTI activists from Upper Dir also left for the federal capital under the leadership of Nawab Ali Khan, who claimed a large number of people from Thal, Lamoti, Kalkot, Pathrak, Dug Dara, Ganshal, Payan and Sheringle had registered for the march. The federal government has failed to deliver, said Ali, vowing that nobody will be allowed to hinder their struggle. Ali demanded the party workers ensure a peaceful march.

Lakki Marwat

A large number of Insaf Students Federation workers and other district leaders held a protest under the leadership of Tariq Saeed Khan in Lakki Marwat. The protesters marched through different routes and concluded the rally at Dara Pezu, where smaller rallies from different areas of the district merged, making it a bigger procession. Speakers on the occasion vowed to overthrow the government, and chanted slogans against the federal government and in favour of Imran Khan.

FATA

When asked about the participation of workers from the Federally Administered Tribal Areas (Fata), PTI's organising committee member Sajid Mohmand informed The Express Tribune the party leadership allotted 50 coaches for the internally displaced people from North Waziristan to participate in the Azadi March.

Sajid added 15 coaches each have been allotted to Mohmand and Khyber agencies, while 150 coaches have been reserved for PTI workers from Kurram, Orakzai, Bajaur agencies and the frontier regions to leave from Peshawar.

"The rally will be led by Daud Mohmand and myself from Mohmand Agency," said Sajid. "The Bajaur rally will be led by local party leader Dr Khalil, and Iqbal Afridi will lead from Khyber Agency."

Speaking of PTI's Dr Bashir from North Waziristan, Sajid said he has no portfolio in the party at the moment and will participate under the leadership of Iqbal Afridi and Dr Khalil if he does.

"All coaches from the tribal areas will head straight towards Jalozai Camp, where about 800 more IDPs will join them before they head towards Islamabad with the main rally," said Iqbal Afridi while appreciating Dr Bashir's intention to join the march. Afridi added that PTI's youth wing from Fata will march with their counterparts from K-P.(with additional input by our  in ,  and)

Published in The Express Tribune, August 14th,2014.
COMMENTS (1)
Comments are moderated and generally will be posted if they are on-topic and not abusive.
For more information, please see our Comments FAQ