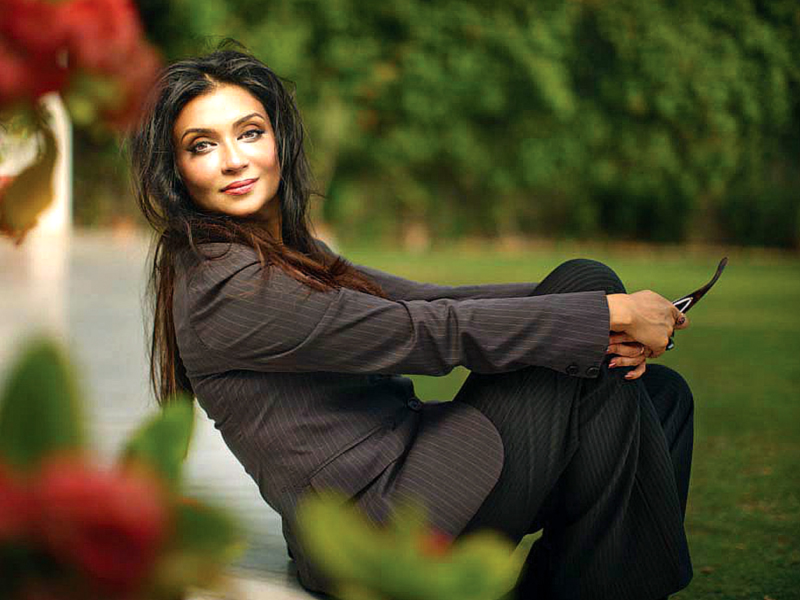 ---
An idea that changed your life?

To believe in oneself, to abandon all sorts of fear in exchange for positivity and confidence and to believe that you are co-creating with God.

One thing you have that no one else does?

The ability to have faith in myself and to be original.

What's your secret fitness/beauty regime?

I don't have one. I just have a whatever-I-want-to-eat routine but at proper meal times coupled with a healthy water intake.

Many men claim women can't be funny. What do you have to say to them?

If we weren't funny, would we be laughing at their jokes? *wink*

What sparked your interest in fashion?

My love for beautiful jewellery, clothes and God gifted creativity dominated my career choice as a fashion designer. To some extent, I also owe it to the fact that my mom was also the person behind a fashion magazine, Henna.

Tell us about your design ideology?

My designs are inspired by my heritage. As a descendant of Tipu Sultan, mughal art and architecture, antique jewelry and old world charms have always fascinated me and served as my muse.

The Superwoman Syndrome is the desire to do everything perfectly, without any time to yourself. What do you have to say about that?

It's addictive and it takes a toll on yourself and your life. As long as the superwoman syndrome and obsession with perfection lets you improve the quality of your work and your life, its brilliant; but once it starts taking over, you ultimately regret leaving behind so much for that one little aspect of perfection.

How does it feel to be one of the leading names in the Pakistani fashion industry?

I've always enjoyed that status knowing that I have built it with great effort, hard work and passion. I would've never settled for anything less than being at the top.

What's the best way to deal with failure?

Get up, dust your hands and get down to it again till you get it right.

Looking back over your career, what do you think is your best work?

That's like choosing a favourite child, you really can't do that! Every collection I make is as important to me as the last. I enjoy all my work and blissfully it has been appreciated nationally and internationally for the last 27 years.

How has the Pakistani fashion industry changed over the past years?

The Pakistani fashion industry has evolved beautifully over the past few years. It's exuberant, gutsy, fresh, fierce and powerful enough to make a serious mark for itself internationally as well. I have seen so many designs inspired by Pakistani designers on the runways of Milan and Paris amongst others.

Any advice for aspiring female designers?

Believe that you are your own miracle. Believe in yourself. Take the necessary steps and with that grit and gumption, you will open all the doors.

Shamaeel Ansari

Fashion Designer

Published in The Express Tribune, Ms T, August 17th, 2014.