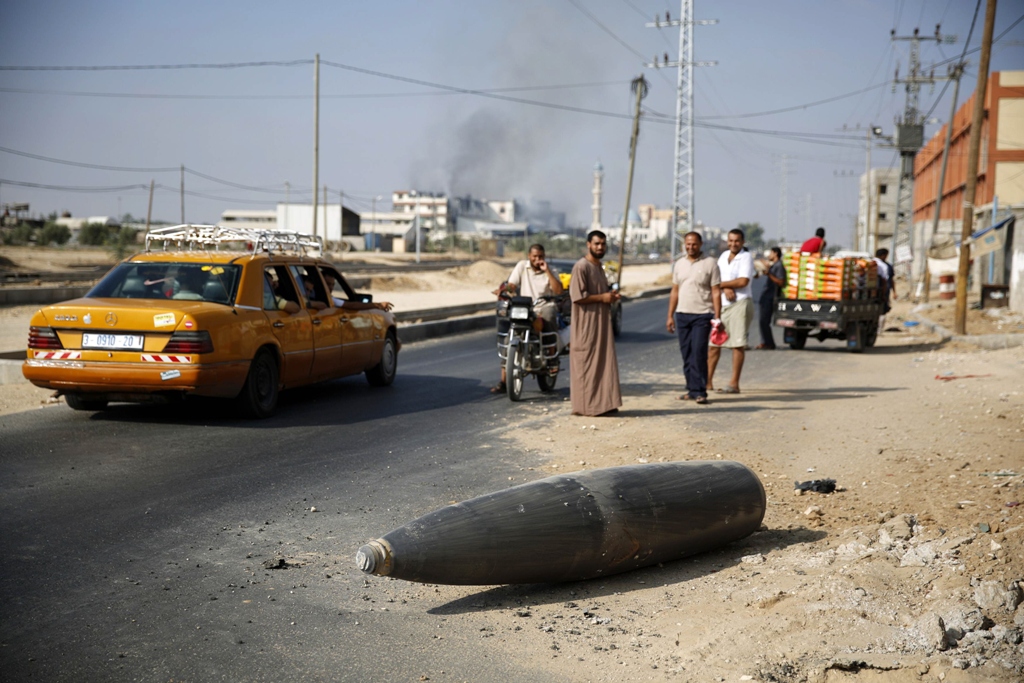 ---
GAZA CITY: Israeli ordnance exploded in Gaza Wednesday, killing five people including a foreign journalist, as bomb experts tried to disable a missile on the last day of a 72-hour truce.

The deadly incident in the northern town of Beit Lahiya took place as Israeli and Palestinian negotiators in Cairo tried to thrash out a more permanent end to more than a month of violence ahead of a 2100 GMT deadline.

The missile detonated as bomb squad officers were trying to dismantle it, killing at least five people and wounding another five others, three of them critically, Kamal Adwan hospital spokesperson Muayin al-Masri told AFP.

Interior ministry spokesperson Iyad al-Buzam said a foreign journalist was among those killed.

The journalist was at the scene to cover the work to defuse the unexploded missile. According to New York Times report, the deceased was Associated Press video journalist, Simone Camilli, aged 35.

His fixer was also killed, and another local journalist working with them was also badly wounded, an AFP correspondent said.

The deaths came as Egyptian mediators scrambled to secure agreement from both sides to extend a three-day lull which expires at midnight.

By then, negotiators must either agree on a permanent truce, accept an extension or risk a resumption of five weeks of bloody fighting that has killed more than 1,950 Palestinians, 64 Israeli soldiers and three civilians in Israel.

No violations to the ceasefire have been reported, but Israel said Wednesday its navy fired warning shots to halt a motor boat near Rafah as it approached Gaza's perimeter.

As the skies remained calm for a third day, around a dozen men worked to clear the debris from the bombed-out generator at the territory's sole power station in Nusseirat in the central Gaza Strip.

But with the end of the ceasefire approaching, residents were fatalistic about the possibility that the fighting could resume.

Sat outside his air conditioning shop in Gaza City's Rimal neighbourhood, Hussein Abu Haseera said he just wanted the violence to stop.

"We're all worried, it's natural. We want this to be finished, for the blockade to be lifted. No one likes dying do they?"

Few details about the substance of the talks in Egypt have been made public, and officials were tight-lipped about the chances of securing an end to the conflict which erupted on July 8.

"There has been progress, but not enough to sign an agreement, the negotiations will resume tomorrow (Wednesday)", a member of the Palestinian delegation told AFP late on Tuesday.

As on previous days, the Israeli team returned home after talks, for likely consultations with their government.

"The gaps are still very wide. There has not been progress in the negotiations," an Israeli official told AFP on Tuesday.

The teams gather in separate rooms at the headquarters of the Egyptian General Intelligence and never see each other, with mediators shuttling between them with proposal and counterproposal, a source said.

Hamas wants Israel to lift the blockade it imposed on Gaza in 2006 before it will stop rocket attacks. Israel has said it will facilitate Gaza's reconstruction only if the enclave is fully disarmed.

Israel and Palestinian negotiators have said they would be willing to see Palestinian president Mahmud Abbas take control of Gaza and assume responsibility for reconstruction.

Egypt, which brokered the three-day truce that came into force in the early hours of Monday, urged the warring sides to make every effort to reach "a comprehensive and permanent ceasefire".

Efforts to extend a similar 72-hour lull last week collapsed when Hamas refused to hold its fire beyond the deadline, accusing Israel of rejecting a lifting of the blockade.

Both sides said they were ready to resume hostilities if the talks failed again.

Israel has no direct dealings with Hamas, whose charter calls for the destruction of the Jewish state.

The head of a UN commission to investigate Israel's offensive in Gaza, Canadian jurist William Schabas, told Israeli Channel 2 television that it was important for the Jewish state to cooperate in the inquiry.

"It's in Israel's interest to be there in that discussion and give its version of the events. If it doesn't, it leaves an unfortunate one-sided picture of it," he said.

The Israeli government has accused Schabas of having an anti-Israeli bias.