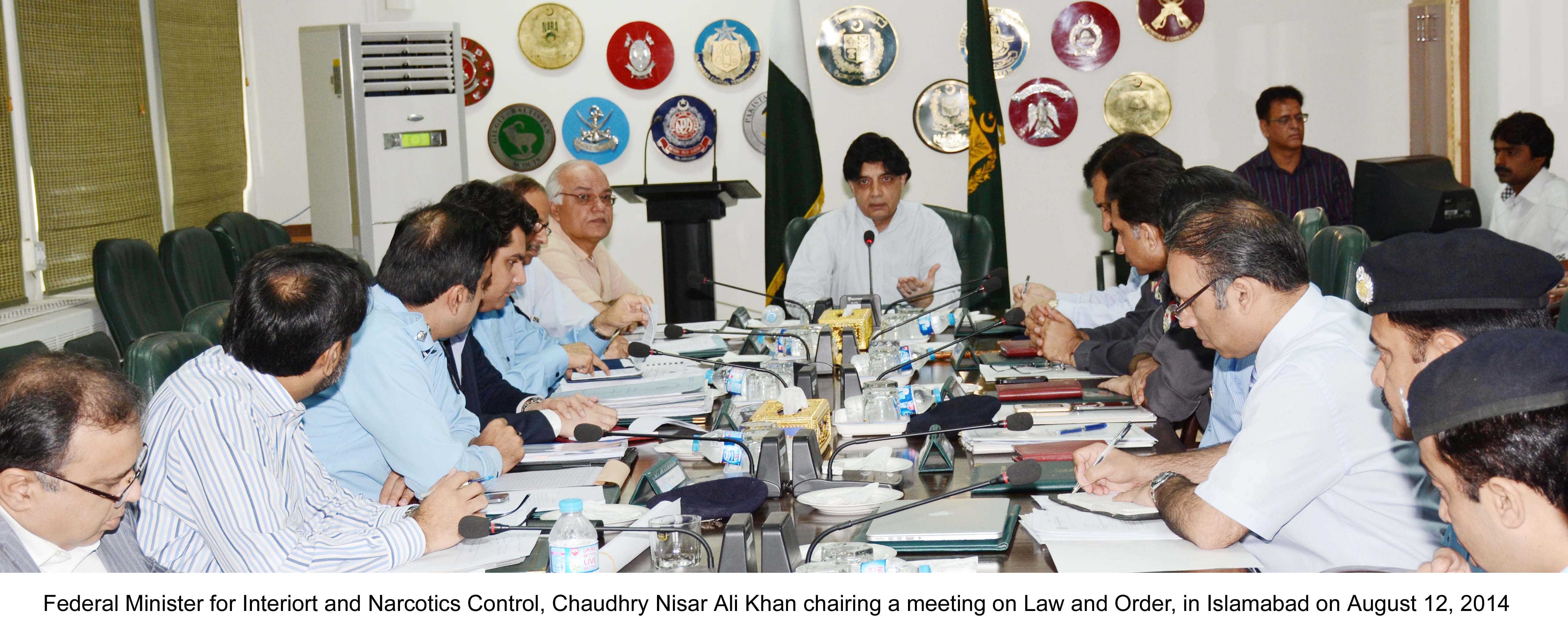 ---
ISLAMABAD: The government has decided to baton down the hatches against 'violent crowds', deploying nearly 21,000 law enforcement personnel in an around the federal capital ahead of marches by the Pakistan Tehreek-e-Insaf and Pakistan Awami Tehreek, with the Red Zone to be completely off limits.

Interior Minister Chaudhry Nisar Ali Khan, who has been missing from the public eye over the past week, issued a strongly worded statement on Tuesday where he issued a warning that no "violent crowd" would be allowed to enter the federal capital.

"If a violent crowd is allowed this time, a more violent crowd will come up in next few months and grab power by force. We cannot allow this to happen. We would not let Pakistan become Somaila, Iraq or Libya," Nisar said in a statement, issued after chairing a meeting of ICT and Rawalpindi city administration.

The minister was earlier scheduled to hold a press conference at 5pm in the evening, but that was cancelled at the 11th hour. Instead, he issued a press statement.

The wording of minister's statement shows that the government does not seem keen to let the protesting parties enter the capital city. Security agencies reportedly informed the government that once PTI, PML-Q and PAT marchers entered the capital city, it would be difficult for the government to manage the situation.

To control the trajectory of protestors, the government has already placed containers to block off several routes. It is estimated around 900 containers have been placed on all entry points leading to twin cities and main roads.

Besides setting up containers, the administration has dug trenches on numerous thoroughfares to stop any one from crossing.

The minister further directed law enforcement agencies to post security details on all those entry and exist points, especially link roads, which protestors could use to enter the city.

"We cannot let loose in the federal capital those who are talking of breaking limbs of police and killing their own people," Nisar said referring to Dr Qadri's recent aggressive statements.

The minister asked the administrations of the twin cities to coordinate with each other. He added that it had been decided that no "unauthorised" person will be allowed to enter the red zone on August 14 and afterwards.
COMMENTS (12)
Comments are moderated and generally will be posted if they are on-topic and not abusive.
For more information, please see our Comments FAQ