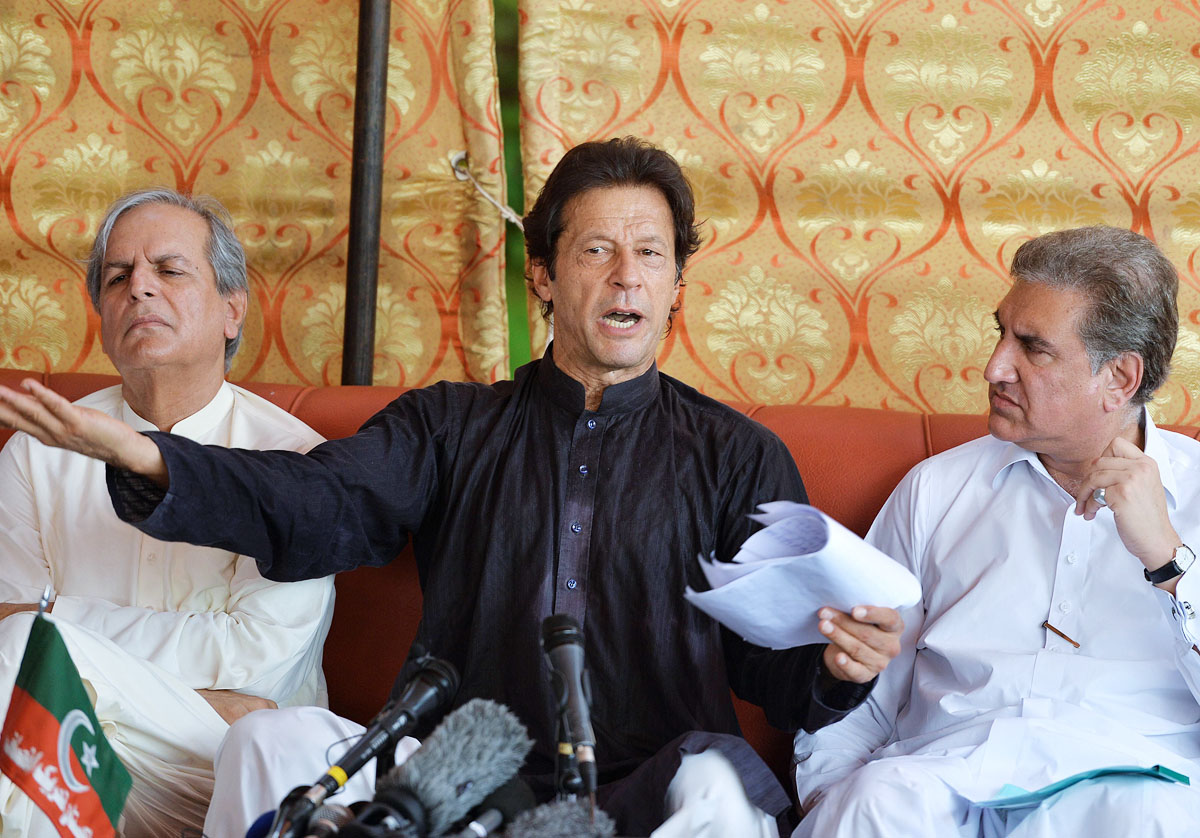 ---
ISLAMABAD/ LAHORE:



Pakistan Tehreek-e-Insaf (PTI) chief Imran Khan revealed the names of four key players who allegedly plotted and executed "a massive rigging" plan in the May 2013 elections.




Addressing a news conference on Monday, the PTI chief alleged that former chief justice Iftikhar Muhammad Chaudhry, former judge Khalilur Rehman Ramday, Punjab's former caretaker chief minister Najam Sethi and Punjab's Election Commission member Riaz Kayani were behind the poll rigging. The PTI chief, however, did not provide any documentary proof to substantiate his claim.

"These players manipulated the elections with the help of returning officers and the Punjab administration and carved out the electoral victory of Pakistan Muslim League-Nawaz (PML-N)," he said. In return, he said, the PML-N rewarded them with favours upon coming into power.

He said since the PML-N was unhappy with the PTI's tsunami marches in 2013, it had laid out an election rigging plan. "To execute this plan, Punjab's election commissioner Tariq Qadri was transferred to Sindh after he resisted implementing the illegal orders of the Election Commission's member Riaz Kayani and Anwar Mehboob was brought from Karachi to replace Qadri."

Imran claimed that some bureaucrats had informed him about the possibility of a match-fixing.

"But I was confident that in the presence of the former chief justice Iftikhar Chaudhry, there will not be any rigging. The assumption proved wrong though as the ex-CJ himself was involved in the match-fixing," he said.




The PTI chief alleged that the former apex court judge Khalilur Rehman Ramday had arranged a special meeting of selected returning officers at his residence days before the elections – a meeting in which, according to him, the former CJP was also invited and a special covert election cell was formed.

"The third player, Punjab's caretaker chief minister Najam Sethi, was to play the key role of deputing these officers in key places," he said, adding that Sethi dispatched additional ballot papers to five divisions.

Imran Khan claimed that he had eyewitnesses, who had seen ballot papers being dispatched at the PML-N's leader Khawaja Saad Rafique's residence.

"The ballot papers were privately printed by the PML-N on substandard papers and because of these fake ballot boxes, the votes of the PML-N increased from 6.8 million to 15 million," he said, adding that some unscrupulous people were caught printing ballot papers on May 9, 2013.

"Wherever the inquiries were conducted and results were opened, up to 50,000 bogus votes were discovered," he said.

He also claimed that Justice Ramday was behind Nawaz Sharif's victory speech and it was part of the game. "The ROs accelerated their work after the speech and the number of votes in farvour of PML-N started to increase abruptly."

He said that after the polls, the PML-N started paying these players for their services and Najam Sethi was the first as he was appointed Pakistan Cricket Board (PCB) chairman. "Later, the son of Justice Ramday was appointed Punjab's advocate general, Ramday's brother was also obliged," he claimed.

He claimed the former CJP Iftikhar Chaudhry also congratulated ROs over this rigged election and then announced his support for the PML-N during his visit to Quetta. "In return, his son was made Balochistan's Board of Investment's vice chairman," he added.

The PTI chief also alluded to a letter – written to the then president Asif Ali Zardari by the National Accountability Bureau's (NAB) former chairman Admiral Fasih Bokhari – in which he had expressed fears about possible poll fraud.

"In the letter, Bokhari said a big media group was being give tax exemption and the former CJP was behind the game. For this purpose, Tariq Bajwa was appointed Federal Board of Revenue (FBR) chairman," he added.

Imran Khan demanded an extensive inquiry into these irregularities and manipulation through an independent commission, which, he said, was possible only under a neutral set up.

'We don't support martial law'

Imran clarified that his party will not support military rule and that free and fair election is the only way to build a robust democracy – an aim which he seeks to achieve though his Azadi march, which will be held on August 14 at any cost.

"No martial law will come due to the democratic protest and I will also motivate Dr Tahirul Qadri that revolution should come only through free and fair elections and everyone should struggle for this," he said.

He said nothing less than resignation of prime minister and announcement of fresh elections would be acceptable at this point.

"The armed forces and police will not stop Azadi march as it will be a march of people and these forces will respect the wishes of the masses," Imran said later to his workers after reaching his residence in Lahore.

He said the Azadi march would end corruption, monarchy, ignorance, injustice, all wrongs and would do ruthless accountability to bring prosperity among the masses.

"We will not leave Islamabad till Nawaz Sharif's monarchy ends and country get real independence and freedom from family politics," he said, adding that the government's days were numbered.

Khan urged the workers to remove all barriers and containers from their way 'because such hurdles could not stop us from achieving goal'.

Published in The Express Tribune, August 12th, 2014. 

………………………………………………………………………………………………………………………………………….

………………………………………………………………………………………………………………………………………….
COMMENTS (10)
Comments are moderated and generally will be posted if they are on-topic and not abusive.
For more information, please see our Comments FAQ