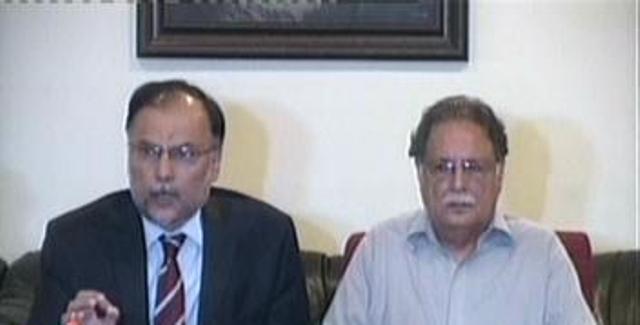 ---
LAHORE: Information minister Pervaiz Rasheed on Monday slammed PTI chief Imran Khan's rigging allegations, while urging him to read his own party's fact finding committee's report on elections before accusing others of rigging.

Addressing a joint press conference with Federal Minister for Planning and Development Ahsan Iqbal  in Lahore, Rasheed termed Imran's press conference a "pack of lies".

"Imran suffered defeat in the elections owing to his own strategies," he said.

When asked about Pakistan Awami Tehreek (PAT) chief Dr Tahirul Qadri's recent speech, in which he asked his workers not to spare the Sharifs if he is killed, Rasheed said the government will not allow anyone to incite violence.

Rasheed also questioned how Imran could support someone [Qadri] who has given a 'licence' to kill to his supporters. "Imran is ready to burn the whole of Pakistan for his own personal ambitions," said Iqbal, while refuting Imran's claims of rigging.

He said former interim Punjab chief minister Najam Sethi's name for the post was proposed by the Pakistan Peoples Party and the Pakistan Muslim League-Nawaz accepted it as a goodwill gesture.

"Sethi was not the caretaker chief minister of our choice," said the federal minister.

Further, Ahsan said that while Imran had initially accepted the election results and even congratulated Prime Minister Nawaz Sharif on his victory, he later changed his mind.

"After 14 months, when Imran saw K-P did not bring any progress and he did not know what to say to the nation, he decided to ask for re-elections."

"Imran tries to run the K-P government through SMS from Bani Gala," he said.

Questioning PTI workers if they believe in the rule of law, Iqbal asked how can they merge with Qadri who wants to create anarchy in the country.

Further, he appealed to his party (Pakistan Muslim League-Nawaz) workers to remain calm and act with patience.
COMMENTS
Comments are moderated and generally will be posted if they are on-topic and not abusive.
For more information, please see our Comments FAQ