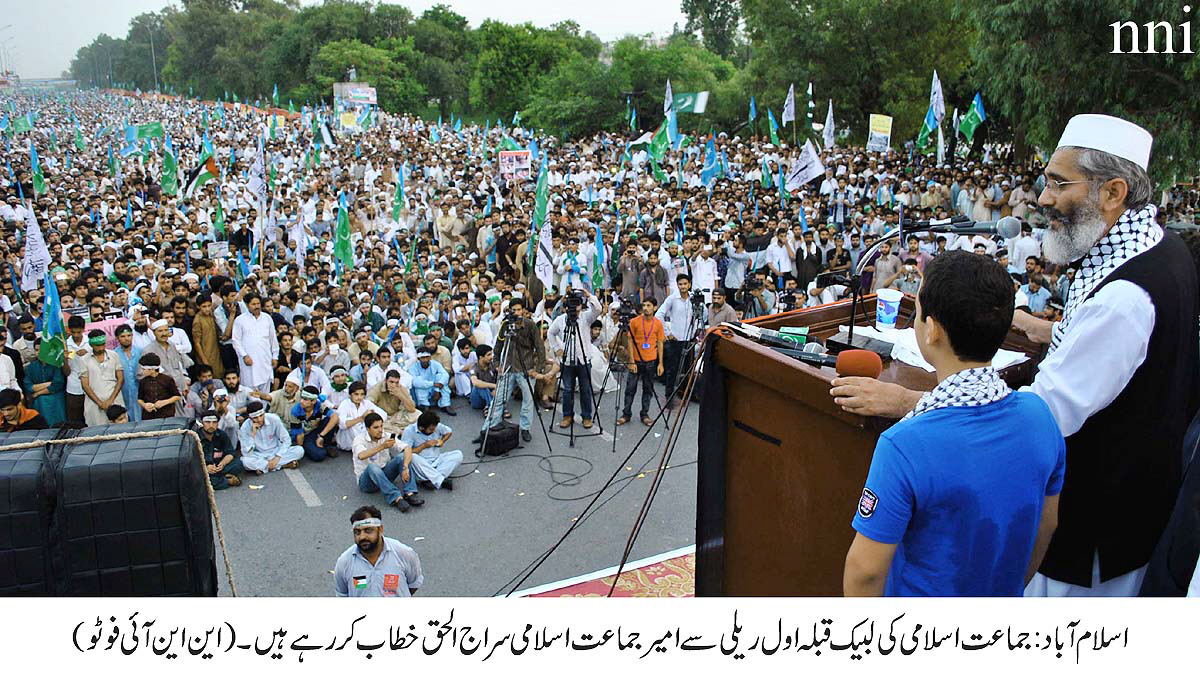 ---
ISLAMABAD: Thousands of workers of Jamaat-i-Islami (JI) reached the capital despite the imposition of Section 144 to express solidarity with the victims of Gaza and pay homage to their sacrifices.

JI activists from across the country reached the city in separate rallies, causing authorities to block the Islamabad Expressway and divert traffic on alternative routes. The participants, who marched from Faizabad to the Zero Point Interchange, were holding banners and flags and chanted slogans against the Israeli aggression. Around 1,000 police personnel were deployed on various roads ahead of the 'Al-Quds' rally.

Interestingly, the rally brought together otherwise bitter foes from the Pakistan Muslim League-Nawaz and Pakistan Tehreek-e-Insaf (PTI).  Sitting next to JI Ameer Sirajul Haq were Minister for Information Pervez Rashid and PTI Member National Assembly Ali Muhammad Khan, both of whom also gave speeches.

Besides, JI MNAs, MPAs and provincial and district ameers led rallies from their respective areas and joined the main procession.

Party leaders, including JI Khyber-Pakhtunkhwa Ameer Prof Ibrahim and former Islamabad MNA Mian Muhammad Aslam, among others, also condemned the strikes in Gaza.

They also slammed the silence of leaders of Muslim countries who, according to them, were afraid of Israel and the United States.

They also targeted the media for not highlighting the atrocities in Gaza. The information minister, in his speech, announced that the government will observe Palestine  Day to express solidarity with the people of Gaza next week.

"Other Muslim countries cannot hold such a big gathering because they are divided. But on the issue of Gaza we are united and no one can divide us and we should remain steadfast if we want to foil the conspiracies against Pakistan," he said.

The JI chief said he wrote letters to heads of 58 Islamic countries but none of them uttered even a single word to condemn the strikes.


"We are ready to spill the last drop of blood for the freedom of Gaza residents," he said. Talking about the current impasse, Haq said he is trying to cool down the political temperature in the country.


Published in The Express Tribune, August 11th,2014.