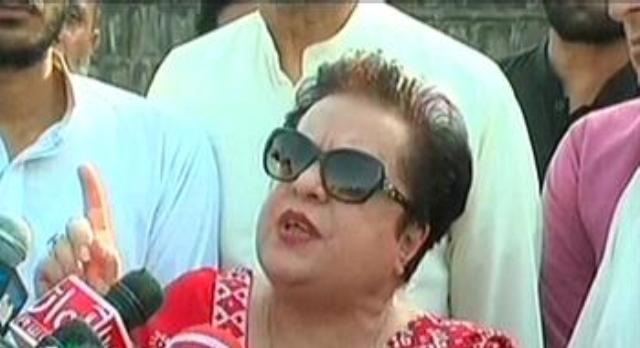 ---
ISLAMABAD: Pakistan Tehreek-e-Insaf (PTI) central information secretary Shireen Mazari on Sunday said the government should immediately remove barriers from the Islamabad-Lahore motorway.  

Talking to the media after the party core committee meeting in Bani Gala, Mazari said no compromises would be made and the 'Azadi' march to the federal capital on August 14 will happen at any cost.

"No container can stop us," she said, adding that PTI workers are prepared for any eventuality.

Further, Mazari said that the party core committee has decided that Prime Minister Nawaz Sharif will have to step down as PM. Echoing PTI chairperson Imran Khan's earlier statement, Mazari said if democracy is derailed during the 'Azadi' march, it will be the government's doing and not theirs.

Reiterating that the time for talks is over, Mazari added that the PTI would present its demands on August 14. "Dialogue will not be held before August 14," said the PTI leader, while urging the government to adopt democratic culture and allow the party to hold its peaceful protest.

PTI president Javed Hashmi also spoke to the media and said that if the government arrests Imran or puts him under house arrest, it would be a huge political blunder.

Responding to a question related to the PTI chairperson's refusal to meet Jamaat-e-Islami chief Sirajul Haq, Mazari said that the party respects Haq and has invited him to the march. However, she added, Imran is busy with party meetings and has no time to meet anyone else.

The Pakistan Muslim League-Nawaz government had requested Siraj to bring Imran to the negotiating table and convince him to call off the Azadi March.

Core committee meeting

PTI's core committee on Sunday resolved that the Azadi March will take place and any attempt to arrest PTI chief Imran or take him into "safe custody" will be resisted with full strength of the party's workers and leadership.

The core committee also made it clear that the party will demand Nawaz Sharif's family must pay compensation to all those whose livelihood was impacted by the barriers and impediments placed by the Sharif government to stop PTI from exercising its democratic right to protest peacefully.

The committee demanded that all containers be removed immediately and petrol stations be opened. It also demanded the Punjab government immediately implement the Lahore High Court order demanding all impounded motorcycles be released.

"There will be no compromise on the Azadi March. Tomorrow, the chairman will reveal the massive rigging that took place in May 2013 elections," said a statement released by the committee.

The core committee also sent its workers a clear message that they must make it to Islamabad at all costs and come prepared with basic supplies. The committee resolved that there should be no doubt in anyone's mind that PTI workers and leaders will come to Islamabad even if they have to walk the distance.