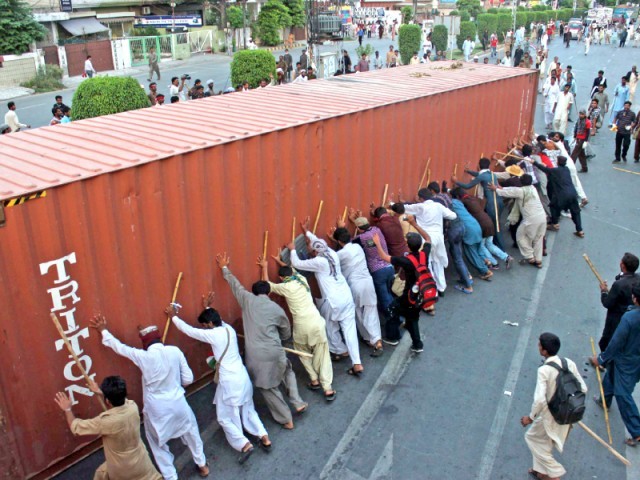 ---
FAISALABAD/ LAHORE:



Life in and around Lahore came to a grinding halt Saturday after barriers and containers were placed and heavy contingents of police deployed at all entry and exit points in the provincial capital to stop Pakistan Awami Tehreek (PAT) activists from gathering for their Martyrs' Day rally.




An unending line of cars were seen at the Ravi Bridge, Saghian Bridge, Thokar Niaz Beg and Babu Sabu Interchange. Apart from people of other districts, residents of Shahdara could not cross the Ravi Bridge because containers had been placed on the new and old bridges there. A ferry service was started by local fishermen to transport people from one bank of the river to the other into the city.

Later in the day, IGP Punjab Mushtaq Sukhaira ordered to re-open all roads across the province but administration did not remove the containers from several places in Lahore, including the roads to Faisal Town and Model Town extension areas.

Instead, more containers were brought to the area and placed in the streets around the PAT secretariat. Containers placed at the Babu Sabu interchange were only slightly moved to allow only one car to pass through. As a result, long queues of cars were formed not only at the motorway but also at the Band Road. The police, meanwhile, also impounded mini-transport vehicles. No van was available from Bhati Chowk entrance point to Thoker Niaz Bag and a severe shortage of vans was witnessed at Multan Road from Thoker Niaz Beg to Azadi Chowk.

Meanwhile the police and the PAT activists clashed the whole day in different parts of the province and more than 500 PAT activists were arrested by the police at the entry points of the city and sent to different police stations.

The PAT activists at Minhajul Quran also took hostage six police personnel and kept them inside the secretariat for two hours. A policeman was shot dead by bikers near the Babu Sabu interchange while another policeman roughed up by PAT activists near Model Town was taken to General Hospital where he succumbed to injuries.

Clashes in Faisalabad

One policeman was killed and 12 others seriously injured in clashes with the PAT activists in Faisalabad on Saturday.

The clashes started when the PAT convoy was stopped at Bhera Interchange and the PAT activists tried to move the containers that had been put by the police to keep them from reaching Lahore.

Over two dozen PAT workers also sustained injuries as they set 10 police vans and several two-wheelers on fire.

Published in The Express Tribune, August 10th, 2014.