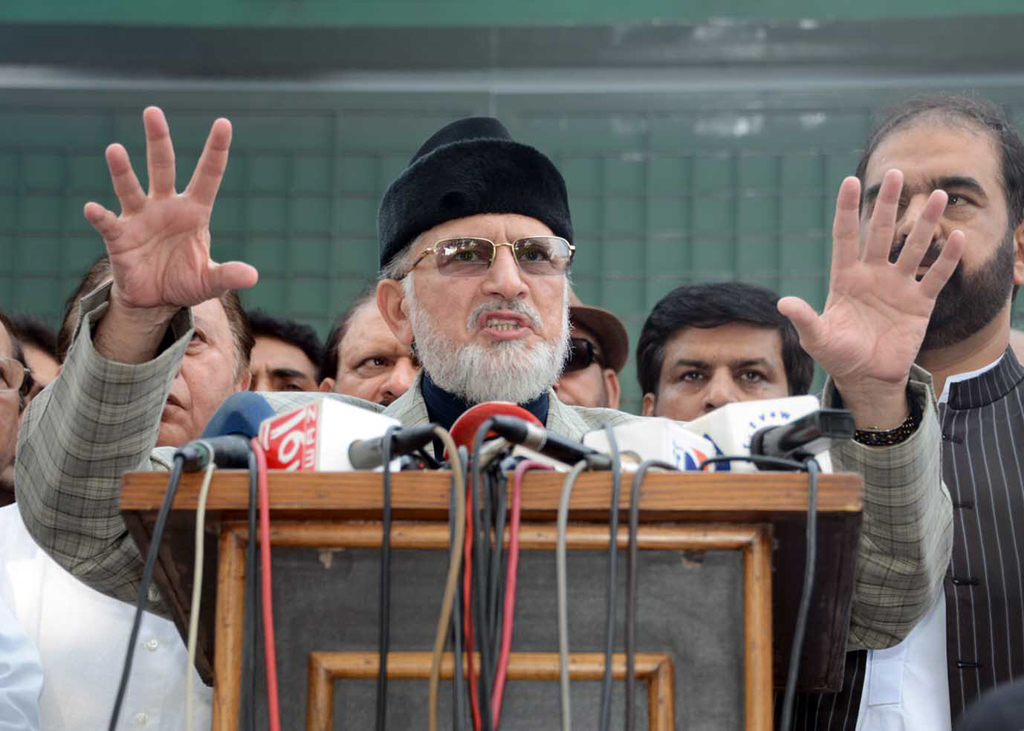 ---
LAHORE:



Pakistan Awami Tehreek (PAT) chief Dr Tahirul Qadri has claimed that the police have gunned down eight of his party workers and injured another 1,000 in different parts of the country.




Addressing a news conference at his residence, Qadri said peaceful caravans of his activists were travelling to the city to participate in 'Youm-e-Shuhada' but they were stopped, tortured, tear gassed and shot at. He added that the police, on the orders of the Punjab government, were not allowing the injured PAT activists to be treated at public hospitals in Lahore.

Qadri advised his followers to remain wherever they had reached during their travel to Lahore and register their protest by placing the bodies of the victims on the road and keeping the injured with them during the protest.

He said caravans were travelling to Lahore from all tehsils of the province, including Bhira, Gujranwala, Kamoke, Bhakkae, Faisalabad and Okara, and alleged that Chief Minister Shahbaz Sharif ordered the police to open fire on the activists. He said the activists were not carrying any weapons. He added that the police entered the homes of PAT activists and "subjected women and elderly people to torture". He claimed the law enforcers have dug trenches in order to stop caravans from proceeding towards Lahore and several containers placed on the roads have been filled with flammable substances.

Qadri claimed the government was threatening his security guards. "The government wants to frighten the people by opening fire on them and to stop the revolution," he said. "The rulers are the enemies of the state."

Qadri claimed that the government has violated Articles 6, 15 and 16 of the Constitution as it has taken away the people's rights. "The rulers must be tried on treason charges for violating the Constitution," he added.

"The Sharif brothers have protected terrorists, funded them and given them safe havens," he claimed. "Now they have become the enemies of the people." By suspending phone and internet services in Model Town, the government is trying to recreate the massacre at Jallianwala Bagh of 1919, he claimed.

Majlis Wahdat Muslimeen leader Raja Nasir Abbas and Sunni Ittehad Council leader Sahibzada Hamid Raza were also present on the occasion.


Published in The Express Tribune, August 10th, 2014.