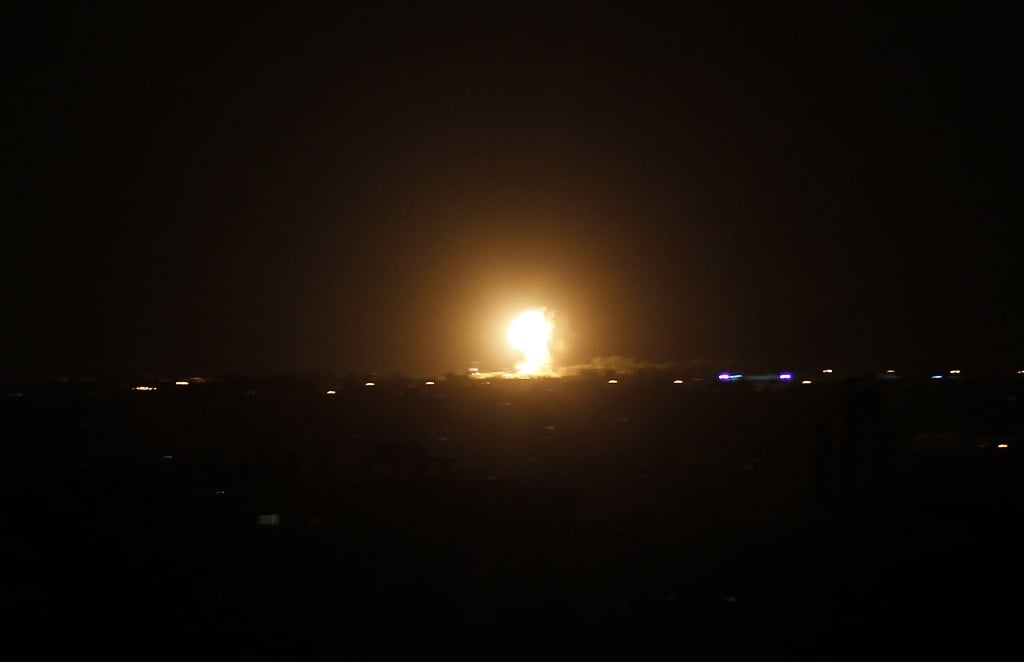 ---
GAZA CITY:



Israeli warplanes pummelled Gaza with 40 air strikes that killed five Palestinians on Saturday as militants hit back with 14 rocket attacks, leaving international mediators scrambling to rescue ceasefire talks.




Gaza emergency services said at least five men were killed in Israeli raids – two travelling by motorcycle through Maghazi refugee camp and three pulled from the rubble of Qassam Mosque in the middle of the enclave.

The Palestinian interior ministry said Israeli jets destroyed three mosques. At least two of them were considered close to Hamas. Only the minaret was left standing at the huge al Qassam mosque in Nuseirat, an AFP photographer said.

Resident Ibrahim Taweel said the Israeli military telephoned him at 3am, warning him to evacuate his nearby home five minutes before the mosque was attacked.  "I couldn't tell all my neighbours, so I evacuated myself and my neighbour and after five minutes an F-16 fired one rocket and after that a bigger rocket destroyed the mosque," he said.

The army said Palestinian militants fired 14 rockets into Israel, bringing to 52 the number of projectiles launched at the Jewish state since a 72-hour truce ended on Friday. One civilian and a soldier were wounded on Friday, but no injuries or damage in Israel were reported on Saturday.

Israel said it had carried out more than 100 strikes in Gaza since Friday, 40 of them since midnight. Palestinian medics say those strikes have killed 10 people.

In the occupied West Bank, fresh clashes broke out after the funerals of two Palestinian men shot dead by Israeli troops during protests against the Gaza operation on Friday, witnesses said. Palestinian youths threw stones and Israeli troops responded with tear gas and stun grenades.

The 72-hour truce collapsed after mediators in Cairo failed to extend a ceasefire when it expired on Friday morning as Israel accused Hamas of breaching the quiet with pre-dawn rocket attacks.

The conflict has now killed at least 1,900 Palestinians and 67 people on the Israeli side, almost all soldiers, since July 8. The United Nations says at least 1,354 of the Palestinian dead were civilians, including 447 children.

Hamas vowed no concessions. "The occupier's intransigence will get it nowhere and we will make no concessions on the demands of our people," spokesman Fawzy Barhum said in a statement.

Published in The Express Tribune, August 10th, 2014.
COMMENTS (3)
Comments are moderated and generally will be posted if they are on-topic and not abusive.
For more information, please see our Comments FAQ