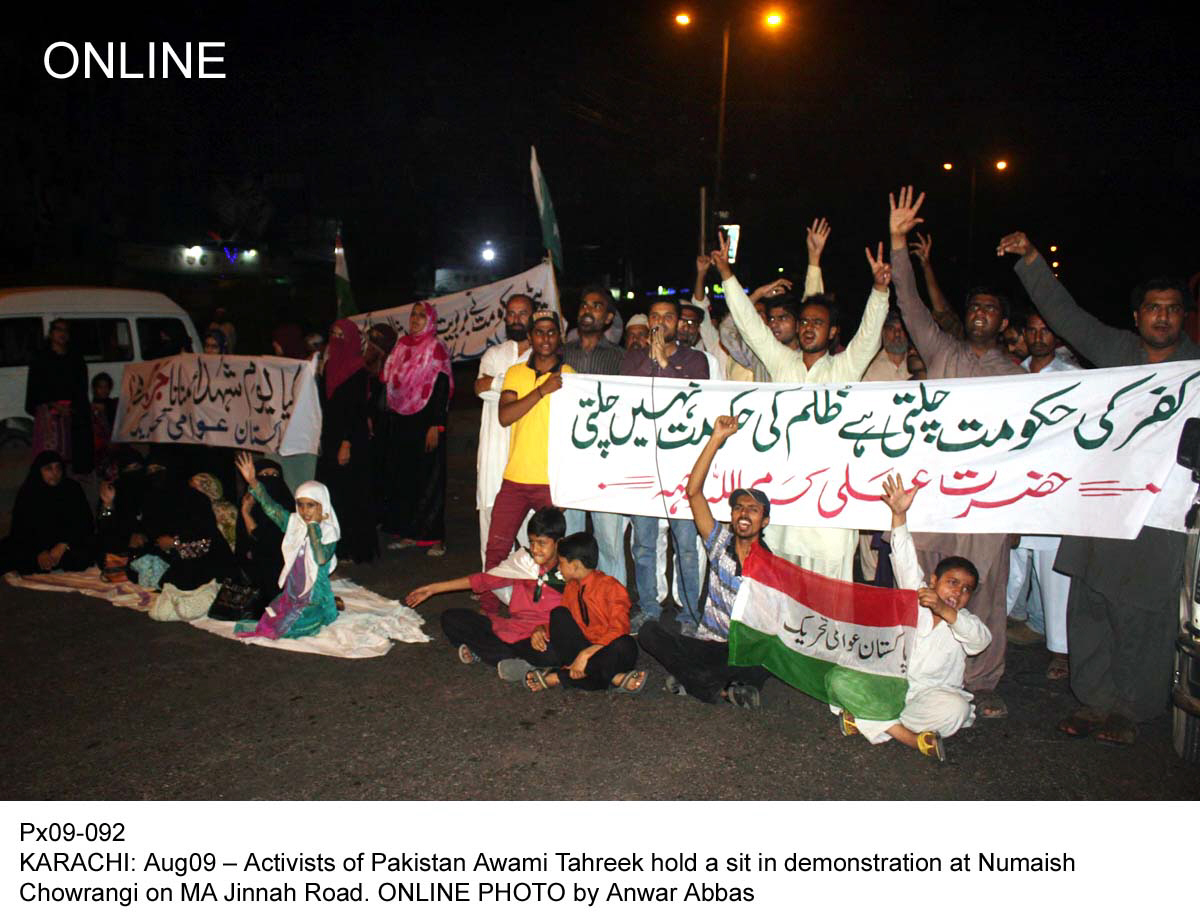 ---
KARACHI:



Merely hours after Pakistan Awami Tehreek (PAT) chief Tahirul Qadri asked all supporters to launch protests from their respective locations, activists of several parties gathered at Numaish Chowrangi.




The activists of PAT, Majlis-e-Wahdatul Muslimeen (MWM), Sunni Ittehad Council and Pakistan Muslim League-Quaid (PML-Q) staged a protest demonstration against the federal government arrest and the harassment of the PAT workers in Lahore and Islamabad. The four parties then staged a sit-in at Numaish Chowrangi, where they announced that their protest campaign will continue in Karachi and across Sindh until the ouster of Prime Minister Nawaz Sharif.

Traffic at Numaish Chowrangi was diverted to alternative roads as the MWM supporters and officials of the allied parties joined the sit-in on the main road. They were holding flags of their respective parties and were shouting slogans of 'Go Nawaz Go'.

The MWM spokesperson, Ali Ahmar, told The Express Tribune that this was a token sit-in to show solidarity with Dr Tahirul Qadri. "We will observe Sunday as Martyr's Day for the slain workers of the Pakistan Awami Tehreek," he said, adding that the countdown of the PML-N government has begun and the people of the Pakistan will be soon freed from this government.

"Nawaz Sharif wanted to turn Pakistan into a hardline state where intolerant fanatic mind-set would dominate the peaceful and tolerant Sunni and Shia Muslims," claimed MWM leader Allama Baqar Zaidi.

Maulana Ali Anwar of the MWM announced that 'Youm-e-Shuhada' will be observed across the city. He demanded that Nawaz Sharif and Shahbaz Sharif be held accountable for the Model Town incident. The speakers also demanded the government end the blockade in the Punjab immediately. "Nawaz Sharif's monarchy will be overturned by the protests and the heinous attempts of the government cannot stop us from our motives," said Anwar.

Meanwhile, the deputy secretary-general of the Sunni Ittehad Council, Tariq Mehboob, told The Express Tribune that the present government is taking advantage of the situation of the country when all the peace-loving people are keeping their mouths closed in support of the armed forces and the on-going operation against terrorism. "The Nawaz government has refreshed the memories of Genghis Khan and Halaku Khan," he said, calling the present government "shameful".

Mehboob clarified that this was a token protest. If something happened to their leadership or activists of the four parties, the reaction will affect the whole country, he warned. "The so-called democratic government has closed roads and routes in Islamabad and have snatched the fundamental rights of the people," he claimed. Mehboob also paid tribute to the PAT activists and said that the last days of the government have started. The parties will stage a protest on Sharae Faisal on Sunday after Zuhr prayers as part of their protest campaign and will close the road for traffic.

Published in The Express Tribune, August 10th, 2014.