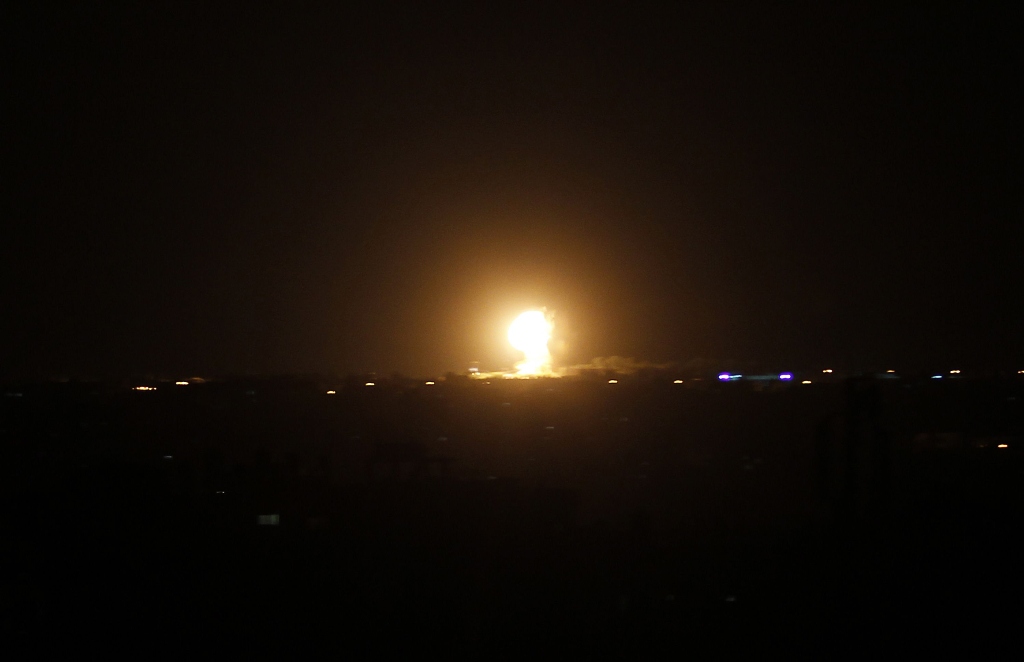 ---
GAZA CITY: Israeli warplanes kept up a punishing campaign of air strikes over Gaza, killing five Palestinians on Saturday as militants fired rockets into Israel and ceasefire talks in Cairo stalled.

The Palestinian interior ministry said Israeli jets launched 21 strikes after midnight, destroying three mosques, one in the Zeitoun area, one in Jabaliya in the north and Nuseirat in the middle of the enclave.

At least two of the mosques were considered close to Hamas.

Gaza emergency services spokesperson Ashraf al Qudra said two men were killed in a strike that "targeted a motorbike in the Al Maghazi camp" and that the bodies of three other men were pulled from the rubble "of the Al Qassam mosque" in the Nuseirat camp.

The strike on the site in Nuseirat levelled the huge Al Qassam mosque, an AFP photographer said, leaving only the minaret standing.

"We heard a loud explosion and it was the beginning of the explosions and a warning to residents to evacuate the area to stay away," said Jood Irhaem, who lives close to one of the mosques.

"Minutes later there were two strong explosions," he said.

Palestinian militants fired six more rockets into Israel on Saturday, the Israeli army said. The projectiles slammed into the desert, causing no injuries or damage.

The month-long conflict flared again after mediators tried but failed to extend a ceasefire that expired on Friday morning as Palestinian militants shattered the quiet with pre-dawn rocket attacks.

The fighting between Israel and Hamas has killed at least 1,898 Palestinians and 67 people on the Israeli side, almost all soldiers, since July 8.

The United Nations says at least 1,354 of the Palestinians killed since July 8 were civilians, including 447 children.

Egyptian mediators met a Palestinian delegation again Friday evening and are understood to be waiting to hear back from the Israelis after Shabbat, the Jewish sabbath which ends at sundown Saturday.

Five Palestinians, including a 10-year-old boy, were killed in Israeli air strikes on Friday.

But fighting has not resumed with the same fierce intensity seen before a 72-hour ceasefire was implemented on Tuesday, feeding hopes for the possibility of a new ceasefire.

"Our hope is that the parties will agree to an extension of the ceasefire in the coming hours," State Department spokesperson Marie Harf told reporters.

Israel warned it would not negotiate under fire, and Prime Minister Benjamin Netanyahu ordered the military to retaliate "forcefully" and blamed the militant movement Hamas for breaching the ceasefire.

Egypt said negotiations had made progress before the truce collapsed.

"There had been an agreement on the vast majority of matters that are important to the Palestinian people, but some limited points remained undecided, a matter that should have led to an acceptance to renew the ceasefire," its foreign ministry said.

Since the collapse of the truce, Palestinian militants have fired 44 rockets into Israel, injuring one civilian and a soldier, the army said.

In response, the Israeli military has carried out around 100 strikes in Gaza since Friday, about 30 of them since midnight, a spokesperson said. The army said at least three militants had been killed in Gaza.

Two Palestinian men died after being shot by Israeli troops during violent clashes at protests in Hebron and near the Jewish settlement of Psagot in the occupied West Bank, Palestinian medics said.

In southern Israel, the army has banned gatherings larger than 500 people within 40 kilometres of Gaza, and said kindergarten and summer camps could only operate if there was a bomb shelter nearby.

Israeli pressure group Peace Now has called on supporters to rally on Saturday night in Tel Aviv against the war and to call for a diplomatic solution.

Hamas and Palestine Liberation Organisation officials laid out a number of demands, including the lifting of Israel's eight-year blockade of Gaza and the building of a sea port.

They also want Israel to free 125 key prisoners.

Despite withdrawing all its troops from Gaza by the time the truce began on Tuesday, Israel has retained forces along the border, ready to respond to any resumption of fighting.

A British, French and German proposal to rebuild Gaza aims to strengthen the hand of Palestinian president Mahmud Abbas and his Palestinian Authority while clamping down on Hamas and other Gaza militants to ensure Israel's security.

Israel first launched an air campaign on July 8, followed nine days later by a ground offensive designed to destroy Hamas's arsenal of rockets and its network of attack tunnels stretching into Israel.