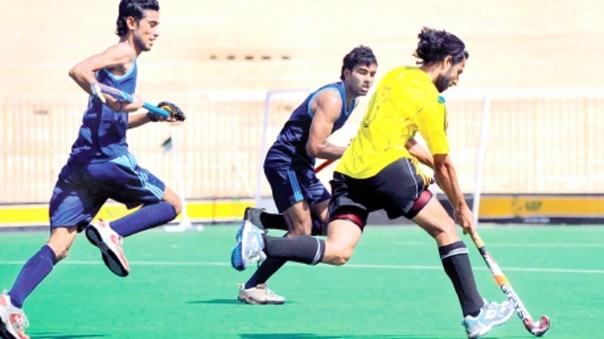 ---
KARACHI: Habib Bank Limited (HBL) emerged as the only winner on the penultimate day of the 57th National Hockey Championship as they beat Pakistan Navy 3-1 at the Hockey Club of Pakistan in Karachi.

HBL captain Adil Hussain scored the first goal of the match in the 31st minute but Sultan Sikander equalised just two minutes later as the first half ended 1-1. HBL's Rana Zubair, however, rose to the challenge in the second half as he netted two goals in the last five minutes of the match to allow HBL to claim maximum points.

SSGC v Port Qasim

In a topsy-turvy match between SSGC and Port Qasim, Olympian Shakeel Abbasi scored the first goal of the match in the 13th minute but Port Qasim's Hanif Shehzad netted the equaliser in the 22nd minute. His team-mate Kashif Jawwad scored in the 27th minute to end the first half in Port Qasim's favour. SSGC, however, repulsed the Port Qasim attacks in the second half until Abbas Haider scored a brace in the 54th and 57th minutes giving SSGC a two-goal lead but Jawwad's second goal allowed Port Qasim to share points.

PAF v KESC

The first match of the day ended in a high-scoring draw with both teams scoring five goals. Pakistan Air Force's Mohammad Haroon hit the board in just the second minute of the match but KESC's Amir Iqbal equalised in the tenth minute followed by Aleem Bilal's 14th minute goal.

Four goals were scored in the second half as PAF's Kashif Yaqoob scored in the goal in 45th minute, followed up Haroon's second goal in the 49th minute. Bilal also scored his second goal in the 50th minute to earn a draw for his team.