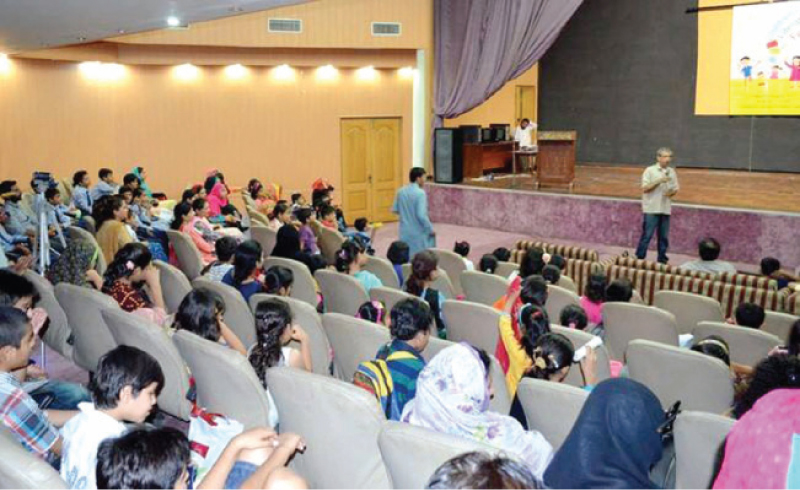 ---
LAHORE:



Adventures of Tot Batot and Moochhander, the Iron Man, mesmerised a young audience on Friday during an hour-long interactive and animated storytelling session, conducted by translator and writer Musharraf Ali Farooqi.




It was a free-entry session organised at the Children's Library Complex under the Children's Literature Festival. It was the first of a series of sessions expected to be held weekly.

Three similar sessions have been organised in Islamabad since June. Preparations are underway to hold such sessions in Karachi.

More than 200 people, mostly children, and parents and teachers attended the Friday's session.

The sitting that started at around 10am featured Sufi Tabassum's classic timeless Urdu poem Tot Batot and Farooqi's own work - Moochhandar ki Nirali Moonchhain.

Farooqi said he had tried to engage children through an interactive storytelling exercise instead of just story-reading.

"We want to revive the idea of storytelling as an important community activity," he said. "Listening to and telling stories is a basic human need and it has remained so across the cultures," Farooqi said.

He said he had wanted to popularise storytelling through his publishing house KITAB.

Baela Raza Jamil, a founding member of Children's Literature Festival, said a plan was being considered to regularly arrange such sessions.

"The idea is to revive activities related to education and fun at the complex by engaging children."

Maham Ali, a member of the Children's Literature Festival organising team, said she hoped people like Adeel Hashmi and Nadia Jamil would be part of their weekly sessions.

Ali said they had planned several activities, including storytelling, writing and art sessions.

"We are hoping to reach out to a larger audience in government schools for the upcoming sessions."

Published in The Express Tribune, August 9th,2014.