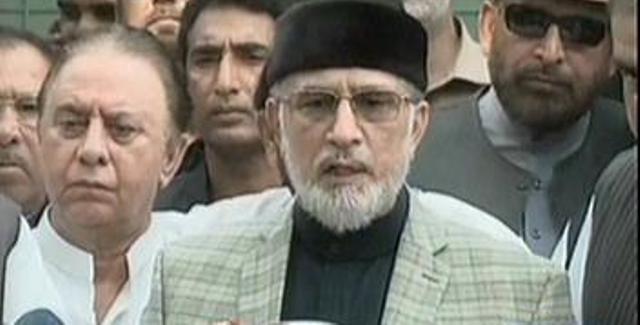 ---
LAHORE: Pakistan Awami Tehreek (PAT) chief Dr Tahirul Qadri on Friday labelled the PML-N government "state terrorists" for sealing off roads to his residence in Model Town, Lahore.

"Model Town has been transformed into Gaza," said Qadri, referring to the barricade around the Minhajul Quran secretariat and deployment of heavy contingents of police in Model Town.

"The government has assumed the role of Israel in Gaza," Qadri alleged, while claiming that thousands of his workers, who have gathered at his house ahead of the planned Youm-e-Shuhada rally, are now running low on food and water supplies due to the government seal off.

Urging the public to bring food and water for his workers, Qadri insisted that his supporters overcome all obstacles and continue gathering at his residence to transform the future of the country and fight for their rights.

Qadri said the police has been raiding the houses of PAT workers and arresting them, including women.

"Innocent PAT workers are being arrested," he said, adding that present rulers will be held accountable for their actions.

"The Punjab government and police have made the situation worse in Model Town," the PAT chief added.

Refuting police claims that Model Town had been sealed off to ensure his security, Qadri said that the government has not provided him with any security. "If anything, the government has been arresting members of my personal security staff," he added.

When asked about whether the Pakistan Tehreek-e-Insaf's (PTI) chief or he would negotiate with the government on August 14, Qadri said the supporters of PTI and PAT  should abandon their leaders if they negotiate with the government or don't proceed with their planned marches.

"I request PTI and PAT workers to bring a revolution and support the long march," said Qadri, reiterating that he would announce the date for his revolution march after Youm-e-Shuhuda.