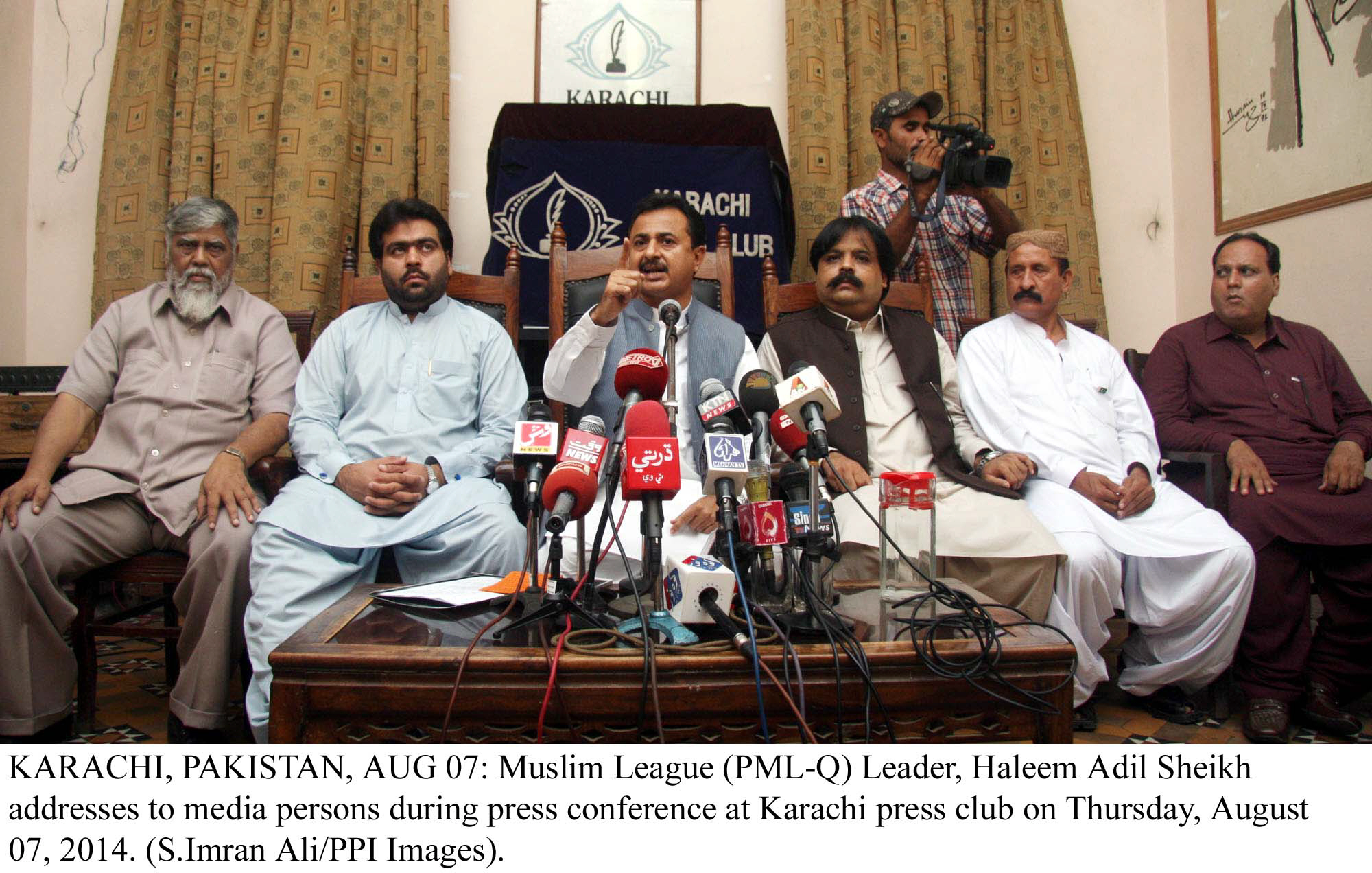 ---
KARACHI:



The Pakistan Muslim League - Quaid (PML-Q) will observe Youm-e-Shuhada across the province on August 10 in remembrance of the martyrs of Zarb-e-Azb and the Model Town tragedy.




The party's Sindh chapter president, Haleem Adil Sheikh, made this announcement at a press conference at Karachi Press Club on Thursday. Sheikh criticised the federal and the Punjab governments for the use of 'undemocratic' means against political workers of different parties.

"Our workers are being harassed in Rahim Yar Khan and other areas," he alleged. "It is the worst kind of civilian dictatorship and we won't allow them [Sharif brothers] to continue with this treatment."

"It will become Youm-e-Inqlab if the government uses power against political workers again," warned the PML-Q leader. He was of the view that people across the country were unhappy with the present government, adding that a change was likely to be brought about in August.

Sheikh said that the crime in the Punjab had increased by almost 100 times over the last 14 months, adding that provincial lawmakers of the ruling parties were threatening various professionals, including doctors. Counting the number of issues, such as load-shedding, inflation, law and order and unemployment across the country, he said that it would only be resolved through a revolution. "We want political, electoral and economic reforms and want all opposition parties to support us."

Sheikh also expressed displeasure with the policies of the Pakistan Peoples Party (PPP). "The PPP is inclined 60 per cent towards the Pakistan Muslim League - Nawaz and 40 per cent towards us. It must clear its position," he said. Speaking about the imposition of Article 245, he said that it would weaken institutions. He was of the belief that the situation in Karachi and Peshawar was worse than Islamabad but the government had felt the need to impose Article 245 in the federal capital only.

Published in The Express Tribune, August 8th, 2014.