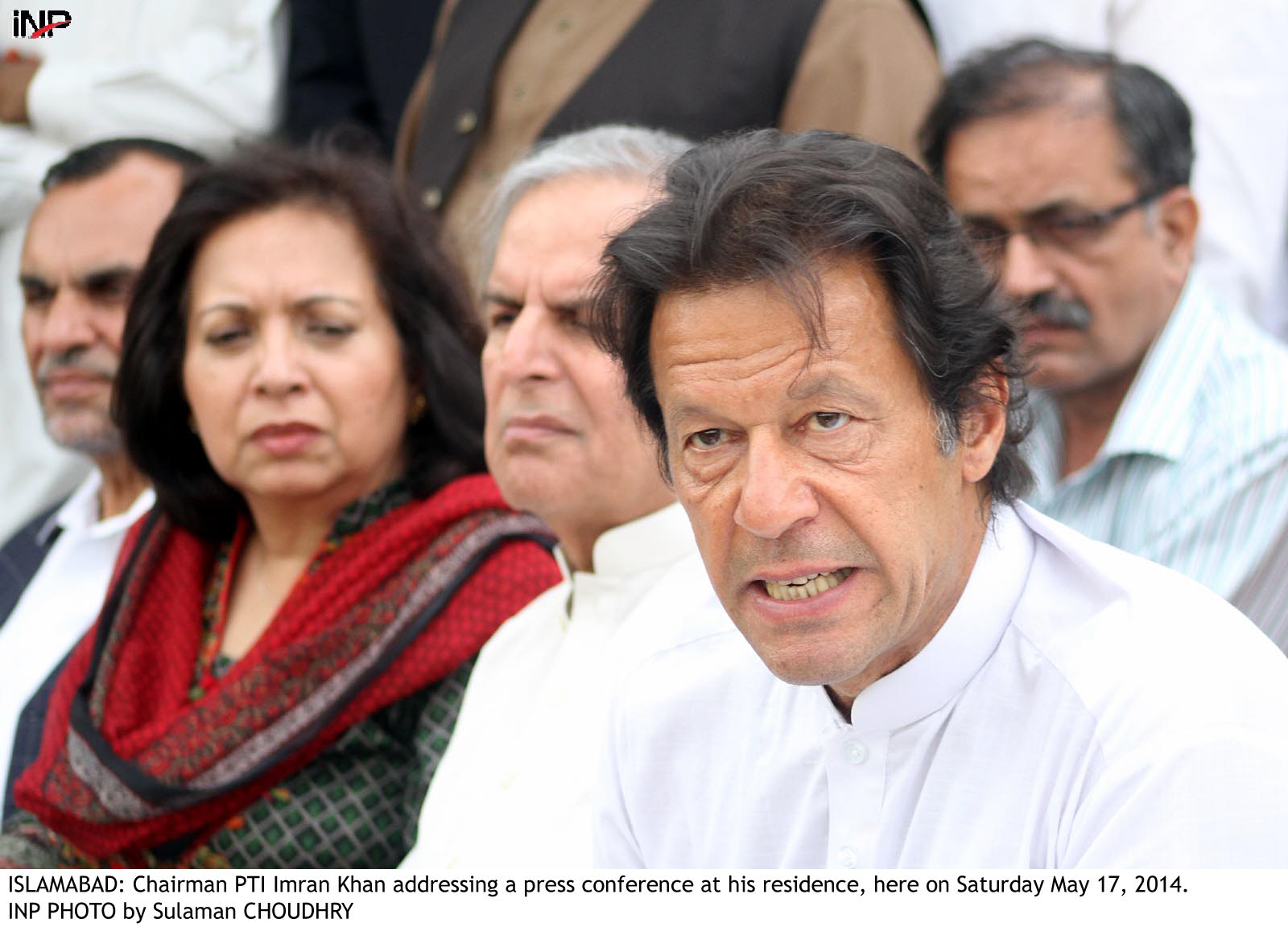 ---
MATTA:



Pakistan Tehreek-e-Insaf Chairperson Imran Khan sees Pakistan gaining a second independence on August 14. The country will be freed from the "clutches of the Sharif kingdom," said Khan.




Speaking at a public gathering at the construction site of a 150KW micro hydro power (MHP) project in Sakhra Valley, Matta tehsil in Swat on Thursday, Khan said the people have no choice but to take to the streets when injustice prevails and their rights are denied. "When the mandate is theft and the doors of justice are closed, a nation must come alive," he said.

The PTI chairperson said there are different laws for the rich and poor due to a corrupt political set-up. Khan appealed to the masses to join the Azadi March to Islamabad on August 14 and rid themselves of a corrupt regime.

He blamed the federal government for excessive power outages in Khyber-Pakhtunkhwa despite the fact that the province generated the cheapest electricity.

"The K-P government has initiated hydel energy projects to generate cheap electricity and has created jobs for the people." The federal government should have invested in hydro power in K-P instead of coal-based projects, said Khan, adding these are not only expensive, but also hazardous to the environment.




Also speaking on the occasion, Chief Minister Pervez Khattak said PTI stood for the masses and had reformed police, health and education systems in the public's interest.

"We will establish an industrial estate in Malakand Division to create enough jobs and ensure that no resident goes abroad or to any other part of the country," he said. Khattak added previous governments in the province had focused on increasing their bank balances and had no interest in the masses.

He announced some other projects for the region, including a 16-kilometre road, girls primary and higher secondary schools, as well as basic health units.

K-P Minister for Education, Energy and Power Atif Khan said, although the federal government was responsible for power outages, other political parties blamed the provincial administration.

"The federal government fixed Rs6 billion for electricity but the amount was capped two decades ago," he said. The minister said a case will be taken to the Centre to ask for a removal of the cap, and to increase the amount.

The Sakhra MHP is part of 'The Construction of 356 Mini/Micro Hydro Power Projects in Khyber-Pakhtunkhwa', through which 105 power units will be constructed in Swat, Shangla and Kohistan districts over a period of 18 months.

This particular MHP aims to power some 700 households in the area and will be run by the communities themselves.

Of the 105 units, 45 will be built in Swat, 35 in Kohistan and 25 in Shangla to benefit 14,250 households.

Published in The Express Tribune, August 8th, 2014.