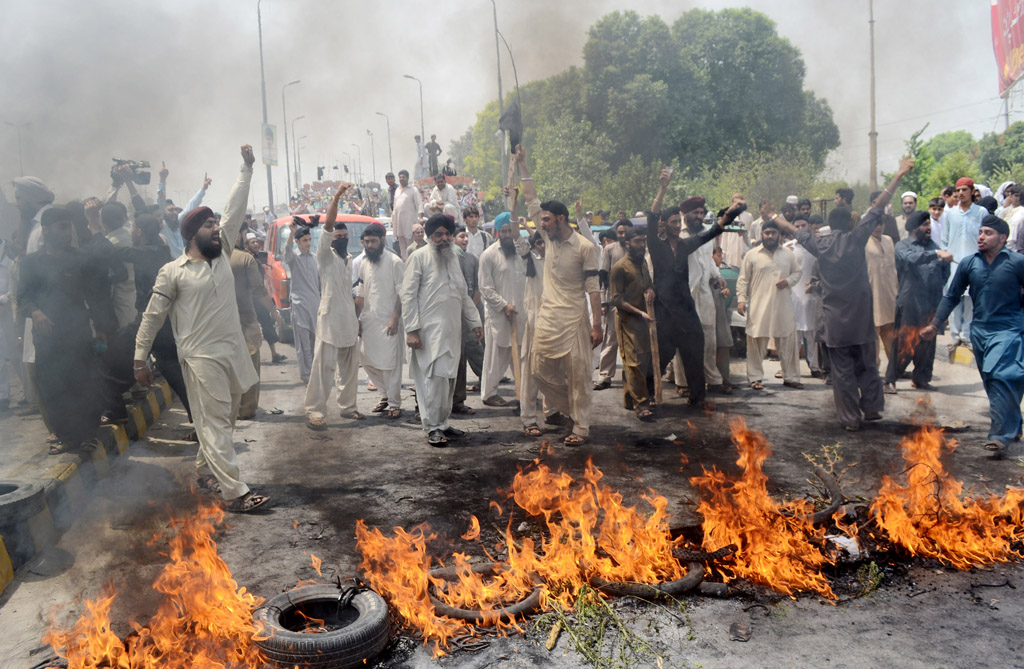 ---
As Pakistan approaches August 14, the day when the national flag flies from countless rooftops, the minorities of Pakistan, who are represented by the white portion of the flag, are under pressure as never before. Pakistan seems to have evolved into a torch-bearer for intolerance, and where minorities of every persuasion are killed, harassed and driven out of their houses and businesses, often out of the country altogether, with disturbing regularity. There is no minority that is completely safe and no minority can be said to enjoy the complete protection of the state. For minorities such as the Ahmadis, discrimination against them is institutionalised in the Constitution. For the rest — the Sikhs, Hindus, Buddhists, Parsis, Christians — they enjoy a notional protection and equal rights under the Constitution, but it is notional only, the actual protection of their civil rights and liberties, their freedom to worship as they choose, lapsed into nothingness within months of Partition.

Many choose flight as the alternative to being butchered in their own homes. There is a silent but steady stream of minority citizens seeking asylum from persecution in Pakistan. They go to Canada, the UK and other European countries, or may spend years waiting to have their cases heard by the UN in countries like Thailand and Sri Lanka that currently hosts thousands of Pakistani Christians fleeing for their lives. Those who cannot flee come together in ragged camps, such as the one that has grown inexorably along the H-9 service road in Islamabad, which now stretches for almost a kilometre. The irony of being adjacent to the Christian graveyard is not lost on those who live there.

A number of recent incidents in which Sikh and Hindu youths were killed — two Hindus in Umerkot, Sindh, on August 6 and a Sikh boy in Peshawar — seem to have prodded politicians into action. The Pakistan Tehreek-e-Insaf has raised the matter and the government and the opposition have agreed to form a fact-finding committee to 'look into' the incidence of violence and persecution of religious minorities across the country. This is a move much to be welcomed, but it must at the same time be said that committees to look into anything, be it encroachments or adulterated medicines, rarely if ever produce anything that is actionable, and if they do, there is a notable lack of action in terms of follow-up by the responsible agencies and departments.

Support for the move came from Defence Minister Khawaja Muhammad Asif, who commented that it was a matter of national shame that the incidence of attacks on minorities was on the rise, and that this was giving Pakistan "a bad name" in the international community. A degree of cross-party unanimity has emerged, with the PPP's Nawab Yusuf Talpur deploring the rise of targeted killings, forced marriages and conversions and kidnapping of minorities, principally women, in Sindh.

So far, all there is — is talk. Yet it is talk against a background of increasing civil disobedience by members of minority groups, who have bitten their tongues for decades, and failed, largely, to pursue their grievances, knowing that at best they were going to get a token hearing and at worst simply ignored.

It is extremely rare for members of the Sikh community to protest about anything, but the killing of Jagmohan Singh on August 6 brought hundreds of them on to the streets of Peshawar. They blocked the GT Road with the young Sikh boy's body, and were contemptuous of an offer of compensation by Chief Minister Pervez Khattak, saying they did not need money, they needed security. His equally contemptuous response was that they should arrange security for themselves.

The manner in which successive governments of Pakistan have treated minority communities is a national disgrace and exposes the intolerance at the heart of the establishment. Another committee solves nothing, and is little more than a shabby political fig leaf.

Published in The Express Tribune, August 8th, 2014.

Like Opinion & Editorial on Facebook, follow @ETOpEd on Twitter to receive all updates on all our daily pieces.
COMMENTS (16)
Comments are moderated and generally will be posted if they are on-topic and not abusive.
For more information, please see our Comments FAQ