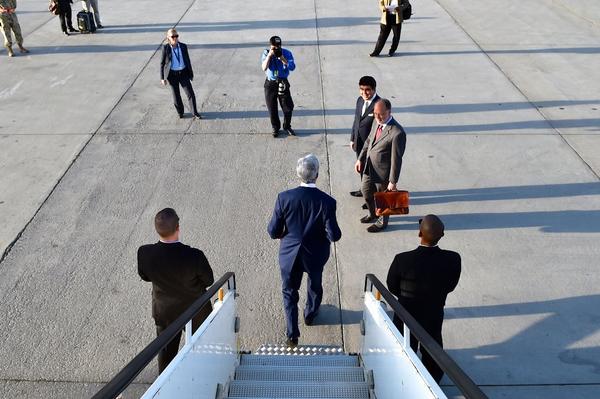 ---
KABUL: US Secretary of State John Kerry arrived in Kabul on Thursday to pressure feuding presidential candidates to resolve the disputed election result that risks triggering instability as NATO troops withdraw.

Allegations of massive fraud in Afghanistan's June election tipped the country into a political crisis, with the United Nations voicing fears that the contested outcome could revive the ethnic divisions of the 1990s civil war.

Kerry last month negotiated a deal in which poll rivals Ashraf Ghani and Abdullah Abdullah agreed to an audit of all eight million votes, and for the winner to form a national unity government.

But the deal has made little progress due to further disagreements between the candidates, and no date has yet been set for the delayed presidential inauguration.

The clock is now ticking for a new president to be in office before the end of this month ahead of a NATO summit on September 4-5, when member states will decide on future finance and support for the war-torn country.

"We would like to see the inauguration ideally by the end of the month," said a US official travelling with Kerry.

"It's important for a new president to be able to go to NATO and ask for these commitments, including continued ANSF (Afghan National Security Forces) costs.

"It's in all of our interests for that to happen. That is still the goal and we are all doing everything possible to ensure that it can stay the goal."

"It'll be hard... but it's possible."

According to preliminary election results, former World Bank economist Ghani easily won the run-off vote.

But Abdullah, a former anti-Taliban resistance fighter, alleged massive ballot-box stuffing and refused to accept the result, with his supporters urging him to set up a "parallel government".

Increasing violence

Outgoing President Hamid Karzai, who has ruled since the Taliban were ousted in 2001, has also called for his successor to be named by the end of the month, adding that the delay was damaging Afghanistan's fragile security and economy.

The Taliban insurgents have launched new operations in the south and east in recent months, and violence is increasing across the country according to several independent reports.

A UN report out last month revealed that civilian casualties of the conflict soared by 24 per cent in the first half of 2014.

Foreign troop numbers have declined from a peak of 150,000 in 2012 to just 44,300 now, and NATO's combat mission in Afghanistan will end in December after 13 years of fighting than have failed to defeat the Taliban.

The new president is expected to sign a security deal that will allow a follow-up NATO "training and advisory" mission, with about 10,000 US troops staying into next year.

Kerry will hold meetings with both candidates and with Karzai to try to hammer out a schedule for election winner to be finally declared.

Only about 5,000 of the 23,000 ballot boxes have been audited so far, and the process has often ground to halt due to arguments over individual ballot papers.

Kerry's visit was "to encourage both candidates to accelerate the audit process. We really want to see it moving faster," the US official said.

"We're hopeful that the Secretary can obtain a commitment by both candidates to a timeline for completing the audit and agreeing on the details of a national unity government."

Ethnic violence is a concern as Abdullah's support is based among the Tajiks and other northern tribes, while Ghani's loyalists are from the Pashtuns of the south and east.

Western nations that have sent troops and billions of dollars worth of aid to Afghanistan since 2001 had hoped a smooth transition of power would be a benchmark of progress made since the austere Taliban era.

The dangers of international military intervention were underlined on Tuesday when a rogue Afghan soldier shot dead a US general at an army training centre in Kabul, wounding more than a dozen others including a senior German officer.
COMMENTS
Comments are moderated and generally will be posted if they are on-topic and not abusive.
For more information, please see our Comments FAQ