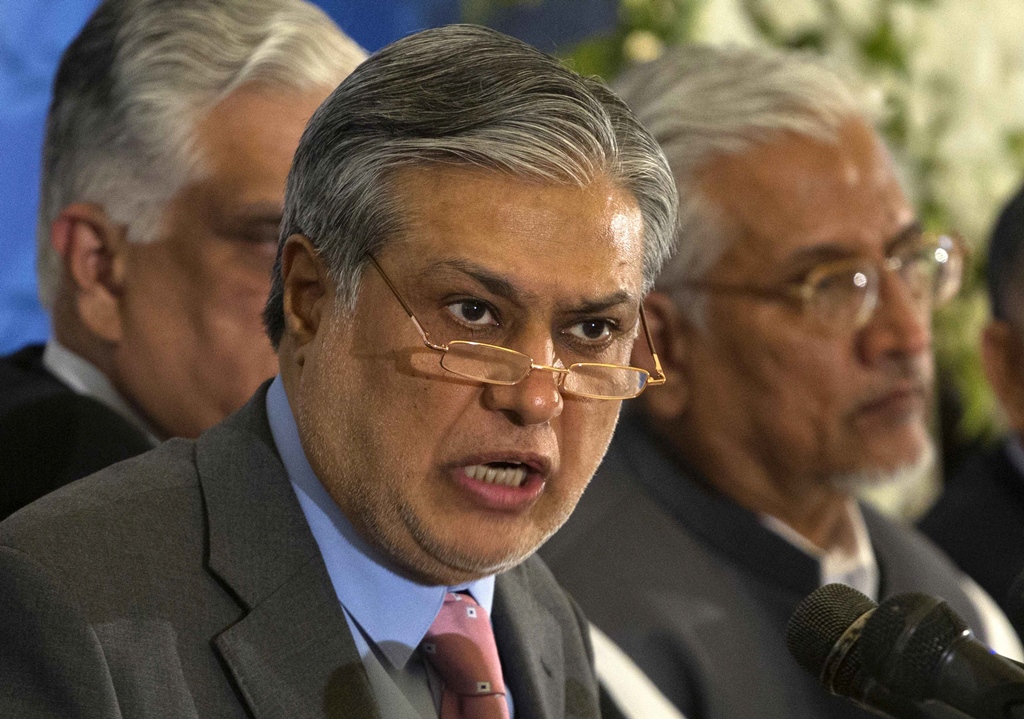 ---
ISLAMABAD:



As he sought broader political support to increase economic stability on Wednesday, Finance Minister Ishaq Dar ruled out the possibility of Prime Minister Nawaz Sharif quitting the office and termed Pakistan Tehreek-e-Insaf's (PTI) demand 'unconstitutional'.




"The resignation of the prime minister is out of the question and the demand [that he do so] is unconstitutional," he said in response to a question regarding threats to his party's government from PTI's planned 'Azadi March'. The minister was talking to reporters at a news conference called to showcase the country's economic performance in Pakistan Muslim League-Nawaz's (PML-N) first year in power.

Dar was the first senior PML-N leader to respond to PTI's demand that Prime Minister Nawaz resign and hold fresh elections. PTI has planned a sit-in in Islamabad to force the government to accept its demands. "The march is nothing less than a drama," said a visibly perturbed Dar. "It is preposterous to think that someone, who gathers 50,000 people in the capital, will force the government to hand over control of the state."

According to the minister, save for two or three factions, all political parties were united and agreed that the parliamentary system should not be derailed. He expressed hope that "sense would prevail among protesting parties at the end of the day" and they would join hands with the government to save the system.

Dar, who was also elected as the chairman of the parliamentary panel on electoral reforms on Wednesday, said the government was serious about reforming the electoral system and had involved even those parties which were planning protests in finalising the committee's terms of reference.

The minister also stressed that the government would welcome protests as long as they remained peaceful and within the ambit of law and the Constitution.

Meanwhile, talking about the economy, Dar said the country had experienced a turnaround during PML-N's first year in power.

However, he cautioned that any 'political adventure' would reverse the process. The minister said international investment rating agency Moody's has termed domestic political stability a precondition for upgrading Pakistan's rating.

Published in The Express Tribune, August 7th, 2014.