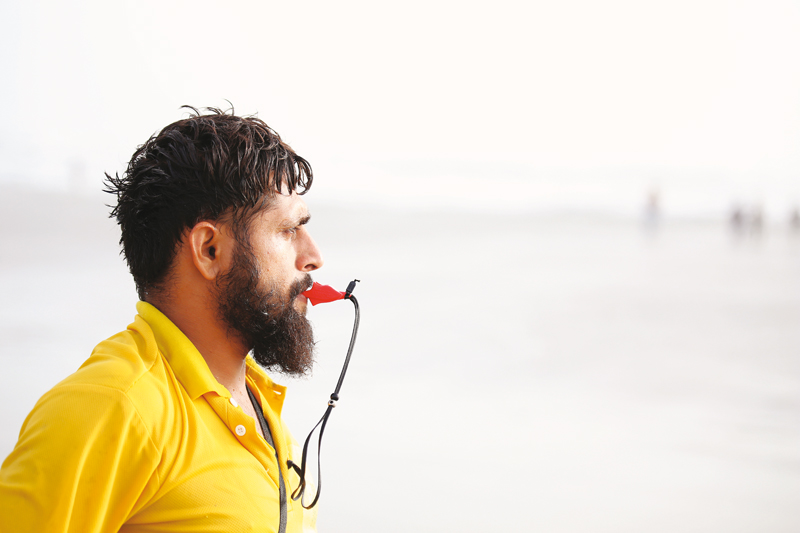 ---
A wave of melancholy swept the beaches of Karachi when 37 people drowned at the Clifton beach on Eidul Fitr this year. But there is a difference of opinion regarding the culprits of this tragedy between those who frequent the beaches and those who guard it. While the victims' families lament the lack of safety measures at the beach, the Cantonment Board Clifton (CBC) lifeguards complain that the heedless public is equally to blame.

The difference between a good and bad guard, as the CBC lifeguards at Karachi beaches will tell you, comes down to several factors — a satisfactory income, proper equipment and public and government support. And since they have neither of the above, they refuse to take any responsibility for the recent 'surveillance break'.





CBC lifeguards on duty at the Karachi Clifton beach. Limited equipment, low pay and negligence by the department has made the Karachi coastline a dangerous place. PHOTO: ARIF SOOMRO




While lifeguards can be seen patrolling the Karachi beaches, distinguishable in their bright orange shorts and deep yellow shirts, they find their job hardly gratifying. "Once, as soon as I rescued a drowning man from the grips of the sea, his friends came and started hitting me," says 32-year-old CBC lifeguard, Nazir Ahmed Baloch, at the Clifton beach, pointing out the scars on his face. And when the offenders are taken to the nearby police station, they are simply released on the basis of suspicion, he complains. During the course of his duty, Baloch has been beaten thrice for asking picnickers to be cautious of the high waves and hence, now treats his job with a resigned indifference. His shift starts at three in the afternoon and ends an hour before midnight, with tea breaks in between.

"Instead of heeding warnings, people, particularly women, are offended when lifeguards approach them," says Baloch. Simply put, they would prefer death over cardiopulmonary resuscitation (CPR) by a man. Further appalled by the irresponsibility displayed by parents at the beach, Baloch adds, "In June, on a Sunday, there were 23 children who got lost at the beach. We had to pick them and go looking for their parents." Hopeless that the situation will change any time soon, he adds, "It's because anything to do with law and order irritates people." And his colleague, Bashir Ahmed, agrees, "People in Karachi will never learn."





CBC lifeguard on duty at the Karachi Clifton beach. PHOTO: ARIF SOOMRO


While most people bring about their own undoing through careless attitudes, others are left at the mercy of CBC's mostly out-of-sight lifeguards who are equipped with nothing except a pale yellow water tube. Picnickers swear that the lifeguards would rather take a tea break than save a life, and can be mostly seen absorbed deep in conversation at the utility shed built on the opposite side of the road along the Clifton beach.

A middle-aged ice cream vendor, Waseem, and a few others who sell snacks along the beach, however, confirm that they seen Baloch and Ahmed diligently performing their duties every day. Waseem even recalls seeing young boys and Baloch engaged in a brawl after he warned them to keep out of the water during the monsoon season. Apart from these two lifeguards, it is unlikely to spot anyone else monitoring the approximately three-kilometre-long shoreline. And Rizwan, who sells snacks there, adds this is because there is nobody to monitor their attendance. You can only find them near the Village restaurant he says, as it is also the part where the most casualties occur.

Since most lifeguards conduct themselves in a way which leaves much to be desired, accounts of rescue missions come as a pleasant surprise. In a recent rescue mission, Baloch informs that four people were pulled from the sea unconscious and were immediately given CPR and sent home while another four were whisked to Jinnah Postgraduate Medical Centre after being found in critical condition and three other bodies were recovered. Even during Ramazan people flocked to the beach in great numbers, he says, making work for the handful of lifeguards even more challenging.





CBC lifeguards Bashir Ahmed and Nazir Ahmed Baloch. PHOTO: ARIF SOOMRO




Mohammed Faraz, a frequent beachgoer, commends the current efforts by the lifeguards and offers an alternative approach to improve matters. "If they make people aware of the consequences they could face by risking their lives, people will listen to them," he says. "They should scare people by telling them there is something [dangerous] in the waters and maybe then they will be more careful."

This trick, however, can only work after 3pm as the Clifton beach is completely unpatrolled before that. Instead of the shrill sound of a whistle, all you can hear is the crashing waves beckoning the unassuming picnickers. "I would give extra time to my job, only if the government was willing to pay me overtime," admits Baloch, a Manora resident, who chose this line of work not out of passion, but to make ends meet for his family.

While lifeguards at the Clifton beach appear less driven, those employed by the Pakistan Aquatic Life Saving (PALS) — formed in 2004 and sponsored in 2011 by the Aman Foundation — and the city government, who are mostly stationed at Hawke's Bay and Sandspit enjoy better conditions. The PALS lifeguards are sent for training to New Zealand every year, where they recently secured second position in a swimming competition, or are trained by professionals in Karachi. "The specialists we have are sent for conferences abroad to gain knowledge of new techniques. We are also associated with the International Life Saving Federation (ILS) and represent them on our visits abroad," says Syed Mohammad Ahsan, administrator of PALS. The foundation has stationed a total of 120 lifeguards, aged 18 years to 35 years, at PALS coverage points and four lifeguards are deputed every one kilometre at any beach. "Sandspit has 30 lifeguards and Hawke's Bay has a total of 40," he says, adding that the lifeguards are mostly sons of fishermen who live along the coastal belt and are experts at deep sea diving. They are paid Rs12,000 to Rs15,000 each, and along with training, find their jobs relatively fulfilling.





CBC lifeguards on duty at the Karachi Clifton beach. PHOTO: ARIF SOOMRO




PALS success rate can be clearly gauged by the number of lives they have saved. "Since we started, we have saved 3,500 lives," says Ahsan. And in 99% of cases all the lifeguards needed was a rescue tube. We are even open to the idea of employing female lifeguards, informs Ahsan. "I am more than willing to employ female lifeguards. However, considering how conservative our society is, I have never been approached by any woman who would be interested."

While PALS provides lifeguards with rescue tubes, surf boards, rubber boards and a transport vehicle at every beach, the CBC has provided Baloch's team with a total of three rescue tubes for the four permanent lifeguards and of course their bright uniforms. "They are better swimmers, better-paid and better-equipped than us, making their job much more satisfactory," says Baloch. "Not everyone has the ability to face the rough tides and we have [relatively] older lifeguards who need to be replaced."

CBC's senior-most lifeguard, Muzammil Shah Syed, explains that initially the organisation was designed to recruit retired Pakistan Navy officers but it eventually expanded and started recruiting civilians as well. Syed, who is a retired officer himself, did not reveal his age but a navy personnel's term generally ends between the ages of 52 years to 60 years, depending on their rank.

Lack of equipment and training and aged lifeguards are not the only setbacks; beachgoers admit that four lifeguards are incapable of controlling even a relatively smaller crowd of 50 people. There have been incidents in which it took two lifeguards to save one life. During the monsoon season, however, more lifeguards are appointed on a seasonal basis to patrol the beach. But Baloch says that this is not enough and the CBC needs to employ more lifeguards throughout the year. They should also be provided with tents at the beach to keep them within close proximity of the picnickers and not stationed at their headquarters.

Although authorities have conducted four surveys, and approved a plot near the beach where a restroom is said to be built, not a brick has been laid to date. The only time the city government is prompt is when it comes to imposing Section 144 during rising sea levels, banning people from coming to the beach altogether.

And if the scarcely available statistics are any indication, these measures have not proven very successful. According to the Edhi Foundation, 44 deaths caused by drowning were reported in the month of July alone and a total of 62 deaths were confirmed in 2014 from January till July. Although a decrease in deaths has also been reported over the years, there are no documented figures to corroborate the claim.

Nisma Chauhan is pursuing a Bachelor in mass communications. She tweets @ChauhanNisma 

Published in The Express Tribune, Sunday Magazine, August 10th,  2014.