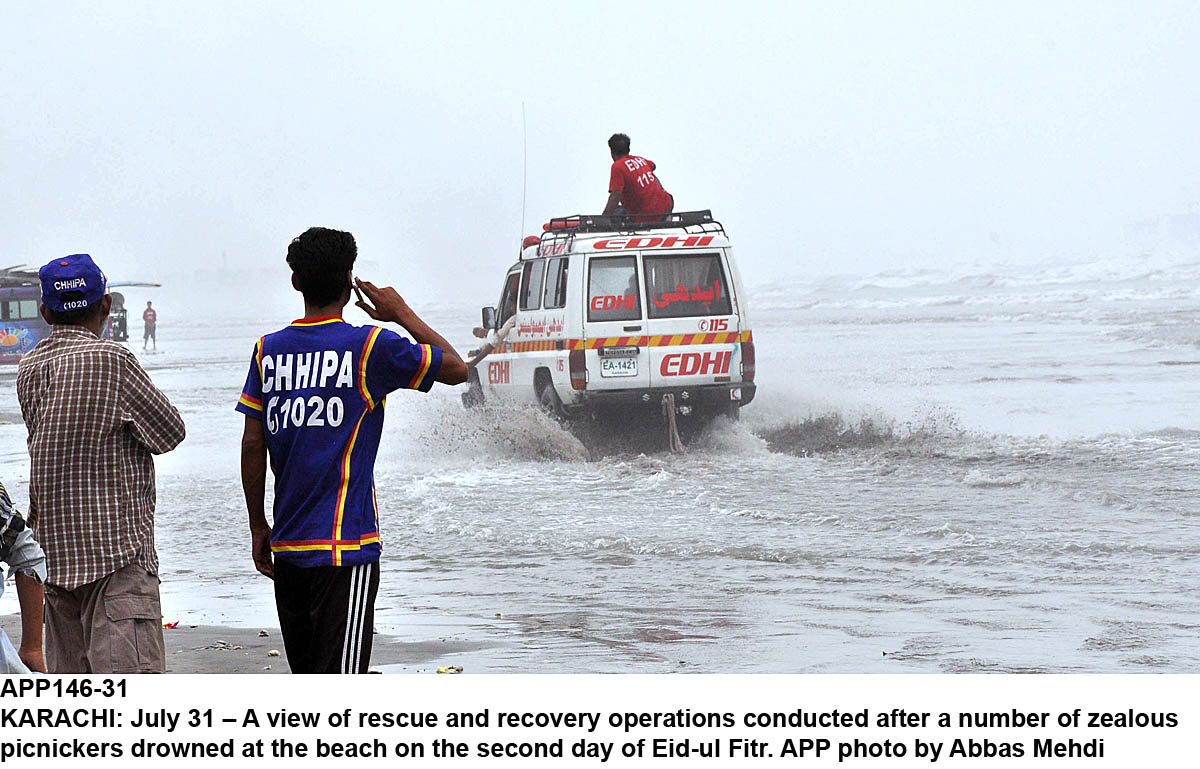 ---
KARACHI:



Thirty five-year-old Najma mourned the loss of her young son outside her house in Keamari, where friends and family - along with the media - had gathered to offer their condolences. 




Najma's son, 13-year-old Mazhar was among the 37 unlucky beach-goers, who drowned in the sea on the Eid days. Najma and her husband Muhammad Younus were unaware that their sons had decided to take advantage of the holiday and gone to the beach. Mazhar, along with his brother Sameer, 14, had lied to his parents and said he was going to the bazaar to eat.

Younus owns a games shop a few yards away from his home and was working there when his wife came and gave him the devastating news. Sameer had called her using someone else's phone to inform her of the tragedy.

Younus, along with his brother-in-law Muhammad Iqbal, immediately rushed to the beach after he learned what had happened. "We reached the beach and saw hundreds of people looking confused and helpless like us as they too had lost their loved ones in the sea," he said.

They were running around asking rescue workers at the beach for some answers when a Chhipa volunteer informed them that young boy, matching their son's description, had been taken to Jinnah Postgraduate Medical Centre. Younus went straight to the hospital where the police took him to identify his son from the five dead bodies that had been found. "I stopped breathing when I walked in there and saw his body," he said. "It was Iqbal who signed the papers. We took the body home after that and buried him at 10pm." Mazhar's elder brother Sameer, did not go in the water with him. "I was playing in the sand when Mazhar and his friend Hamza decided to go for a swim," he said. According to him, Mazhar swam a bit further out than Hamza and the strong currents swept him away. Sameer and Hamza shouted for help and two young men, who were nearby, went in after Mazhar to rescue him. Like Mazhar, the two other men also didn't make it.

Published in The Express Tribune, August 5th, 2014.