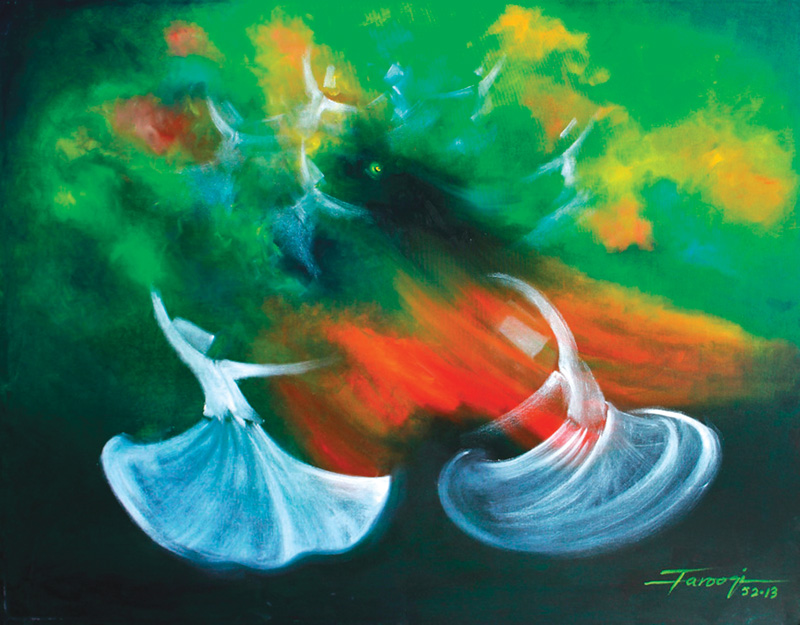 ---
ISLAMABAD: Anyone who walked into Nomad Art Gallery on Monday was undoubtedly struck by the appealing artwork of Lahore-based artist Shafique Farooqi.

His solo exhibition, consisting of 40 pieces, brings forward signature styles with an assortment of mixed media work.

Most walls were concealed with aggrandised pieces from the dreamy collection titled 'Whirling Darvesh'. With a flawless amalgam of shades, Farooqi creates mystical pieces that are comforting and stimulating at the same time.

By using dispirited hues for the Darvesh figurines and balancing it out with vibrant strokes reflecting the motion and movement of each, Farooqi's work skillfully contains a calming element.

His calligraphic paintings are aimed at painting Arabic letters in a distinctive way, avoiding the conventional manner of illustration. With the use of a brush and palate-knife dazzling shades, he creates the mood and harmony, adding character to the letters.

The 'Lines', while relaying the calligraphic flow, rhythm and movement, create images that translate his intuitive perception of reality of the visual as well as beyond the limit of the visible.

The collection titled 'Journey of Line' comprises sketches of other techniques mastered by the artist. The startling work is clean and chic, with intricate use of bold lines that create space occasionally filled with subtle tones.

"It's spontaneous and impulsive, from within I feel myself in the grip of the lines as much as a poet may feel himself in the grip of his words,"   said Farooqui.

In his statement, Farooqui writes about how his paintings are formed out of his impressions, observations and emotional experiences. "I see reality as an endless process of conflicts and decisions. Therefore the tonality of experience can never be resolved in a definite way" He said.

The texture of life is like the surface of a block of clay: it is shaped and molded by the circumstances of daily conflicts, personal and collective catastrophes and individual questioning. My work lives on this quest until it becomes a rite of realisations, a struggle for the possibility to order the sensation of consciousness, states the artist.

Speaking to The Express Tribune, Nageen Hyat, curator of Nomad Art Gallery, said the exquisite collection defines a different perspective as it is the work of over three decades.  "It is a very strong and powerful body of work," she said.  The exhibition will continue at the Nomad Art Gallery till August 19, 2014.

Published in The Express Tribune, August 5th,2014.
COMMENTS
Comments are moderated and generally will be posted if they are on-topic and not abusive.
For more information, please see our Comments FAQ