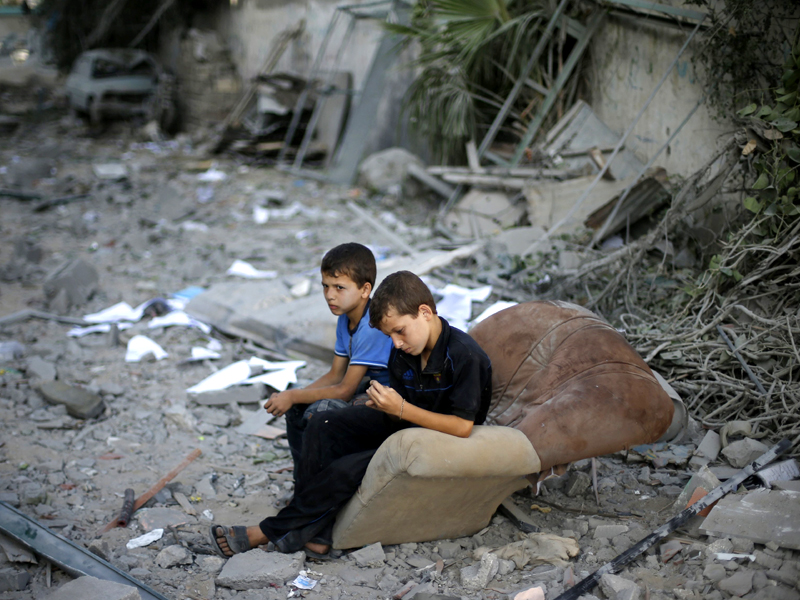 ---
GAZA CITY/ TEL AVIV:



Prime Minister Benjamin Netanyahu wowed to continue Israel's campaign of terror against the Palestinians in the Gaza Strip for as long as needed and with as much force as necessary, diluting much of the good will his government earned hours earlier when it confirmed winding down operations in parts of Gaza.




"From the beginning, we promised to return the quiet to Israel's citizens and we will continue to act until that aim is achieved. We will take as much time as necessary, and will exert as much force as needed," he said in a public address.

Israeli forces bombarded the southern Gaza town of Rafah Saturday, killing at least 62 people, during what should have been a weekend of calm in the war-weary region. The heaviest shelling focused on where the Israeli military believe an officer, 2nd Lt. Hadar Goldin, was captured by Hamas in an ambush which shattered a 72-hour humanitarian cease-fire.

The strikes reportedly destroyed dozens of homes near Rafah, less than two miles inside the Gaza Strip and near the southern borders with Israel and Egypt.

Since fighting began on July 8, more than 1,672 Palestinians — mostly civilians — have been killed and more than 9,000 wounded. Israel has lost 63 soldiers and three civilians. Israel has attacked around 4,200 targets in Gaza thus far, including 122 targets Saturday.

As a Palestinian delegation flew to Egypt in search of a ceasefire, the Israeli army messaged residents of part of northern Gaza that it was "safe" to return home.

"They have been informed it is safe for civilians to return to Beit Lahiya and Al-Atatra," a spokeswoman told AFP, in what was understood to be a confirmation that troops had stopped operating there.

Witnesses in the north confirmed seeing troops leaving the area as others were seen leaving another flashpoint area in southern Gaza.

Despite the partial withdrawal, Israel's security cabinet decided against sending a delegation to ceasefire talks with the Palestinians in Cairo, media reports said.

"Hamas has proven that it breaches any agreement reached right away, as happened five times in previous truces," deputy foreign minister Tzahi HaNegbi told AFP, without confirming the report.

"It is therefore unclear at this stage what benefit Israel might see for participating in an attempt to reach agreements, based on the Egyptian initiative," he said, as media reports suggested the pullback could signal the start of a unilateral withdrawal. 

Published in The Express Tribune, August 3rd, 2014.