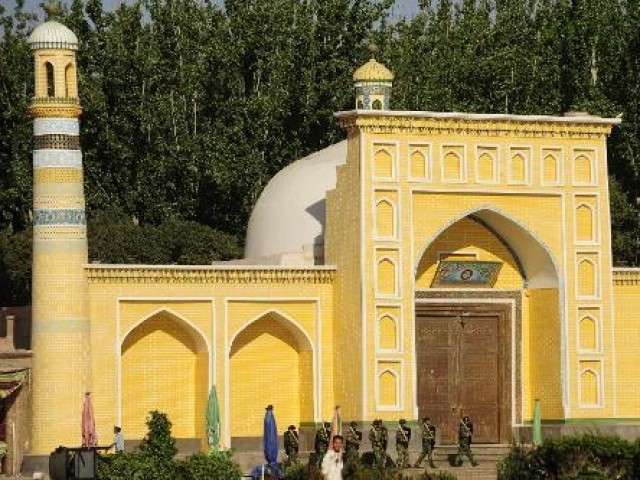 ---
URUMQI: The murder of a prestigious imam of China's largest mosque –the Id Kah Mosque, Jume Tahir, in China has been denounced as an act against humanity by several religious figures in Xinjiang – ranging from Islam, Christianity and Buddhism, Xinhua reported.

The imam's murder, who was killed on Wednesday at 6:58am, triggered grief and shock to Muslims worldwide.

An imam of a mosque in Kashgar, Ebeydulla Mohammad and 105 more religious figures condemned the murder while attending a seminar in Urumqi, the capital of Xingjian Uygur Autonomous Region, asked all Muslims in China to continue with the will of Jume Tahir.

He further said that Jume Tahir had dedicated his life to opposing separatism and religious extremism, and had safeguarded ethnic and national unity, adding that the murder has brought about distress and anger in them.

Of the three suspects in the murder of Jume Tahir, two had been shot dead and one had been captured according to police who also said they were influenced by religious extremism.

The 74-year-old imam had been known to condemn deaths committed by religious extremists.

The deceased had been admired for his practice of the Islamic doctrines by the vice head of the Urumqi Christian Council, Fan Chenguang, who said "all religions promote benevolence, love, unity and amity."

He added that the brutality of terrorists would only make them enemies of all humanity, further saying that Christians would take the responsibility of assisting the government to maintain social stability and religious harmony – which Abbot Yi Xuan, of the Nanshan Faming Temple in Urumqi County agreed with.

Xuan also requested Buddhists to assist the government in creating peace, prosperity and harmony.
COMMENTS
Comments are moderated and generally will be posted if they are on-topic and not abusive.
For more information, please see our Comments FAQ