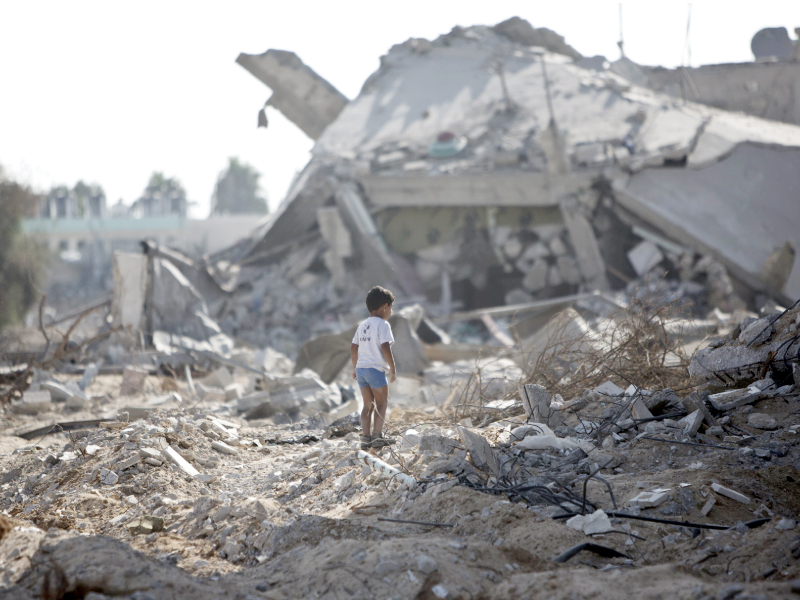 ---
GAZA CITY:



A humanitarian truce in Gaza collapsed only hours after it began on Friday amid a deadly new wave of violence in which 62 people were killed. The count of Palestinian deaths crossed 1,500 with the intense shelling in southern Gaza hours into the truce, which began at 8am local time and was due to last 72 hours.




But the ceasefire was short-lived, with Hamas accusing Israel of breaking it and the Jewish state saying it was responding to militant rocket fire.

With Israel's security cabinet reported to be meeting later Friday, the chances of a durable truce seemed as remote as ever after the probable capture of 23-year-old Israeli Second Lieutenant Hadar Goldin. The military also announced that two soldiers had been killed in the same incident near the southern city of Rafah.




Friday's short truce gave brief respite to people in the battered Gaza Strip from fighting that has killed more than 1,500 on the Palestinian side, mostly civilians. Within hours, air raid sirens were heard on the Israeli side, and heavy shelling resumed in Rafah, killing at least 62 people and wounding more than 350, medics said.

There was no immediate word from any group or Hamas on whether any were holding the Israeli officer. Sami Abu Zuhri, a spokesman for Hamas, said Israel is trying to mislead the world and "cover up its Rafah massacre".

Israeli Prime Minister Benjamin Netanyahu's office accused Hamas and other Gaza militants of 'flagrantly violating' the ceasefire. On the other hand, Hamas spokesperson Fawzi Barhum riposted that "it is the (Israeli) occupation which violated the ceasefire. The Palestinian resistance acted based on [...] the right to self-defence".

The 72-hour break announced by US Secretary of State John Kerry and UN Secretary-General Ban Ki-moon was the most ambitious attempt so far to end more than three weeks of fighting, and followed mounting international alarm over a rising Palestinian civilian death toll.




Washington blamed Hamas for the breakdown of the ceasefire and accused it of launching a 'barbaric' attack to capture the Israeli soldier. "This is an outrageous action and we look to the rest of the world to join us in condemning it," White House Deputy National Security Adviser Tony Blinken told MSNBC television.

Kerry demanded that Hamas "immediately and unconditionally release the missing Israeli soldier", as did Ban Ki-moon. The US secretary of state said he had asked Qatar, which is close to Hamas, and Turkey to help free him.

In response, Turkey's Foreign Minister Ahmet Davutoglu said the country will do what it can to help free an Israeli soldier but the priority should be the reinstatement of a truce. "What is important is that the ceasefire is reinstated," he told reporters. "But if the ceasefire is stopped because an Israeli soldier is kidnapped, somebody should account for the 70 Palestinians killed (on Friday). In our eyes, all people are equal," he said.

Earlier, when Kerry called the ceasefire, he said talks could begin in Cairo when the truce is in place. The Palestinian militant group Islamic Jihad later said Egypt was postponing the talks after news of the Israeli soldier's capture, but Cairo said the invitation to talk was "still in place".

Meanwhile, Palestinian president Mahmud Abbas said a joint delegation, including Hamas and Islamic Jihad, will travel to Cairo on Saturday for talks despite the renewed fighting.

Published in The Express Tribune, August 2nd, 2014.
COMMENTS (1)
Comments are moderated and generally will be posted if they are on-topic and not abusive.
For more information, please see our Comments FAQ