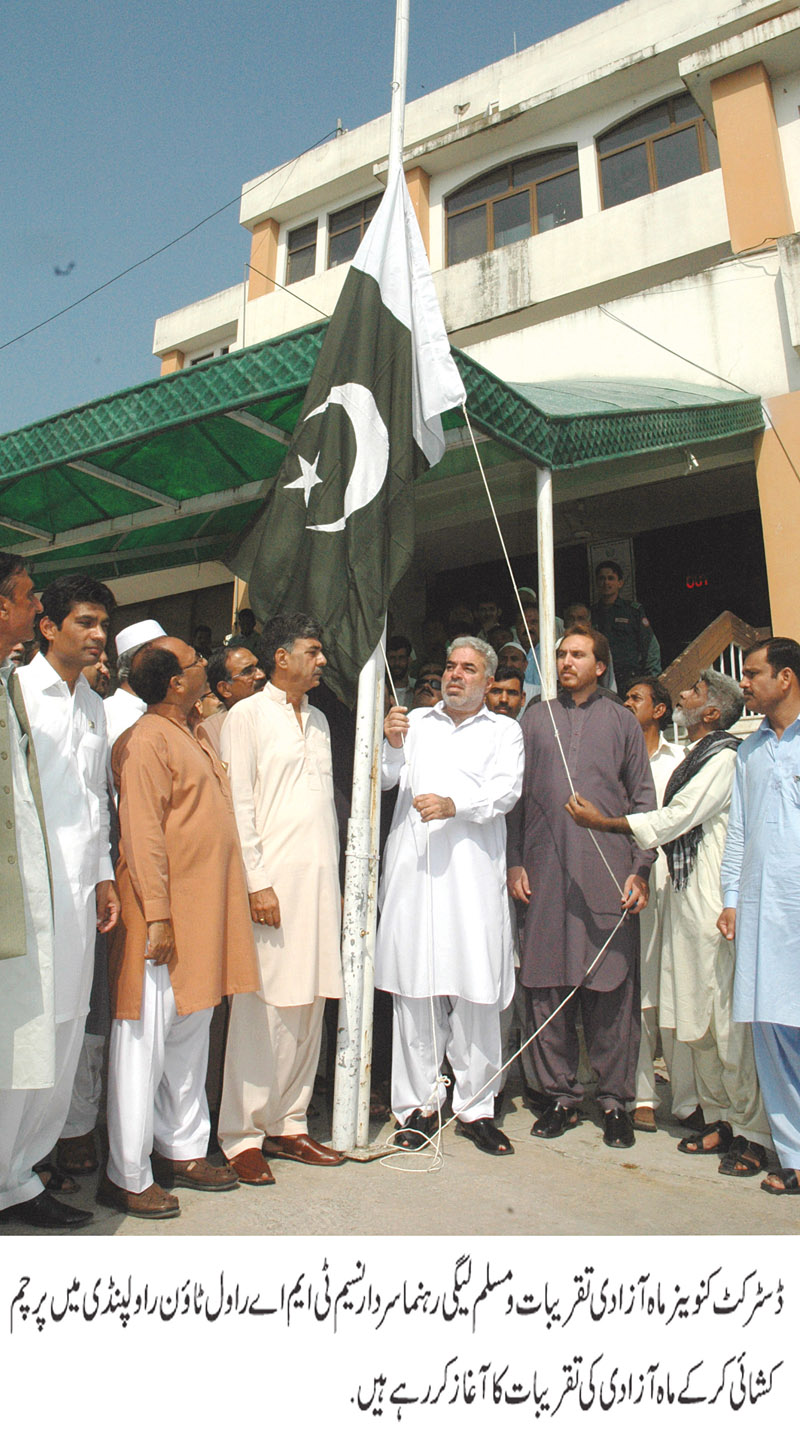 ---
The Punjab government on Friday commenced month-long Independence Day celebrations with flag hoisting ceremonies in various cities.

The convener of Independence Day celebrations in Rawalpindi, Pakistan Muslim League-Nawaz (PML-N) city president Sardar Nasim, performed the flag hoisting ceremony at Rawal Town Municipal Administration (RTMA) to kick-start festivities in the garrison city, stated a press release.

Additional District Collector General ADC (G) and Potohar Town Administrator Talat Mehmud Gondal hoisted the flag at Jinnah Hall.

PML-N local leaders, party workers, town municipal officers, municipal staff and district administration officials attended the flag hoisting ceremonies.

Nasim said the Independence Day celebrations will be organised and observed by all segments of society, including government departments, schools, colleges, civil society as well as the party's  labour, lawyers, ulema and youth wings.

He said the objective of observing Mah-e-Azadi, or the month of independence, is to make the young generation aware of sacrifices that the forefathers rendered to win freedom.

Naseem informed that speech contests, painting exhibitions and sports competitions will mark the month of independence.

Government buildings and markets will be decorated with flags, lighting and buntings, stated the press release.

Nasim said all parliamentarians, party office bearers, administration officials and district and divisional heads of various government organisations and departments will chair the functions. He further said that workers of the Pakistan Movement and their relatives will be chief guests at the Independence Day functions.

Mah-e-Azadi celebrations will continue till August 31 at the town, district, divisional and provincial level in Punjab, informed the press release.

Published in The Express Tribune, August 2nd, 2014.