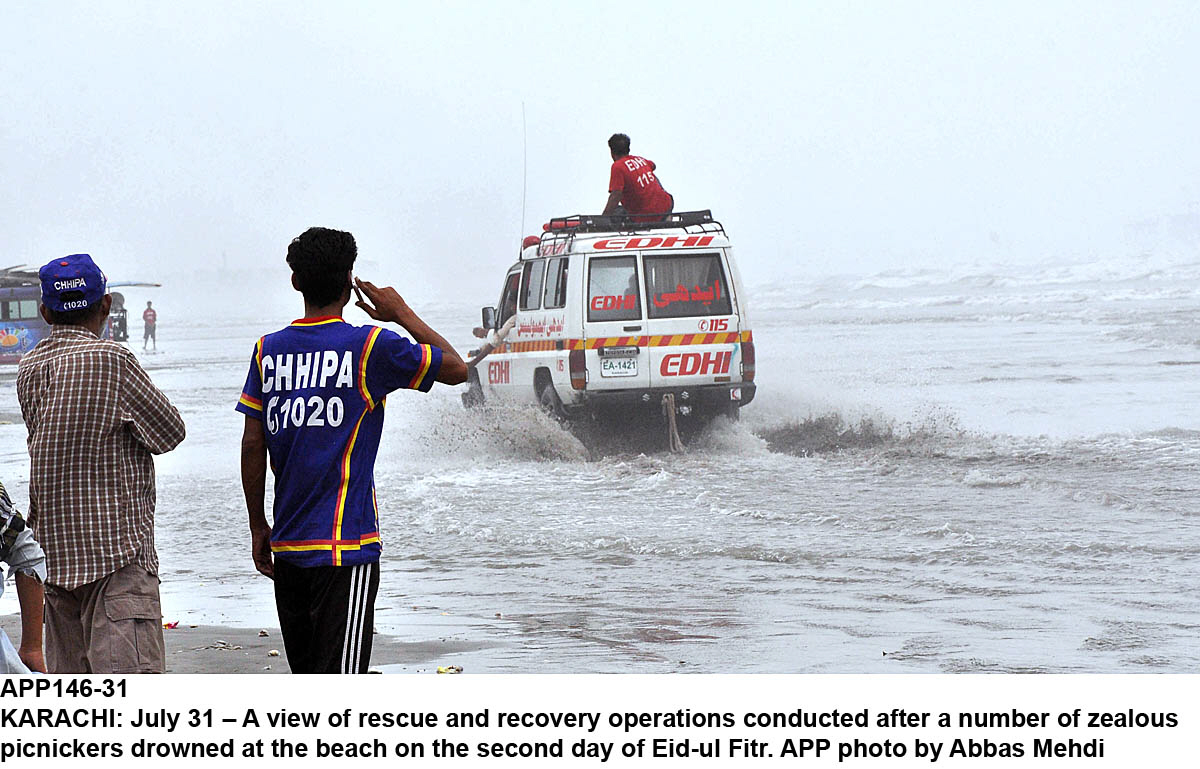 ---
KARACHI:



Noor Ahmed and Mustaqeem Khan had always been strict when it came to allowing their sons to hang out with their peers.




As luck would have it, however, their children went to picnic to the Clifton beach on Eid without informing them, only to return home later as unrecognisable bodies.

"If my son would be alone at home, I would always lock the door from outside. I would not let him go out fearing that he would make friends with the wrong kind of people," said Ahmed. His youngest son, Inam Ilahi and grandson, Taha, were among the deceased who lost their lives in the tragic drowning incidents during the Eid holidays.

According to Ahmed, who is a madressa teacher, Tuesday was the first time his son had gone for a picnic to Sea View, along with Ahmed's grandson and a neighbour. Leaving their mobile phones with the neighbour who went to sleep, the two ventured into the deep sea for a swim. "The boy told us in the evening that the two had disappeared and feared that they had drowned. We then went to the beach and searched the area but could not find them."




On Wednesday, when the bodies of the two were washed ashore, Ahmed could barely recognise his son's body. "I recognised it from the clothes he was wearing."

Inam was a student of grade eight. His father remembers him as a helpful and generous kid. His grandson, Mohammad Taha, was visiting from Kashmore to spend Eid with the family. "I am ashamed to say anything to my daughter. She has also lost a son."

A resident of Pirabad, Mustaqeem Khan says that if he knew his son, Omer Zaib, would go to the beach, he would have never allowed him. Khan had gone to his uncle's home on the first day of Eid, when his son left for the beach with five other friends. Three of the boys from the neighbourhood, including his son, drowned while three others survived. For the next two days, he scoured the beach looking for the body, which the rescue workers finally managed to retrieve on Thursday.

The heartbroken father lambasted the government and civic authorities for failing to take practical steps to safeguard picnickers at the beach. "Young boys like to go deep into the sea to have fun but there should have been someone to stop them if the sea was rough," Khan cried.

Published in The Express Tribune, August 2nd, 2014.
COMMENTS (2)
Comments are moderated and generally will be posted if they are on-topic and not abusive.
For more information, please see our Comments FAQ