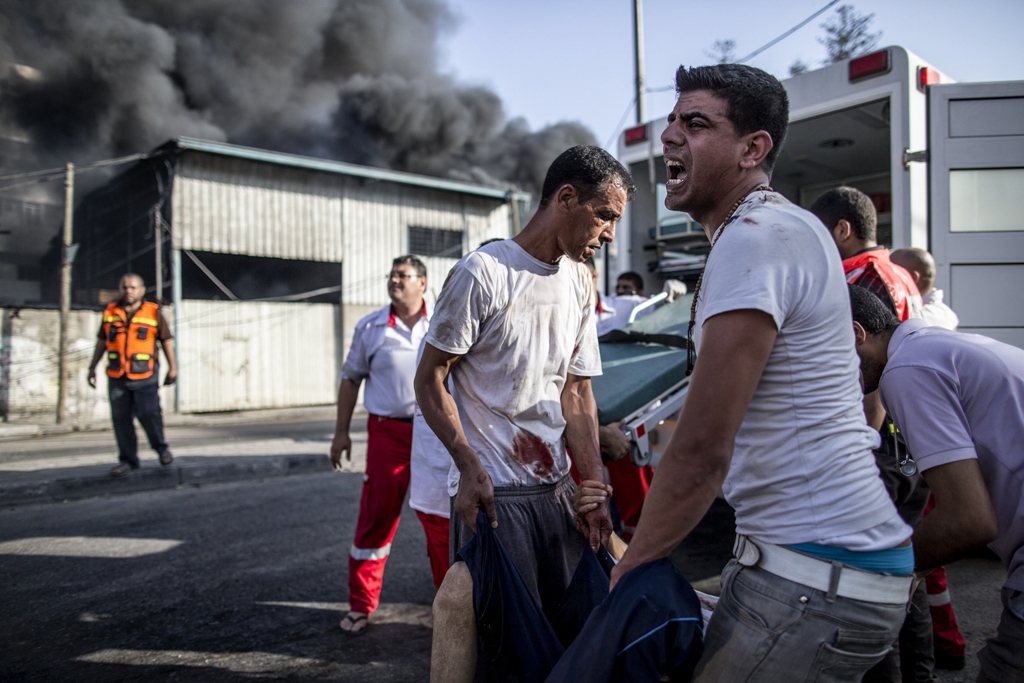 ---
RIYADH/ RAMSTEIN: Fearing an escalation of violence in Gaza, US Secretary of State John Kerry called on Turkey and Qatar on Friday to use their influence to secure the release of an Israeli soldier whose reported abduction led to the collapse of a ceasefire between Israel and Hamas.

Kerry called Qatari Foreign Minister Khalid bin Mohammed al Attiyah and Turkish Foreign Minister Ahmet Davutoglu soon after an aide informed him of reports of the abduction, and the killings of two Israeli soldiers, while flying back from a visit to India.

The incidents led to the quick breakdown of a ceasefire Kerry had worked hard to broker.

"We have urged them, implored them to use their influence to do whatever they can to get that soldier returned," a senior State Department official told reporters traveling with Kerry.

"Absent that, the risk of this continuing to escalate, leading to further loss of life is very high."

US calls Hamas attack 'barbaric' violation of Gaza ceasefire

The White House on Friday condemned a reported Hamas attack on Israeli soldiers in Gaza as a violation of the newly reached humanitarian ceasefire and called for the release of an abducted Israeli soldier.

Israel declared a ceasefire over on Friday hours after it began, saying Hamas militants attacked Israeli soldiers looking for tunnels in Gaza and abducted one of them.

"That would be a rather barbaric violation of the ceasefire agreement," White House spokesman Josh Earnest said on CNN. Earnest called on Hamas to release the Israeli soldier. He said US Secretary of State John Kerry had already spoken to Israeli Prime Minister Benjamin Netanyahu about the next steps in the Gaza crisis.

The United States urged the international community to condemn the Hamas ceasefire violation in the "strongest possible terms," Earnest said. "And we would encourage those who have influence with Hamas to get them back on to the terms of the ceasefire and to get them to abide by the agreements that they struck just yesterday," he said.

Riyad Mansour, the Palestinian permanent observer to the United Nations, told CNN it was not certain Hamas had carried out the attack or violated the ceasefire. Netanyahu spokesman Mark Regev said Hamas militants had attacked Israeli soldiers 1-1/2 hours after the ceasefire, killing two and apparently taking one hostage. "This appears to be an absolutely outrageous action by Hamas, using the cover of a ceasefire to conduct a surprise attack through a tunnel, killing Israeli soldiers and perhaps taking one hostage," Tony Blinken, White House deputy national security adviser, said on MSNBC.

"We strongly, strongly condemn it."

Saudi king breaks silence over Israeli offensive in Gaza

Earlier, Saudi Arabia's King Abdullah criticised international inaction over Israel's offensive in Gaza, which he described as involving mass slaughter and "war crimes against humanity", in a speech read out on his behalf on state television.

"This (international) community which has observed silently what is happening in the whole region, was indifferent to what is happening, as if what is happening is not its concern. Silence that has no justification," he said in his speech.

He also slammed militants who he said were killing innocent people and mutilating their bodies in contravention of Islamic teachings and called on the region's leaders and religious scholars to prevent Islam from being hijacked by militants.

King Abdullah named no groups but was apparently referring to violence in neighbouring countries, including Iraq and Syria, where the Islamic State has captured swathes of territory, killing scores of people and forcing Christians to flee. Saudi Arabia, birthplace of Islam, sees itself as a leader of the Sunni Muslim world and a main player in the Middle East.

But the world's largest oil exporter and US ally has played only a low-key role in diplomatic efforts to end the conflict in Gaza, leaving the main Arab efforts to its close ally Egypt and fellow Gulf monarchy Qatar.


COMMENTS (14)
Comments are moderated and generally will be posted if they are on-topic and not abusive.
For more information, please see our Comments FAQ