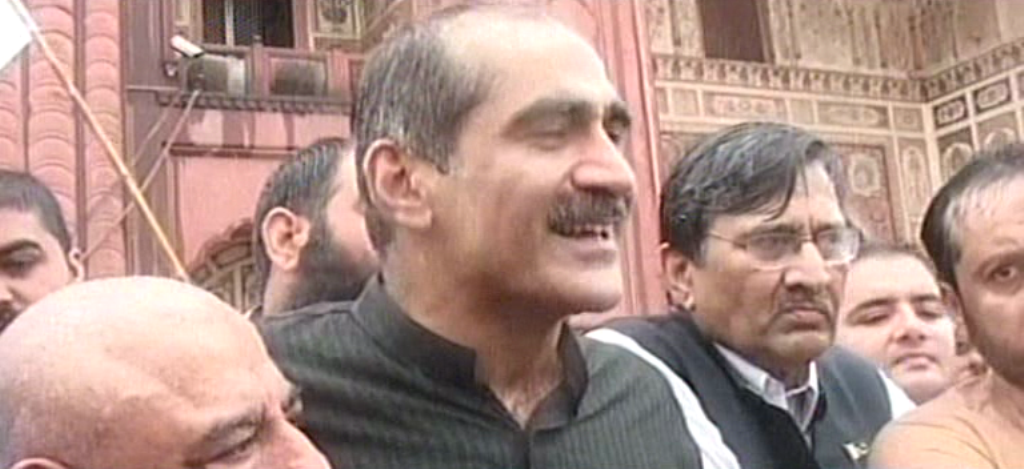 ---
LAHORE: The government is making an effort to resolve differences with Pakistan Awami Tehreek chief Tahirul Qadri and Pakistan Tehreek-e-Insaaf chairman Imran Khan, Railways Minister Saad Rafique told the media in Lahore  on Friday.

Undeterred by the heavy rain, Rafique started off the government's 30-day plan to celebrate Independence Day outside Badshahi Mosque with hundreds of Pakistan Muslim League-Nawaz (PML-N) supporters by his side.



Express News screengrab of PML-N supporters outside Badshahi Mosque.


Standing outside the mosque with a Pakistani flag in his hand, Rafique told media that he was requesting political workers not to make Independence Day about violence, bitterness and disagreement.

Admitting that the government does have some differences with Imran Khan and Tahirul Qadri, Rafique said that a "chowk" is not the place to resolve these issues and they should sit at a table and discuss them.

"Khan is willing to talk to the Taliban, even today, so why is he not willing to talk to the government?" said Rafique.

"Is the government even worse than the Taliban," he went on to question.

The PTI chief had earlier ruled out negotiations with the PML-N after acknowledging that Punjab Chief Minister Shahbaz Sharif had accepted his party's demands, but the offer had come too late.

"Now we'll meet on August 14," Imran had said, adding that a case would be registered against Prime Minister Nawaz Sharif if the police or army fire a bullet at the participants of the tsunami march scheduled for Independence Day.

Referring to PTI's march, Rafique said on Sunday, "if someone is going to criticise the government then August 14 is not a suitable day to do it."

"At least on this one day, we should give a message of unity," Rafique said, adding that difference of opinion should be expressed in a good way and not in a confrontational manner.

....................................................................................................................................................