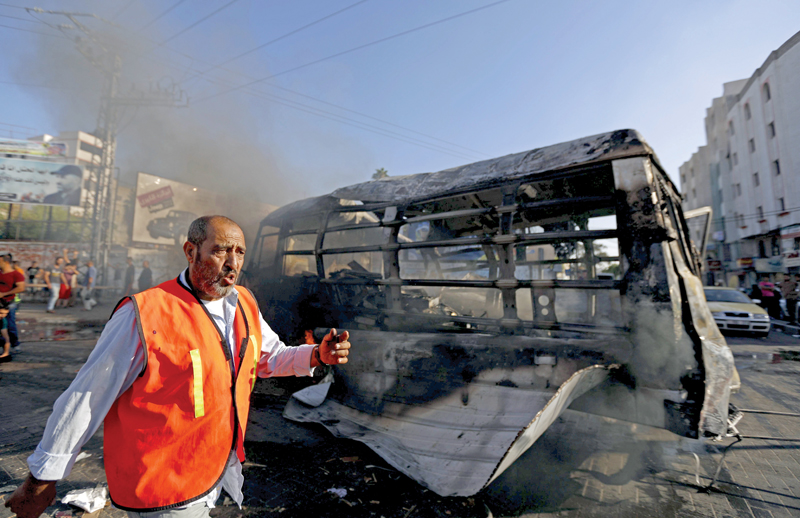 ---
UNITED NATIONS/GAZA CITY:



A top UN envoy told the United Nations Security Council on Thursday that Israel would be required under international law to take responsibility for helping Palestinian civilians in any further large-scale displacements from Gaza as Israel's Prime Minister Benjamin Netanyahu vowed that he would not accept any ceasefire that stopped his country from completing the destruction of infiltration tunnels.




"We are determined to complete this mission, with or without a ceasefire," Netanyahu said in public remarks at a meeting of his full cabinet in Tel Aviv. "I won't agree to any proposal that will not enable the Israeli military to finish this important task."

Leaving open the option of widening a ground campaign in Gaza, the Israeli military said it had called up an additional 16,000 reservists. Fighting, however, appeared less ferocious than on previous days this week – more than 100 were killed on Wednesday alone.

Gaza health officials said 28 Palestinians were killed in Israeli assaults on Thursday. According to them, at least 1,419 Palestinians, most of them civilians, have been killed in Gaza so far and nearly 7,000 have been wounded.

On the other hand, the Israeli military said more than 60 rockets were fired from Gaza, some deep into Israel, and injured one person.

Speaking from Gaza City, head of UN Relief and Works Agency (UNRWA), Pierre Krähenbühl Krähenbühl said, "With as many as 2,500 displaced people residing in (each UN) school and an average of 80 people to a classroom, we have exceeded the tolerable limits we can accommodate."

According to the Geneva Conventions on the conduct of war and occupations, an occupying power must "to the fullest extent of the means available to it" ensure public health, hygiene, food and medical supplies for the civilians under occupation.

'Israel accountable for war crimes'

UN rights chief Navi Pillay called upon the world powers to hold Israel accountable for possible war crimes, saying Tel Aviv was deliberately defying international law in its military offensive in Gaza.

Israel has attacked homes, schools, hospitals, Gaza's only power plant and UN premises in apparent violation of the Geneva Conventions, according to Pillay, UN High Commissioner for Human Rights. "Therefore I would say that they appear to be defying...  deliberate defiance of obligations that international law imposes on Israel," Pillay told a news briefing. "This is why again and again I say we cannot allow impunity, we cannot allow this lack of accountability to go on."

Published in The Express Tribune, August 1st, 2014.
COMMENTS (1)
Comments are moderated and generally will be posted if they are on-topic and not abusive.
For more information, please see our Comments FAQ