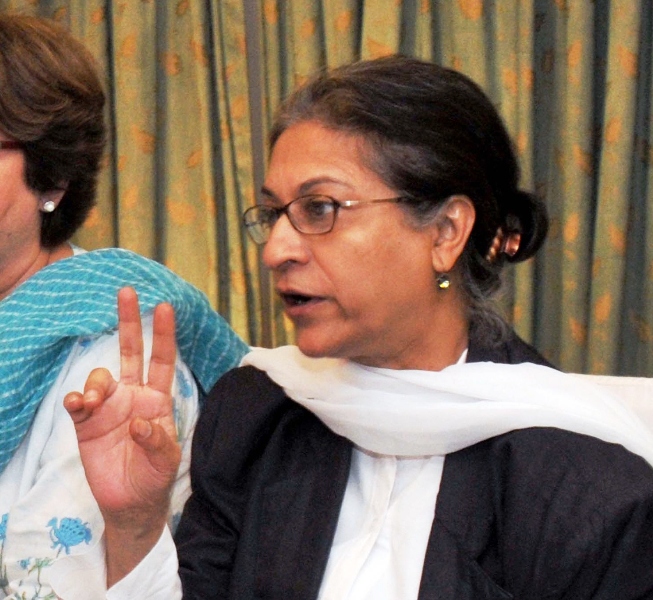 ---
LAHORE:



Human rights activist Asma Jehangir said on Thursday that Israel had been exercising complete control over settlements in the occupied Palestinian territory since 1969. 




Jehangir said that Israel was sustaining settlements through infrastructural and security measures. She was speaking in her capacity as a member of the United Nations Commission on Human Rights (UNCHR) fact-finding mission on Israeli settlements in the occupied Palestinian territory. Jehangir said that settlement expansion was showing no sign of abating despite the repeated passing of UN resolutions.

The UNCHR had decided to establish an international fact-finding mission in 2012 to ascertain the ramifications of Israeli settlements on the civil, political, cultural, social and economic rights of Palestinians across the occupied territories. Speaking to The Express Tribune, Jehangir said that the establishment of settlements across the West Bank was aimed at annexing the area in an attempt to preclude the possibility of a viable and contiguous Palestinian state from emerging. She said that the mission had highlighted that the creation and expansion of settlements violated International Law. Jehangir said that settlements had been established exclusively for the benefit of the Israelis and were being maintained by isolating settlers from the Palestinians living in the occupied territories. She said that segregation was enshrined through the imposition of discriminatory military and security policies. Jehangir said the presence and expansion of settlements constituted a breach of Israel's international obligations.

She said that the presence of settlements routinely compromised Palestinian's rights to freedom of movement, self-determination and non-discrimination.

Jehangir said that the volume of dispossession, displacement and eviction cases received by the mission was indicative of the magnitude of the problem. She said that people responsible for harassing Palestinians operated with impunity despite being known to Israeli authorities.  Jehangir said that the mission had concluded that discrimination against Palestinians was institutionalised with regard to cases of violence and intimidation in the occupied territories. She opined that the objective behind such measures was to depopulate the West Bank of Palestinians to facilitate the expansion of settlements in the area. Jehangir said that the mission had been dismayed after reviewing figures for the number of children detained on charges of minor offences. She said that incidents of violence, harassment and intimidation had a grave impact on the mental health of children additionally by preventing them from realising their potential due to the paucity of academic opportunities. Jehangir said that Israel, as the occupying power, had a duty to ensure the provision of educational facilities to Palestinian children. She said that Israel had been failing in this regard. She said that a sense of insecurity was prevalent across Palestinian society as vulnerable groups such as women and Bedouins had been left at the mercy of settlers.

Published in The Express Tribune, August 1st, 2014.
COMMENTS
Comments are moderated and generally will be posted if they are on-topic and not abusive.
For more information, please see our Comments FAQ