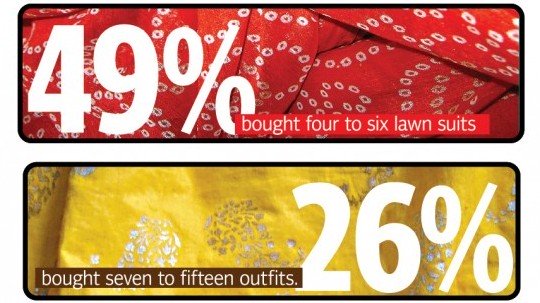 ---
KARACHI: 'Tis the season to be deluged with lawn fabric, to hear the sound of cash registers and listening to tirades by tired tailors.

From designer prints to subsequent knockoffs, lawn is 'the' hot topic of the season. Tailors' studios are crammed with bagfuls of prints bought by women who have thronged to the dozen or so lawn sales held throughout the country.

The stories emanating from lawn sales such as Sana Safinaz's that were held in Karachi this March have become urban legend.

Anecdotes told by survivors range from women clawing each other and one woman smashing a glass bottle on another's head.

Even though lawn prices have gone up a notch this year, women are not cutting back on spending.

The Express Tribune polled women in Karachi, Lahore and Islamabad this March, and found that 49 per cent of respondents had bought four to six lawn suits already, while 26 per cent bought seven to 15 outfits.

Women also stock up on lawn. A resident of Lahore, who bought up to 35 suits this season, said she had shopped for herself, her daughters and members of their family.

Pakistani textile mills have increased their advertising budgets. Residents of metropolitan cities woke up to see their skyline dotted with billboards of Kareena Kapoor hawking Firdous lawn. According to a press release issued by Firdous Cloth Mills, Kapoor said, "I'm really impressed with the quality of designs which were presented to me." Other brands weren't far behind.

Gul Ahmed enlisted Love Aaj Kal's Brazilian star Giselli Monteiro and Pakistani model Iman Ali featured in the campaign for Jofa lawn.

The catalogues published by lawn brands resemble full-fledged magazines which serve as a guide to shopping as well as tailoring.But this heavy spending has worked for the brands.

Respondents told The Express Tribune that the branded lawn prints they bought were by Gul Ahmed and Firdous. 14 per cent cited Al Karam as their top choice for lawn.
COMMENTS (1)
Comments are moderated and generally will be posted if they are on-topic and not abusive.
For more information, please see our Comments FAQ