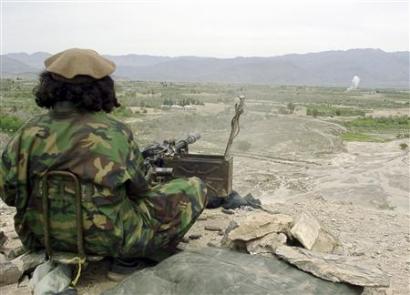 ---
LONDON: NATO has welcomed Pakistan's drive against the Taliban in the tribal region saying that this has been done at a great cost.

Briefing newsmen ahead of the two-day NATO Foreign Ministers Conference set to take place next week in the Estonian capital Tallin, the NATO spokesman James Appathurai responding to questions raised by APP ON Friday said: "Clearly these are very difficult  operations and have been done at a great cost and NATO has recognised that cost."

He spoke of the terrorism problem faced by Pakistan and Afghanistan and said there needs to be a solution on the both sides of the border. Asked whether these operations have impacted NATO's own counter-insurgency measures within Afghanistan, Appathurai replied:"I have not seen an answer to that question."


On the question of Pakistan's offer to train Afghan forces, he said it was up to Pakistan and Afghanistan to decide. He further pointed that when Pakistan Army Chief General Ashfaq Kiyani was in Brussels four weeks ago he mentioned this offer to NATO Secretary-General Anders Fogh Rasmussen and his response was that it was up to both Pakistan and Afghanistan to discuss the issue bilaterally.





The NATO spokesman furthermore said Pakistani Prime Minister is coming to Brussels later this month and during the course of the tour will also visit the NATO headquarters where these issues are expected to come up for discussions.





During the course of his briefing, Appathurai said NATO was facing shortage of trainers to train Afghan security forces adding that the organisation needs at least 500 trainers. He said although NATO and ISAF were present in Afghanistan in substantial force, they were still facing trouble in finding  trainers.





He said NATO aims to hand over the control of Afghan provinces back to the country's security forces in a gradual manner starting  by the end of the current year. He reiterated that NATO has no intention of staying in Afghanistan for forever but will not leave the country as long as the security problems continue.